Puerto Rico Cash Crunch Intensifies as U.S. Treasury Stands Pat
Commonwealth officials project running out of cash next month

$354 million principal and interest payment due Dec. 1
Puerto Rico's plea for federal intervention is becoming more urgent as its ability to forestall looming bond defaults rapidly diminishes.
The problem is that even if the U.S. Treasury or Congress were to announce a plan to help alleviate Puerto Rico's financial crisis, such a move may not come in time to avoid a default on $720 million of bond payments due in December and January. Governor Alejandro Garcia Padilla is set to testify before a Senate committee Thursday in Washington on the island's woes. Officials have said the commonwealth may run out of cash in November.
Negotiations fell apart between Puerto Rico's Government Development Bank, which oversees the island's borrowing, and some bondholders regarding a debt exchange that would have provided financing and help meet a Dec. 1 bond payment, a portion of which is guaranteed by the commonwealth, the bank said Wednesday. The GDB said it's still pursuing a broader restructuring that would allow bondholders to voluntarily exchange their securities for new ones.
"Something seems like it has to give," John Miller, the Chicago-based co-head of fixed income at Nuveen Asset Management, said in an interview at Bloomberg's New York headquarters Wednesday. Nuveen owns about $300 million in insured Puerto Rico debt. "Avoiding a default can only come from the island getting access to capital somehow."
Prices Slide
Puerto Rico general obligations sold in March 2014 and maturing July 2035, the most-actively traded commonwealth security in the past three months, changed hands Wednesday at an average 73.7 cents on the dollar on trades of at least $1 million, the lowest price in about five weeks, according to data compiled by Bloomberg. The average yield was 11.2 percent.
The governor will speak before the Senate's committee on energy & natural resources about the commonwealth's struggling economy and its $73 billion of debt. Antonio Weiss, counselor to Treasury Secretary Jacob J. Lew, is also set to testify before the committee. Puerto Rico is seeking to reduce its obligations after a commonwealth agency has skipped paying investors every month since August because lawmakers failed to allocate the funds.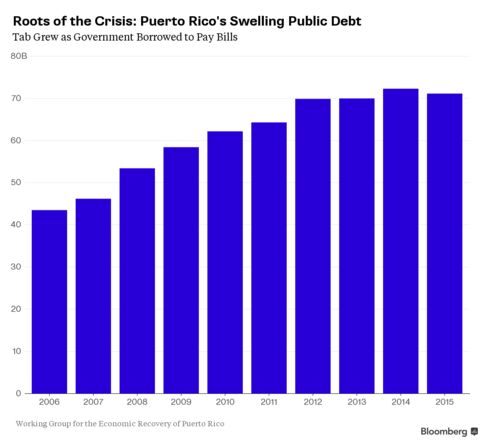 The commonwealth and its agencies racked up its debt load by tapping into the capital markets to balance budgets and push out principal and interest payments. That's no longer an option. Along with the botched GDB bond-exchange negotiations, the island's main water utility has tried since August to find enough investors to lend it $750 million, with no success.
"Puerto Rico is going to need attention from the federal government regardless of any one-off settlements that it reaches or doesn't reach with any particular group of creditors," Steven Rhodes, a former judge who presided over Detroit's historic bankruptcy and is now an adviser to the commonwealth, said in a telephone interview Wednesday.
The GDB faces a $354 million principal and interest payment due Dec. 1, with $267 million of the bonds guaranteed by the commonwealth. To help preserve cash, officials for months have delayed payments to suppliers, suspended tax rebates and borrowed from inter-governmental agencies.
Federal Assistance
"They have to get something relatively quickly," Lyle Fitterer, managing director at Wells Fargo Capital Management in Menomonee Falls, Wisconsin, which oversees $39 billion of municipal debt. "The payments are coming up. You are running out of time in terms of putting forth some sort of proposal."
Getting help from Treasury or the federal government may be difficult. A proposal to issue new bonds administered by the Treasury may require Congressional approval. Garcia Padilla's administration faced a backlash from investors after he said in June that the island could no longer afford to repay all of its debt and would seek to delay principal payments for a number of years. Puerto Rico has also failed to gain support in Congress for legislation to allow some of its agencies to reorganize under Chapter 9 bankruptcy.
Yet guidance from the Treasury is what may lure bondholders to trade existing bonds for new debt with stronger securities, Miller said. Nuveen oversees about $100 billion of munis.
Global Solution
"It needs to have some more teeth to it," Miller said. "And the way to make it look better would be to have the U.S. Treasury involved in some way, shape or form."
It would also help the island to restructure its obligations in one exchange rather than conducting separate negotiations between different agencies and their creditors, Rhodes said.
Yet such a large transaction may be difficult as Puerto Rico's various bonds are backed by different guarantees and repayment pledges, Miller and Fitterer said.
"There needs to be a global solution here, not a one-off piece with one entity and then another entity, and another," Rhodes said. "It's more urgent than that."
Before it's here, it's on the Bloomberg Terminal.
LEARN MORE