Brunch is overrated. What's the point of it when you can enjoy lunch, with a nice glass of wine or two?
But if you really do want brunch, one answer is to go for something more interesting than toast and eggs. Here are four exotic options in London.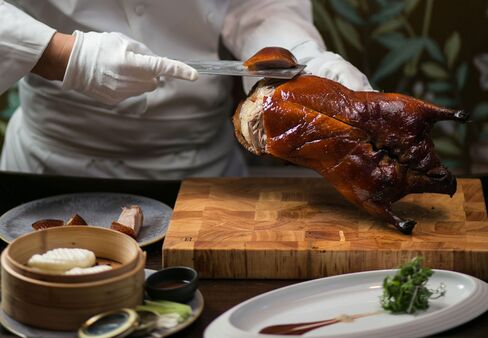 This brand new brunch consists of Peking duck with a bottle of Louis Roederer Champagne. If you haven't tried HKK (owned by Hakkasan) it's a low-key restaurant in the City serving very fine lunches and just a tasting menu at night. There are very few restaurants in London whose Peking duck is this good.
The bird (from Silver Hill Farm, in Ireland) is prepared over two days before being carved at your table. Along the way, it is marinated in a glaze of Chinese five spice, lemon grass, sugar, vinegar and garlic and then hung to dry for a minimum of 24 hours before being roasted over a cherry wood fire.
The meal starts with a blue-crab salad and proceeds through a first serving of duck with steamed black truffle mantou and Imperial caviar, followed by sesame pancakes and egg-fried rice with duck and abalone supreme stock. Dessert is a nashi pear and Champagne mousse with cotton candy. The food is fabulous and great value: HKK normally charges 79 pounds for Louis Roederer Brut.
Price: 49 pounds (Saturdays; minimum of two.)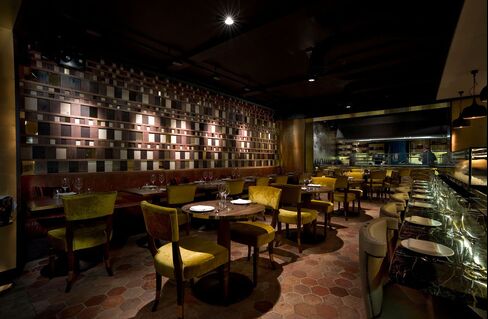 This Latin American restaurant gets packed for dinner, when every night is like a posh Pisco party. The food is first class, which you might expect as Coya is the creation of Arjun Waney, co-founder of Zuma. The chef, Sanjay Dwivedi, is now taking Coya overseas, with branches in Miami and Dubai.
The Sunday brunch is a fine way to get to know the restaurant, when the sun (sometimes) streams through the windows and you can focus on the quality of the food rather than the good looks of the other diners. (Coya attracts a beautiful crowd.) There's an option of bottomless Billecart-Salmon Champagne.
Brunch gets under way with half a selection of starters, including a quinoa salad with tamarind, herbs and pomegranate; and various types of ceviche/tiradito. The mains include Chilean seabass with rice, lime and chili; and roast lamb, spiced roast potatoes and courgettes. It all ends with pastries.
Price: 59 pounds; 36 pounds without Champagne. (Sundays.)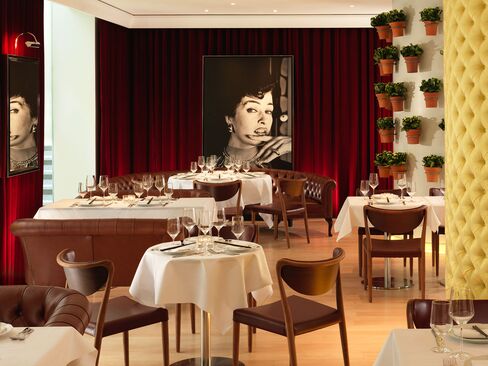 This Chino-Latino brunch is brand new. You get a bunch of food, unlimited donuts and bottomless cocktails: Bloody Marys, mojitos, mimosas and Bellinis. This is one for the drinkers. There's even a Champagne option if you pay extra.
The meal starts with snacks to soak up the alcohol, including savory pastries, black-bean hummus with chips, mini-Cuban sandwiches and ceviches. It's a cocktail party on your plate. You then pick a main, such as breakfast tortilla or crispy calamari salad, and end by going Homer Simpson on the donuts.
Asia de Cuba is a night-time spot and I can't say I enjoyed sitting there in the day, though the service was friendly. I quickly gave up on the do-it-yourself bloody Mary bar. (The barman kept hold of the vodka, so what's the point?) But if you are up for a boozy brunch, this may be for you.
Price: 48 pounds. (Saturdays and Sundays; minimum of two.)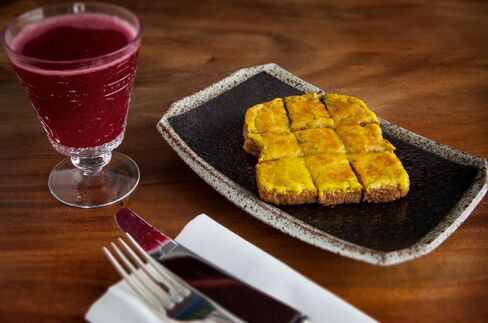 This luxurious Indian restaurant traces its history to 1990 and recently moved to a large site on St James's Street. Chutney Mary is part of the MW Eat group, whose restaurants include Amaya and Veeraswamy, as well as Masala Zone. So far so good.
But the menu isn't online and there is so much talk about high prices, I haven't risked it for anything other than brunch, which starts at 26 pounds. It features a delicately spiced Afghani chicken tikka salad that I enjoyed.
Hit the cocktail pitchers at 25 pounds a pop and costs start to climb. To be polite, I tried both the Pimms and the bloody Mary. (I skipped the Sangria and the Corvina .) Suffice to say, if you drink, Chutney Mary is not a budget option. I'll wait to see the menu online before going back.
Price: 26 pounds for two coures 30 pounds for three. (Saturdays.)
Richard Vines is chief food critic of Bloomberg. Follow him on Twitter @richardvines
Before it's here, it's on the Bloomberg Terminal.
LEARN MORE