Iran Says It Can Quadruple Carbon Cuts If Sanctions Lifted
Islamic Republic will submit two climate plans to UN

Iran to pursue energy efficiency measures and natural gas
Iran could as much as quadruple its efforts to curb fossil fuel emissions if economic sanctions imposed by the U.S., United Nations and European Union are ended, the country's lead envoy at UN climate negotiations said.
Iran intends to submit by the middle of November a "very well-prepared" pledge on what actions it's prepared to take to limit greenhouse gases, Majid Shafie-Pour, Iran's delegation chief at a UN climate meeting in Bonn, said in an interview.
"We would really have to have at least two different plans -- one with the existing technology available to ourselves, the existing level of investment and financial resources and the capacity under the unjustifiable sanction regime," Shafie-Pour said. "The other side of the coin that we are favorably looking at would certainly be making three to four times the effect once the sanctions are lifted."
Iran's actions to fight climate change matter because the Islamic Republic is the biggest greenhouse gas polluter that has yet to detail the efforts it's prepared to make as part of a new deal on global warming. Envoys from more than 190 nations are meeting in Bonn this week to prepare for the deal that leaders are expected to sign at a summit in Paris in December. That agreement would incorporate the national pledges, known in UN parlance as Intended Nationally-Determined Contributions, or INDCs.
Iran's emissions account for about 1.5 percent of the global total, according to World Resources Institute data, making it the planet's 11th biggest emitter.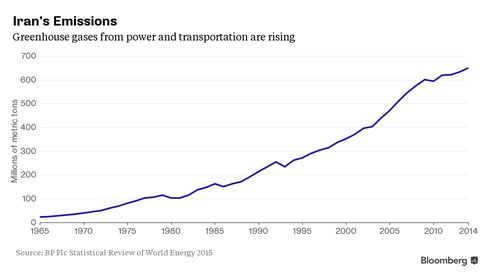 "To have a number of countries sitting on the sidelines, particularly a number of the major gulf-state countries who had pledged to bring forward their INDCs by the end of September but have yet to do so, I think that's a problem," said Alden Meyer, who has followed the climate talks for two decades for the Union of Concerned Scientists in Washington. "Every last ton of carbon counts and we need to have every country participating."
Khalid Abuleif, delegation chief in Bonn for Saudi Arabia, the only G20 nation that hasn't yet to submitted a pledge, declined on Wednesday to comment on the nature his country's promise will take, saying only that it's near completion.
Shafie-Pour declined to put a precise number on the carbon reductions achievable by Iran, saying the discussion is still ongoing. Iran projects its emissions will be 2 times to 2 1/2 times greater in 2030 than in 2010 under a business-as-usual development scenario. The reductions would be from that baseline, he said.
Nuclear Talks
French Foreign Minister Laurent Fabius declined to comment in Bonn on the possibility of Iran increasing its efforts if sanctions are removed. Fabius will act as president of the UN climate summit in Paris. He also has taken part in discussions about ending the standoff between Iran and six other negotiating nations -- the U.S., China, France, Germany, Russia and the U.K. The 12-year standoff over Iran's nuclear program sparked the sanctions.
Iran has been the subject of U.S. sanctions since the seizure of the American Embassy in Tehran in 1979. The first nuclear-related UN Security Council sanctions were placed on Iran in 2006. Separate bilateral sanctions imposed by the U.S. and European Union from 2012 cut Iranian access to world oil and financial markets. Most diplomats see nuclear-related sanctions being lifted during the first quarter of next year.
Iran aims to formally submit the promise to the UN before President Hassan Rouhani is due to visit France in the second half of November, Shafie-Pour said.
Rouhani Visit
"Within the Department of the Environment, we are aiming to have it all endorsed and blessed and submitted before his visit to Paris," he said.
Shafie-Pour said his country, which has the world's fourth-largest oil reserves, will need to carry out a "radical renovation" of its energy sector to reduce emissions. Its plan is to focus first on energy efficiency measures, then to extend the use of less carbon-intensive fossil fuels, primarily natural gas, and then move toward renewables, he said. The nation's pledge will also detail its financial and technological needs in order to be able to limit its pollution, as well as measures the country will need to take to adapt to the effects of climate change.
Nations were supposed to have submitted their pledges by the beginning of October. As of Tuesday, 154 countries representing 86 percent of global emissions had submitted their plans, Christiana Figueres, the UN's top climate diplomat, told reporters in Bonn.
"It's not 100 percent, but its impressive," Fabius told envoys in the German city. "We hope we shall have the last ones in the coming days. That means there is growing awareness and a sense of commitment" to fight climate change.
Before it's here, it's on the Bloomberg Terminal.
LEARN MORE