Companies must repay bondholders $31 billion in 2016

Borrowing costs climb from record-low to near highest in year
European utilities from Enel SpA to Engie SA and RWE AG need to repay a record amount of bonds in euros next year as the lowest wholesale electricity prices in 12 years erode profitability.
Europe's utilities have 27 billion euros ($31 billion) of benchmark bonds in euros maturing next year, the most in data compiled by Bloomberg going back to 1999. The total excludes dollar-denominated deals, which make up 3 percent of the total. Electricity has tracked the decline in oil and commodity prices with German year-ahead power, used as a price benchmark in Europe, sliding to the lowest since 2003.
A Europe-wide shift to renewable energy is squeezing margins at traditional coal and gas-fired power stations, with Germany's two biggest utilities, RWE and EON SE, being the biggest and third-biggest losers on Germany's benchmark DAX Index this year. European power companies' net debt as a ratio of earnings has almost doubled since 2006, helping push the extra yield investors demand to hold utilities' debt relative to government bonds to near the highest in two years.
"Deteriorating margins, a commodity price rout and uncertainty arising from the transformation of the utility industry means that companies may have to offer a wider spread to the risk-free rate when issuing new bonds," Elchin Mammadov, a utilities analyst at Bloomberg Intelligence, said by e-mail Monday.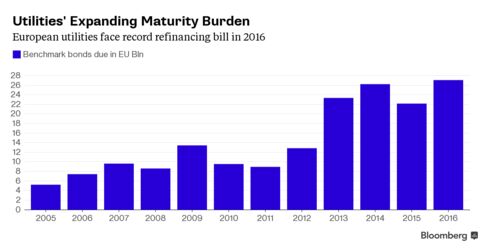 Enel in Rome must repay bondholders 3 billion euros, the most, followed by Engie, the utility formerly known as GDF Suez, and EDP-Energias de Portugal SA, data compiled by Bloomberg show.
Enel and Engie have no need to refinance bonds thanks to having enough cash available, both companies said by e-mail Tuesday. EDP didn't respond to a request for comment. RWE has not yet decided whether to refinance a senior bond of 850 million euros that is maturing next year, spokeswoman Vera Buecker said by e-mail Tuesday.
The price of Brent crude oil slumped 43 percent in the past year, struggling to sustain levels above $50 a barrel on ICE Futures Europe. German year-ahead electricity, used throughout Europe as a benchmark contract, is at its lowest since August 2003 on the European Energy Exchange AG.
"We are increasingly negative on commodity names," Patrick Hummel, an analyst at UBS AG in Zurich, said in an e-mailed note Wednesday. Most companies "in this subgroup will likely have to cut dividends," he said.
The average yield on investment-grade utility bonds has climbed to 1.5 percent, close to the highest in a year, from a record 0.9 percent in March, according to the Bank of America Merrill Lynch Euro Utilities Index. That's still less than levels of more than 5 percent reached in the global financial crisis.
"For utilities based in central and northern Europe, accessing the credit market should be feasible but at a premium given the ongoing deteriorating industrial environment, financial performance and credit ratings," said Nadege Tillier, a credit analyst at ING Bank NV in Amsterdam.
Almost half the total maturing next year was sold in 2009, when utilities issued a record 72 billion euros of securities to investors as banks tightened lending criteria because of the financial crisis. Companies included in the Stoxx 600 European Utilities index held about 52 billion euros of cash in total at the end of 2014, up from 18 billion euros in 2004, data compiled by Bloomberg show.
"These companies have strong liquidity positions and should have no problem accessing the market," Andrew Moulder, a senior analyst at Creditsights Ltd., said by phone from London. "Most utilities have sufficient cash to be able to repay or potentially reissue bonds."
The leverage of European utilities as the share of their earnings before interest, tax, depreciation and amortization has been rising, climbing to 3.1 at the end of last year from 1.7 in 2006, according to Mammadov. Some companies may choose asset disposals to pay off maturing debt instead of raising borrowing, he said.
Before it's here, it's on the Bloomberg Terminal.
LEARN MORE