Euro Options Point Way as Traders Debate Draghi's Next QE Move
Markets reflect speculation ECB chief will `ramp up rhetoric'

ECB keeps benchmark interest rate, deposit rate unchanged
Currency traders who piled on bets that the euro zone will receive more stimulus will be hanging on Mario Draghi's every word when he sits down to give his policy address in Malta on Thursday after policy makers kept interest rates unchanged.
Options prices show dealers have added to wagers for the shared currency to reverse its recent rally against the dollar. That suggests they're counting on the European Central Bank president to expand the money supply to combat falling consumer prices, or at least leave the door open to boosting quantitative easing in the future.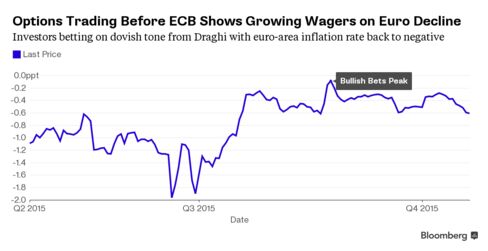 It's a contrast to the run-up to the ECB's September meeting, when the euro's advance to a seven-month high saw investors push up the cost of options that would profit from further gains. And it leaves dealers open to losses if they're not reading the policy runes correctly. The euro slipped against the dollar and yen as the ECB kept its main interest rate at 0.05 percent, as predicted by all 53 economists surveyed by Bloomberg.
"There's certainly some speculation that they could ramp up the rhetoric significantly, or at least promise something imminently," said Alvin T. Tan, a London-based strategist at Societe Generale SA, which is more bullish than most euro forecasters surveyed by Bloomberg. On the other hand, "if we're indeed right and we don't get much from the ECB, then the euro could squeeze higher."
Traders are hoping Draghi can repeat his trick of May 8, 2014, when he sent the euro tumbling from a 2 1/2-year high by saying he was ready to ease policy. Or the events of the ECB's last meeting that ended Sept. 3, when he revamped the 1.1 trillion-euro ($1.2 trillion) bond-purchase plan and sent the single currency to its lowest level in two weeks. Draghi will explain the ECB's policy decision to reporters at 2:30 p.m. Maltese time.
'Cheerleader' Draghi
Options traders are betting Draghi will pull off a repeat performance.
They're paying a 0.70 percentage-point premium for one-month options to sell the euro against the dollar over contracts allowing purchases, the most since July. The extra cost dropped to an almost two-year low of 0.09 percentage point on Aug. 25, a day after the single currency peaked, closing-price data compiled by Bloomberg show.
The euro dropped 0.2 percent to $1.1321 as of 12:45 p.m. in London. It weakened 0.3 percent to 135.58 yen.
Positioning for a weaker euro may prove costly because the ECB regards the currency's strength as temporary as the Federal Reserve holds off on raising rates, said Gavin Friend, a strategist at National Australia Bank Ltd. in London.
"The euro should jump" if Draghi "comes out with the standard line" that the ECB stands ready to act if needed, Friend said. "The fact that the market keeps wanting to sell the euro, and thinks he's going to say something, is a reflection of where we are in the global economy. We're vulnerable, so people think we need cheerleaders."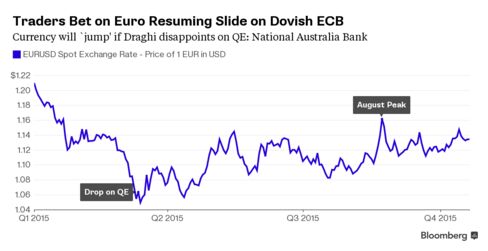 NAB's Friend sees the euro remaining little changed at $1.14 by Dec. 31 before ending 2016 at $1.07. SocGen's Tan predicts a drop to $1.12 by year-end, compared with the median forecast in Bloomberg's survey of $1.09.
The 19-nation currency has risen more than 8 percent from its 12-year low of $1.0458 in March and reached a seven-month high of $1.1714 on Aug. 24, caught up in the mid-year exodus of investors from riskier assets.
That contributed to inflation turning negative last month for the first time since QE started in March -- and intensified the debate over whether to increase or extend stimulus.
"Draghi might stress again the fact that the ECB doesn't want a strong euro, or try to give the message that a further appreciation of the euro wouldn't be welcome," said Roberto Mialich, a Milan-based senior foreign-exchange strategist at UniCredit SpA in Milan. Draghi's "rhetoric," he said, will probably leave the currency "steady to slightly weaker."
Before it's here, it's on the Bloomberg Terminal.
LEARN MORE