China Solutions Don't Resonate With Taiwan Voters, Party Finds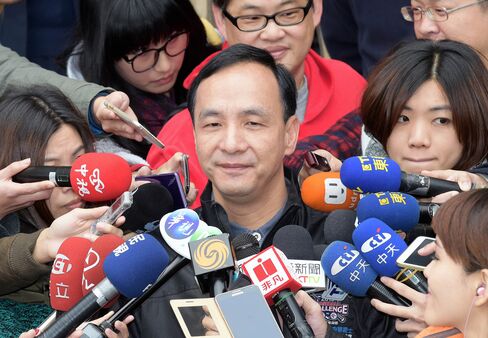 Ousted nominee tried to offer solution to China problem

Mainstream view opposes unification suggestions, KMT says
When it comes to Taiwan's quarrel with its neighbor across the strait, it turns out voters are in no hurry to resolve things.
That was brought home last Saturday, when the ruling Kuomintang party ditched its candidate for president just three months before elections. Lawmaker Hung Hsiu-chu's fatal flaw? Trying to offer a way out of the 70-year-old political impasse with China by suggesting they sign a peace treaty. She even quoted a line in the Taiwanese constitution mentioning "eventual unification."
The swiftness with which her party soured on Hung underscored just how sensitive an issue Taiwan's relationship with China remains for the island of 23.5 million people. While the two sides have strengthened economic ties significantly under President Ma Ying-jeou, a Kuomintang party leader, voters are still turned off by potential threats to their freedoms and stay divided about its future.
"The party worried that her cross-strait policies have the public perception that she is too pro-unification," Eric Huang, KMT head of foreign media and international affairs, said in a Bloomberg Television interview this week to explain their about face.
Political Differences
In an opinion survey this month, only 24 percent of the public approved of Hung, while 48 percent approved of opposition Democratic Progressive Party Chairwoman Tsai Ing-wen. Hung had made no gains against Tsai since her nomination in July. Other concerns also dogged Hung, including her public persona and Ma's own sinking popularity, but the China issue was never far from the surface.
Governed separately since the end of World War II, Communist China and democratic Taiwan have kept their distance politically even as their economies have become more intertwined.
The world's second biggest economy is Taiwan's No. 1 export destination but it also continues to block Taiwan's dealings with other countries or regions. This week it shunned the European Union's moves toward Taiwan trade and bilateral investment talks for example. Taiwan's population, for better or for worse, carries on eschewing any hint that they should consider living under the rule of Beijing.
The two sides have managed to maintain quiet in recent years thanks to the 1992 Consensus, a bit of linguistic sleight of hand under which both sides agree Taiwan and the mainland are the same country -- but disagree on who should rule it.
On a trip to Washington in June, the frontrunner Tsai promised to not rock the boat if elected, but also said she wouldn't back down on the Taiwan people's right to determine their own future. Her party has never accepted the "one country" premise despite repeated admonitions from Beijing that it's the cornerstone of good relations across the Taiwan Strait.
No Traction
Hung, on the other hand, campaigned on making progress in relations -- echoing Chinese President Xi Jinping's remarks in 2013 that the dispute shouldn't pass from one generation to the next. She proposed a peace treaty to resolve the military conflict from 70 years ago, and for Beijing and Taipei to recognize each other. Then she referenced "eventual unification."
After failing to gain traction with voters, Hung is out, replaced as candidate by Party Chairman Eric Chu, who toes the "one country" line yet doesn't bring up political talks or peace treaties. A move toward the center with Chu may give the KMT a bounce in the polls, but it might not be enough to overtake Tsai. In another TVBS survey released Tuesday, Chu was polling at 29 percent approval, distantly trailing Tsai's 46 percent rating.
"The pervasive atmosphere is that after eight years of the Kuomintang, we should have a new party in charge," said Liao Da-chi, a professor at National Sun Yat-sen University's Institute of Political Science.
Six Percent
Tsai lost to Ma in the 2012 presidential race by about six percentage points. That's roughly the number of people who vote mainly on cross-strait issues. Her DPP has since been boosted by a series of missteps under Ma that culminated in 2014's Sunflower Movement, when students occupied the island's legislature for 24 days to demand oversight over a steady drumbeat of deals being struck with China.
Party chairman Chu will also have to worry about 113 legislative seats up for election in January. The ruling party holds the majority now with 65 seats versus the DPP's 40. Chiang Shuo-ping, a party central committee member who brought the motion to remove Hung, told the Taipei-based Central News Agency that having her at the top of the ticket was awful for morale.
Chu's nomination, according to the KMT's Huang, brings the candidate's cross-strait view back into line with both the party's position and Taiwan's "mainstream" opinion.
Now, it seems, is not the time for progress.
Before it's here, it's on the Bloomberg Terminal.
LEARN MORE