Uganda Raises Interest Rate to 17% as CPI Hits Two-Year High
Uganda's central bank raised its benchmark interest rate for the fifth consecutive meeting after a weaker currency boosted inflation to a two-year high.
The Bank of Uganda raised its policy rate by 1 percentage point to 17 percent, Governor Emmanuel Tumusiime-Mutebile told reporters on Tuesday in the capital, Kampala. Three of four economists surveyed by Bloomberg had expected an increase of either 50 basis points or 150 basis points, while one predicted the rate would remain unchanged.
Inflation in East Africa's third-biggest economy accelerated to 7.2 percent in September, fueled by the shilling's 24 percent plunge against the dollar this year. The central bank has raised the interest rate at each meeting since April.
The rate increases so far "have already dampened inflationary pressures and reduced the risks to high inflation," the governor said. "Nevertheless, to ensure that medium-term inflation converges towards the Bank of Uganda's policy target of 5 percent, a further monetary policy tightening is warranted."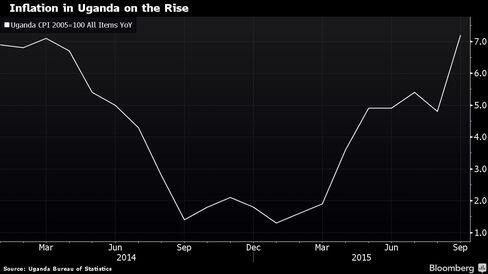 The currency's depreciation hasn't yet fed through in full to inflation, while the El Nino weather pattern may result in higher food prices in the fourth quarter of this year and first three months of 2016, the central bank said.
"The tight monetary stance at this time will aid to reinstate confidence in the financial markets as well as tame anxiety among investors and calm the shilling decline," Stephen Kaboyo, managing director of Alpha Capital Partners, said by phone from the capital.
The shilling gained 0.5 percent to 3,617.50 per dollar as of 4 p.m. in Kampala.
The bank also cut its economic growth forecast for 2015-16 to 5 percent from 5.8 percent because of subdued global demand, reduced capital inflows, low commodity prices and higher interest rates.
Uganda is on the verge of becoming an oil producer with companies such as London-based Tullow Oil Plc, China National Offshore Oil Corp. and France's Total SA jointly developing oil fields estimated by the government to hold 6.5 billion barrels of oil.
Before it's here, it's on the Bloomberg Terminal.
LEARN MORE