Ireland Names Economics Professor Lane to Head Central Bank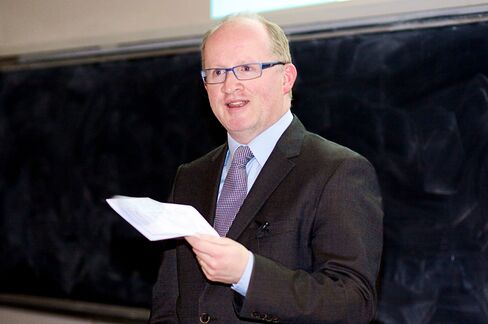 Current governor Patrick Honohan to step down this year

Lane beat candidates including government official Robert Watt
Ireland named Philip Lane, an economics professor at Trinity College Dublin, as its next central-bank governor, again picking an academic for the role.
The 46-year-old was formally approved by the Irish cabinet in Dublin on Tuesday. He received a PhD in economics from Harvard University in 1995 and was assistant professor of economics and international affairs at Columbia University from 1995 to 1997 before returning to the Irish capital. The government said in a statement that it will advise President Michael D. Higgins to make the formal appointment.
Lane is the second consecutive academic to be picked for the role, breaking a long-standing tradition of selecting from within the higher ranks of the civil service. He succeeds Patrick Honohan, who was plucked from TCD's economics department in 2009 to restore the central bank's credibility amid a real-estate and banking collapse. Honohan plans to step down around the end of November.
"Appointing Honohan in the first place in 2009 was a step in the right direction and continuing that theme, by appointing another academic and someone outside the government system, has to be seen as positive," said Dermot O'Leary, chief economist with Goodbody Stockbrokers in Dublin. "The independence of the central bank is not only safeguarded but is openly seen to be safeguarded by this appointment."
Monetary Policy
Lane, also chair of the European Systemic Risk Board's advisory scientific committee, was said on Oct. 15 to be one of two final candidates, alongside government official Robert Watt.
Lane will help set monetary policy for the euro area in his new position. The heads of the currency bloc's 19 national central banks sit together with the 6-person Executive Board on the European Central Bank's Governing Council. Policy makers are dealing with a renewed downturn in consumer prices and slowing international trade, prompting economists to predict that stimulus will have to be increased as soon as this year.
"Starting off, I think he'll take a middle ground, playing in line with the majority vote, and not rock the boat," said Alan McQuaid, chief economist at Merrion Capital Group in Dublin. "Still, Lane has the academic background and qualifications to do a good job and should be among like-minded people at the ECB."
Lane and Honohan were among people whose counsel was sought by former Finance Minister Brian Lenihan at the height of the financial crisis, according to evidence given at an ongoing inquiry into the near collapse of the banking system. Lenihan, who died in 2011, held the role between 2008 and 2011.
"Professor Lane's outstanding economic, financial and policy-making record ideally position him to lead the central bank in the coming years," Finance Minister Michael Noonan said in the statement.
Before it's here, it's on the Bloomberg Terminal.
LEARN MORE