Erdogan's Golden Throne for Merkel Sends Message Before Election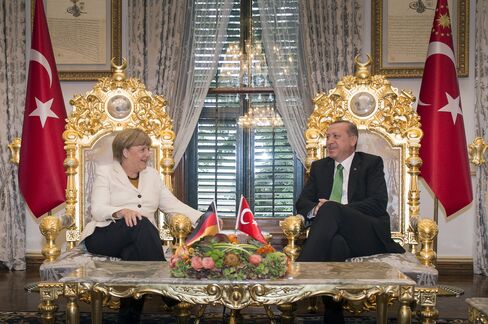 Refugee crisis may provide opening for closer ties with EU

Turkey's president wants poll to focus power in his office
Turkish President Recep Tayyip Erdogan likes to treat his visitors to the trappings of power. For talks with German Chancellor Angela Merkel on Sunday, he laid on two towering gilded chairs at an Ottoman-era mansion.
QuickTake Turkey's Continental Divide
The opulence gave Erdogan a stage from which to project an image of strength two weeks before an election that will determine his ability to consolidate power in the presidency and prolong his dominance of Turkish politics.
With opinion polls before the Nov. 1 repeat vote forecasting another hung parliament, Erdogan is promoting his case to be Turkey's indispensable leader. In Merkel, head of the European Union's most powerful state but needing Turkey's help to stem a flood of refugees, he had his perfect guest.
Merkel's call for a stronger EU-Turkey alliance from a golden throne in Istanbul "strengthens the image of Erdogan as a powerful leader," said Oner Bucukcu, an analyst at the Ankara-based Institute of Strategic Thinking.
Readiness to Help
In what marks at least a change of tone after years doubting Turkey's readiness for EU membership, Germany's chancellor offered to support its demands for EU funding, visa liberalization and advances in talks with the 28-member bloc. In return, Merkel said Turkish leaders -- she also met interim Prime Minister Ahmet Davutoglu -- signaled a readiness to help curb the flood of migrants fleeing Middle Eastern wars.
Michael Harris, the head of Turkey research at Renaissance Capital, said Turkish leaders will be aware that Merkel's vow to look again at accession talks probably doesn't equate to a sincere offer from the EU.
But the AKP "is pursuing this objective due to political gains," he said in an e-mailed note on Tuesday. "Pre-election concessions and the PR from a Merkel visit so soon before the Nov. 1 vote probably mean a somewhat better AKP vote than otherwise."
Turkey's EU membership bid has been in a deep freeze amid concerns about a deterioration in its democratic institutions as Erdogan's power mounted. Yet despite the apparent concessions, the long-term benefit for Turkey, and any electoral gains for the ruling AK Party that he co-founded, may be limited, said Naz Masraff, director for Europe at Eurasia Group in London.
"In an environment where the EU cannot promise visa liberalization in the near-term, the AKP is unlikely to benefit from this in the elections," she said.
The choreographed meeting with Merkel gave Erdogan another opportunity to appear both statesman and showman. In January, he received Palestinian President Mahmoud Abbas flanked by 16 troops dressed in the warrior regalia bearing period armor and toting weapons ranging from swords to lances.
Suicide Bombings
The message for Turks was clear: if European leaders trusted him with issues of continental security and stability, why shouldn't they? Especially at a time when Syria's war is spilling across Turkey's frontiers, helping to reignite a war with Kurdish separatists.
Suicide bombings by suspected homegrown Islamic State militants killed 102 people in the nation's deadliest terrorist attack on Oct. 10. Revelations that intelligence agencies overlooked vast amounts of information pointing to the suspects' intentions have added to the shock felt nationwide.
Turkey has absorbed 2.2 million refugees fleeing the civil war in Syria, in addition to 300,000 Iraqis who have arrived in the past four years. Merkel and Erdogan discussed spreading the cost of dealing with the emergency through EU funding, as well as granting Turks visa-free travel to EU countries in return for repatriating refugees who don't meet asylum status.
"It is symbolically important support from Merkel, one of the most important critics of Turkey in Europe," said Bucukcu. "It has clearly polished Erdogan's image at home."
Before it's here, it's on the Bloomberg Terminal.
LEARN MORE