China Mobile Profit Misses Estimates as User Growth Slows
New subscribers rise less that 1% in September quarter

Customers on high-speed network overtook 3G in August
China Mobile Ltd. posted third-quarter profit that missed analyst estimates as the world's largest carrier faces stiffer competition, slowing subscriber growth and costs for its new high-speed network.
Net income rose 13 percent to 28.2 billion yuan ($4.4 billion) in the three months ended September, according to figures derived from nine-month results published Tuesday. That's the highest quarterly growth in at least five years.
China Mobile has boosting investment to get more users onto its fourth-generation network as competitors with virtual operator licenses enter the market, escalating competition and hitting average revenue per user. In the longer term, a government decision to put carriers' networking assets into a central holding company may help the company lower spending as it rolls out coverage to rural areas.
"We expect ARPU to improve through the end of year with more data usage," Mitchell Kim, an analyst at Kim Eng Securities Ltd. in Hong Kong with a buy rating on the stock, said before the announcement.
Total users rose less than 1 percent to 822.9 million at the end of September while 4G customers surged 31 percent to 247.6 million.
Revenue for the third quarter climbed 9.9 percent to 172 billion yuan, compared with estimates for 176 billion yuan.
China Mobile shares fell 0.3 percent to HK$95.70 in Hong Kong trading before the earnings release. The stock has added 5.8 percent this year compared with a 2.6 percent decline in the Hang Seng Index, of which it's the third-largest member.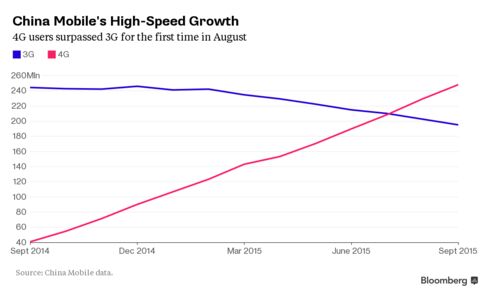 New competitors such as over-the-top services which bypass traditional voice and short-message offerings, as well as virtual mobile services from equipment and handset makers, are putting pressure on data tariffs, Bloomberg Intelligence analyst Michelle Ma wrote in a report.
Profit for the nine months rose 3.4 percent to 85.4 billion yuan, the Beijing-based company said Tuesday. ARPU fell to 61 yuan from 62 yuan, it said.
Before it's here, it's on the Bloomberg Terminal.
LEARN MORE