Blackstone to Buy Manhattan's Stuyvesant Town for $5.3 Billion
Agreement made to keep about 5,000 of the units affordable

Ownership of complex had been in limbo since 2010 default
Blackstone Group LP is leading a deal to buy New York's Stuyvesant Town-Peter Cooper Village, a transaction that would put Manhattan's biggest apartment complex in the hands of the world's largest private equity firm and maintain some affordable housing at the property.
Blackstone and Canada's Ivanhoe Cambridge Inc. will acquire the 80-acre (32-hectare) enclave for about $5.3 billion, the companies and city officials said Tuesday. That's just under the record $5.4 billion that prior owners Tishman Speyer and BlackRock Inc. paid almost nine years ago before walking away from the mortgage in 2010, marking one of the biggest collapses following the last decade's real estate boom.
The sale ends five years of uncertainty over ownership of the complex, home to about 30,000 residents and traditionally a housing haven for middle-class New Yorkers. The deal includes an agreement that would keep almost half of the more than 11,000 apartments affordable for 20 years. For Blackstone, it extends a push into owning rentals and makes it one of the largest residential landlords in Manhattan.
The transaction was formally announced at a press conference Tuesday featuring New York City Mayor Bill de Blasio, Blackstone real estate chief Jon Gray and City Councilman Daniel Garodnick, a lifelong resident of Stuyvesant Town-Peter Cooper Village.
"We can now say to thousands of hard working people, thousands of families in Stuytown: Your future is now secure," de Blasio said from a courtyard in the complex, flanked by long-time tenants. "You can afford your housing for the long haul."
Apartment Demand
Stuyvesant Town-Peter Cooper Village, located between 14th and 23rd streets on Manhattan's east side, was built in the 1940s by MetLife Inc., with city assistance, to house World War II veterans. Tishman Speyer and BlackRock handed the property over to lenders after its value plunged in the financial crisis and tenants successfully sued to stop a dramatic increase in some rents. Since then, it has been under the control of CWCapital Asset Management, which represents the mortgage lenders on the defaulted loan.
Now, apartments have led the five-year recovery in U.S. commercial real estate values, while Manhattan rents have surged. Prices for multifamily buildings are 33 percent higher than they were at the previous peak in 2007, according to Moody's Investors Service and Real Capital Analytics Inc.
Stuyvesant Town is "so big, it's so well located, there's still so much upside in it that someone is still going to make a lot of money if you hang in there," said Peter Hauspurg, chief executive officer of brokerage Eastern Consolidated, who isn't involved in the deal.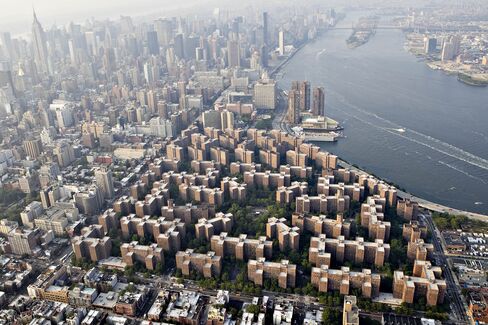 Blackstone -- which has built itself into the largest U.S. single-family home landlord and is bulking up an apartment business -- made its first multifamily purchase in Manhattan in September, leading a venture that acquired 24 buildings for $690 million. Gray said this month that he was bullish on the borough's rentals because it's too costly for many residents to buy.
Maintaining Affordability
Anticipating the eventual sale of the property, Blackstone approached CWCapital to express interest in the complex, then reached out to city officials to work out a deal that would be mindful of tenants' and the mayor's concerns about affordability, Gray said in an interview today.
"What was different about us was our approach -- which was to figure out a way where we have a full solution for everybody," he said.
"We told the seller that we wanted a comprehensive solution that could end up being a win-win-win," Gray said. "The seller gets a full and fair price, the city maintains affordability, tenants are happy with who takes over and we can make a good investment on behalf of our own investors. And that was the premise of the deal."
Ivanhoe Cambridge, which has done deals with Blackstone before, has been increasing its multifamily holdings in the past five years. It will own about 49 percent of Stuyvesant Town.
The Montreal-based company considered a bid for the complex about two years ago "but the timing wasn't right," said Daniel Fournier, chairman and chief executive officer. "What the previous ownership tried to do was maybe a bit too aggressive in their hope to convert faster than it was possible to do, and so we will go at it differently."
Blackstone intends to own the complex "for a long time," Gray said at the press conference, after which the billionaire was surrounded by tenants eager to shake his hand, ask about affordable housing lotteries and make maintenance requests. He said afterward the firm "doesn't need outsized returns here" to make investors happy.
Another Generation
The news was welcome to Soni Fink, a rent-stabilized resident of Peter Cooper Village for 54 years, who raised two children at the complex and lamented that younger families have been priced out.
"This has been nine years that we've been waking up wondering what's going to happen tomorrow," said Fink, a board member of the property's tenants association. "This promises that, at least for one more generation, families can raise their kids here."
The transaction calls for 5,000 of the units to be preserved as "affordable" for 20 years, with a five-year phase-in of the rent increases. An additional 1,400 units that have their rents regulated until 2020 will now be regulated until 2025.
Five hundred of the 5,000 units would be reserved for families making no more than $62,000 a year, with a monthly rent of about $1,500 for a two-bedroom apartment, said Wiley Norvell, a spokesman for de Blasio. The other 4,500 units would be for families making as much as $128,000 a year, which would translate to about $3,200 a month. The 1,400 units that will gain another five years of rent protection will see annual increases of no more than 5 percent under the agreement, he said.
Core-Plus
The Stuyvesant Town purchase will be made through Blackstone's first fund for core-plus real estate, said a person with knowledge of the matter, who asked not to be named because the details are private. The open-end fund can hold assets for decades, unlike the firm's traditional property funds, which have a finite life and typically require holdings to be sold and money returned to investors in seven to 10 years.
Blackstone has about $8.5 billion of core-plus assets under management, President Tony James said on Oct. 15. Such properties are typically high-quality buildings that require light renovation or leasing to boost returns.
For more, read this next:
• QuickTake: Wall Street Is My Landlord
The Stuyvesant Town transaction is likely to be completed by the end of the year, Gray said.
Before it's here, it's on the Bloomberg Terminal.
LEARN MORE