AmSurg Makes Offer for Team Health Valued at $5.17 Billion
Team Health rejected offer after meeting between companies

Deal would combine staffing, surgical center operations
AmSurg Corp. offered to buy Team Health Holdings Inc. in a stock and cash transaction worth about $5.17 billion to add to its contract-physician operations.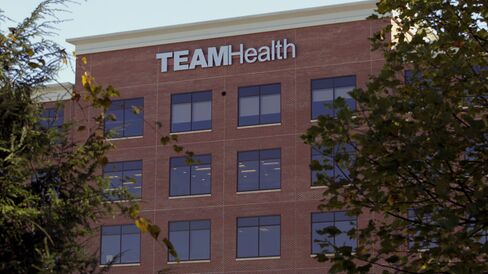 The unsolicited proposal values Team Health at $71.47 a share based on AmSurg's closing stock price yesterday, AmSurg said in a statement. The offer represents a premium of 36 percent to Team Health shareholders, who would get a cash consideration of $11.49 per share, it said in a statement Tuesday.
The companies met last month when AmSurg proposed a deal and was rejected, said AmSurg Chief Executive Officer Christopher Holden. "We are disappointed to learn that you chose not to engage with us based on what appears to be a very cursory analysis of our specific proposal and key deal terms," Holden said in a letter to Team Health's board.
Team Health, based in Knoxville, Tennessee, is a hospital staffing company that provides nurses, doctors and other clinical aides. AmSurg helps run clinics and surgery centers, working with physician practices. Together they represent about 1,200 health-care facilities and 20,000 clinical workers, AmSurg said.
The deal would create $200 million to $290 million overlapping cost savings, according to Nashville, Tennessee-based AmSurg. AmSurg would also support Team Health's $1.6 billion acquisition of IPC Healthcare Inc., announced in August, to add medical staffing operations. That deal hasn't yet closed.
Adding Scale
The combined companies would have more weight in the rapidly consolidating U.S. health-care system that has seen health insurers, doctor groups and hospital chains joining together.
Team Health shares rose 22 percent to $64.50 at 8:28 a.m. in New York trading before the market opened. The stock has fallen 8.7 percent this year as of Monday's close. AmSurg shares fell less than 1 percent to $78.
"We believe strongly in this combination and hope Team Health's board will engage with us promptly to reach an agreed transaction," Holden said.
A voice-mail and e-mail message left with a Team Health representative was not returned.
The offer was first reported by the Wall Street Journal.
Before it's here, it's on the Bloomberg Terminal.
LEARN MORE