Polish Banks Face Taxation and `Re-Polonization': Election Q&A
Lenders on the hook for their $37 billion Swiss-loan exposure

Poll-leading party seeks to tax bank assets or financial deals
Polish banks lost 18 percent of their market value since May, when Law & Justice's candidate won the presidency, amid growing concern that the party's expected victory in Sunday's general election will lead to new costs for lenders.
The industry, which posted a record 16 billion-zloty ($4.3 billion) profit last year and has $37 billion in risky foreign-currency mortgages, is 62 percent owned by foreign investors, another fact that doesn't sit well with Law & Justice. The price of Polish banks compared to their book value slumped to a three-year low in September as lenders face political risks as well as record-low interest rates.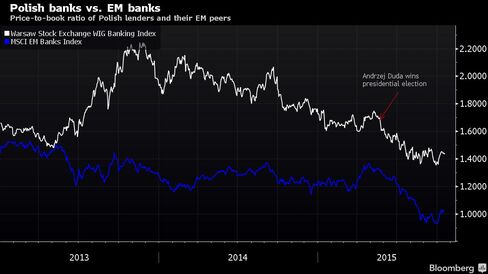 Here are questions investors may have about what's ahead for Polish banks:
Q: How bad is the Swiss-franc issue for Polish lenders?
Like in other east European countries including Hungary and Croatia, mortgages in foreign currencies, mainly in francs and euros, were popular in Poland because they offered lower rates than zloty home loans. They became a pressing issue in January, when the Swiss central bank allowed the franc to surge, boosting payments for 565,000 Polish households. The zloty lost half of its value to the franc since a 2008 peak.
Since then, politicians have been debating how to help one of the key middle-class electorates, while the banking regulator has been ringing alarm bells, saying that more than half of Poles' Swiss loans are worth more than the underlying property. About 38 percent of all mortgages are taken out in currencies other than the zloty, according to July data published by the country's financial-market watchdog.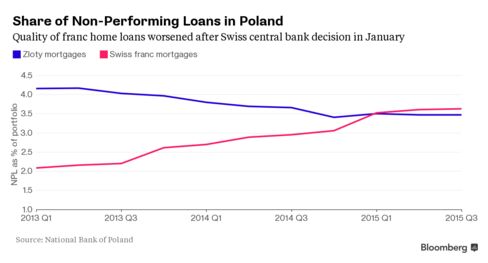 Unlike for other countries such as Hungary, Swiss-franc mortgages aren't a "macro" challenge for Poland, even though there's "obviously a social problem," Polish central bank Governor Marek Belka said in a speech to parliament in July.
Q: What do politicians seek to do with Swiss-franc loans?
The ruling Civic Platform drafted legislation that would convert Swiss loans into zloty at the current rate, with the 19 billion-zloty cost split evenly between banks and borrowers. During work on the bill, Law & Justice and other parties changed the legislation to force banks to cover 90 percent of the costs, which effectively froze work on the measure until after the Oct. 25 general election.
President Andrzej Duda said he will propose a solution to the Swiss loan issue to the next parliament. He may offer conversions at a historic rate that would cost banks more than 22 billion zloty, or more than 16 months of profit for the Polish banking industry, according to a report by Dziennik Gazeta Prawna newspaper last month.
PKO Bank Polski SA, MBank SA, Bank Zachodni SA, Bank Millennium SA and Getin Noble Bank SA have the largest Swiss-franc loan portfolios.
Q: What other levies are planned for banks?
Law & Justice is "split" on whether to introduce a tax on the assets of lenders and insurers, or a levy on financial transactions, lawmaker Henryk Kowalczyk said on Oct. 10.
It's considering a 0.39 percent tax on financial institutions' assets, which would bring in 5 billion zloty. The alternative transaction tax would generate revenues of as much as 1.7 billion zloty, according to its estimates, the party said the same day.
These plans risk hurting credit growth, banking jobs and may hobble the country's financial markets, according the ACI Polska association of financial-market professionals.
"Any transaction tax would limit liquidity on local financial markets," Bartlomiej Malocha, a management board member at ACI, said in an interview on Sept. 24. "It would be easy to avoid such a tax by moving trading to units registered in countries without such levies. But this would come at a cost to the entire Polish financial industry and the people employed there, while budget revenues would be much smaller than now envisaged."
Most exposed are Bank Handlowy SA, with 24 percent of revenue from trading activities, Bank Zachodni with 14 percent, Alior Bank SA with 13 percent, as well as MBank and Bank Pekao, both with 11 percent.
Q: Politicians want to "re-Polonize" banks, is this realistic?
Only three of the 10 biggest Polish lenders are controlled by Poles. The largest, by assets are Bank PKO, Getin Noble Bank SA, owned by billionaire Leszek Czarnecki, and Alior Bank SA.
During his election campaign five months ago, Duda called for the country to buy back lenders from foreign owners. "A re-Polonization is necessary and should take place through a gradual buyout of foreign-held banks by Polish financial institutions that are strong and can afford it," he said in a televised debate on May 22.
That's still the plan of Law & Justice, although the party hasn't specified how it wanted to increase local ownership. A chance may come next year, with investors such as Raiffeisen Bank International AG and General Electric Co. seeking to sell their local units and Poland's largest insurer, PZU SA, in the hunt to expand its banking arm.
Before it's here, it's on the Bloomberg Terminal.
LEARN MORE