Portuguese Politics Looks a Little Messy and Bonds Don't Like It
Governing coalition lost majority in Oct. 4 election

Opposition socialists hold talks with leftist parties instead
Whichever government ends up taking office in Portugal, bond investors are getting more concerned it might not last long.
The coalition of the Social Democrats and smaller conservative party CDS won the Oct. 4 election, though lost their majority in parliament. The opposition Socialists are pursuing talks with parties on the left as they try to form an alternative government. Portugal's bonds, meanwhile, have been falling, with 10-year yields edging higher since the vote as Spanish, Italian and Greek debt continued their rally.
"Either way we're looking at a weak government that will have a tough time pushing harsher measures or fresh elections," said Owen Callan, a Dublin-based fixed-income strategist at Cantor Fitzgerald LP. "It's uncertainty one way or the other. Markets usually hate that. You would expect Portuguese bonds to have outperformed."
Prime Minister Pedro Passos Coelho is the first leader to keep a coalition together for a full term in Portugal since the dictatorship ended in 1974. Whether or not he manages to stay in office for a second term as a minority government will depend on the Socialists at least abstaining in parliament for legislation to pass. President Anibal Cavaco Silva will hear from all the parties represented in parliament this week before moving to appoint a new premier.
"It's likely that the government would not be able to last beyond its first year, as Coelho would be at the mercy of the Socialists every time his administration brings a law to parliament," Antonio Barroso, an analyst at Teneo Intelligence in London, said in a report last week.
Spread Widens
Even with the market skewed by the European Central Bank's quantitative-easing program of bond buying, the yield on Portugal's 10-year securities has climbed to 2.39 percent from 2.30 percent on the last trading day before the vote. The premium over equivalent Spanish bonds increased 10 basis points over the same period.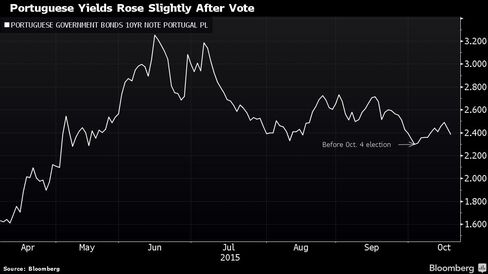 The more a Socialist-led coalition is seen as realistic, the more likely Coelho is to concede to Socialist leader Antonio Costa's demands, Federico Santi, an associate at Eurasia Group, said in an Oct. 14 report. "Risks to an already mixed fiscal outlook will increase as the incoming government comes under pressure from the Socialist Party to slow the pace of adjustment."
Next year will be the most demanding in terms of meeting deficit targets, according to the Portuguese Public Finance Council, which carries out independent assessments on the government's finances. Eliminating measures like the income tax surcharge and cuts to public workers salaries would endanger a pledge to stay below the European Union's 3 percent limit on budget deficits as a proportion of the economy.
Costa will have a hard time negotiating a budget that complies with European rules "without angering" the Communists and the Left Bloc, according to Barroso. That means that even if parties on the left of the political spectrum reach an agreement, a Socialist-led government may also be short-lived.
Likely Support
The Socialist leader, who proposes narrowing the deficit more slowly than Coelho, says he won't block a government backed by the governing coalition if his party can't offer a stable alternative. He has reaffirmed he would comply with Portugal's EU commitments.
The best outcome would be for the Socialists not to block a coalition government in exchange for general elections in October 2016, Nuno Garoupa, president of the Francisco Manuel dos Santos Foundation that focuses on studies about Portugal, said on Oct. 7.
"If we don't have elections in 2016, we're headed for a quagmire," he said.
Before it's here, it's on the Bloomberg Terminal.
LEARN MORE