O2 Czech to Pay Higher Dividend, Plans Debt to Fund Buyback
Phone company sets dividend policy at 90%-110% of profit

Shares drop 1.1% as buyback makes `jumbo dividend' less likely
O2 Czech Republic AS, controlled by billionaire Petr Kellner, will use rebounding profits to boost dividend payments and plans to increase its debt load to finance a share buyback.
The phone and Internet utility seeks to refinance its existing debt and raise extra funds to buy its shares, Chief Financial Officer Tomas Kouril said on a conference call with analysts on Monday. He also said a new policy to pay out 90 percent to 110 percent of profit to shareholders is sustainable for a "foreseeable future" after net income for the first nine months jumped 49 percent from a year earlier to 3.7 billion koruna ($155 million).
"We see the company's earnings and the announced dividend policy as positive for the shares," Josef Nemy, an equity analyst at Komercni Banka AS in Prague, said by e-mail. "The share price should be further supported by the buyback."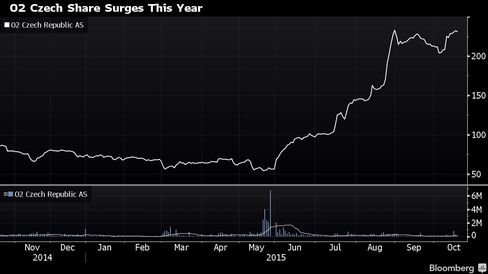 The share-purchase program is adding to the stock's appeal after the spinoff of infrastructure assets on June 1 and cost cuts helped the utility reverse four years of shrinking profits. O2 Czech, in which Kellner's PPF Group NV owns 84.91 percent, said it expects net income between 4.85 billion koruna and 5.2 billion koruna this year, compared with an 11-year-low of 4 billion koruna the company reported last year.
The buyback program will start in January and the telecommunications company seeks to purchase as much as 10 percent of its shares over five years, setting an 8 billion-koruna limit for the program, according to the earnings statement.
Before the partition, the phone operator paid out a dividend of 13 koruna per share from its 2014 profit. This year, the downsized company expects a net income of 15.5 koruna to 16.8 koruna per share, while earnings before interest, taxes, depreciation and amortization should reach 9.8 billion koruna to 10.2 billion koruna.
Debt Load
O2 Czech may increase its net debt load to as much as 1.5 times Ebitda, which it said will still be "below the industry benchmark" while exceeding the current ratio of about 0.3 percent times Ebitda that represents a "sub-optimal" capital structure.
The O2 Czech stock swung between gains and losses, trading down 0.9 percent at 230.5 koruna as of 4:07 p.m. in Prague. The shares are up 307 percent since the asset spinoff less than five months ago.
While the operator's plans are positive for the shares, some investors may have a reason for disappointment, according to Petr Bartek, an analyst at Erste Group Bank AG. He said the buyback program cuts the scope for an extraordinary dividend some had expected after O2 Czech said two months ago it had the capacity for a one-time payout of 38 koruna per share.
"The planned buyback probably means there will be no jumbo dividend," Prague-based Bartek wrote. "Investors should wait for the information whether PPF will also sell during the buyback."
Before it's here, it's on the Bloomberg Terminal.
LEARN MORE