Ford's F-150: Lots of Aluminum, Plenty of Awesome
The gutsiest decision in the auto industry is beginning to pay off.
Three people, two dogs, a pile of gear, and a 3,000-pound boat. That's how we tested the all-new aluminum Ford F-150.
The result? Mileage ticked down from 21 miles per gallon to 13, as you'd expect, and the floor mats collected a layer of Labrador fur.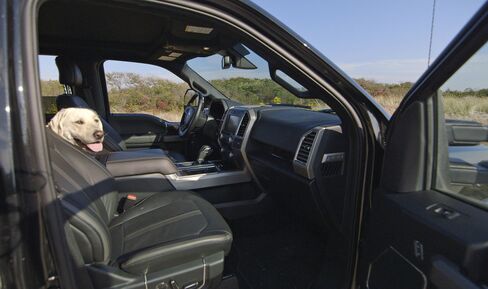 Ford's famous pickup, the best-selling vehicle in America since the Reagan administration, has still got it. Even after Ford swapped out almost every steel body panel for a lightweight aluminum alloy. Even after it added a cute, sedan-size 2.7-liter engine. Even after Chevrolet and a legion of gravel-throated truck fans deemed it wimpy and precious and expensive to fix.
"It seems like a big change initially, but when people see the difference, they'll ask 'Why didn't they do this sooner?'" said Michael Levine, the company's truck talker.
It's difficult to overstate how critical this vehicle is to Ford's finances. It's a rainmaker, a Michigan1 full-employment act, and what seems like a lion's share of NFL advertising revenue. One of every three vehicles Ford sold in the U.S. last year was a version of the prized pickup, and Morgan Stanley analysts estimate it accounts for around 90 percent of the company's global profit. Changing the thing at all is pretty gutsy.
It's not like the old F-Series was broken. In 2014, U.S. drivers bought one every 42 seconds or so. A full-frontal switch to aluminum was a massive gamble, and an expensive one. Ford essentially rebuilt two of its biggest factories to crank out the new trucks, shuttering them for 13 weeks at the opportunity cost of all the F-150s it could have made in that time—more than 90,000 vehicles in all.
The change, however, is palpable. At Ford, they call it "the 50-foot test"—you can tell in 50 feet of driving the difference all that aluminum makes. Specifically, the 2015 trucks are about 700 pounds lighter, which makes them far more peppy and eager. Even with the smallest of the four engines Ford offers, the F-150 will go from a dead stop to 60 miles per hour faster than the Ford Fusion, its little cousin2. "Just 10 years ago, that would have been complete science fiction," Levine said.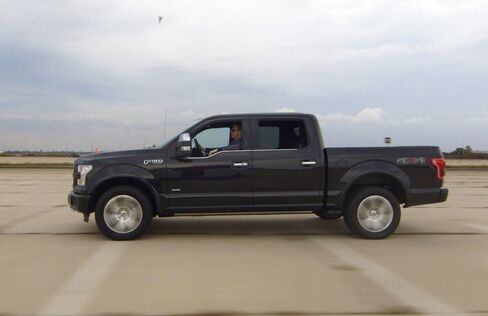 Cruising in a pickup is a bit like crawling in a Lamborghini; it's possible, but not natural. That's not the case with Ford's new moneymaker. A long haul on an interstate isn't a low-gear grind.
Then there's the heavy lifting. Every version of Ford's pickup will tow a few hundred pounds more than previous iterations, with a max load of 12,200 pounds. Smaller, faster, and stronger, it's like a linebacker, a mountain of muscle that can run the 40 in less than 5 seconds.
A lot of truck fans don't really care about those things. They buy a pickup because it feels like riding around in your living room, with bigger windows and more places to put a drink. Ford didn't mess with that experience.
The F-Series still has a center console capable of holding a bag of groceries, and its cabin is layered with enough trays and bins to store a family's worth of iPhones and beef jerky. Meanwhile, Ford's engineers lowered the window frames by two inches to provide even more visibility. It's one of the most thoughtful touches, in addition to a snug, hand-size space at the bottom of the steering wheel that presents a perfect handle on long, straight roads. The one place Ford left some steel is in the wall behind the engine, sealing a cabin as quiet as a church.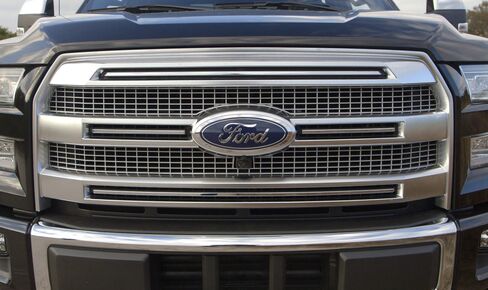 The brakes are the most disappointing part of the drive, soft at first and then suddenly grabby. And though there are many new shiny bits of technology—massaging seats, a 360-degree camera system, and something called "curve control" that automatically slows the truck down if it is carrying too much speed around a bend—few of them come standard. Ford reasons that customers shouldn't have to pay for stuff they don't want, but most car companies are adding more content to their bare-bones models, particularly when it comes to safety. It's no wonder the average sticker on an F-150 now is almost double its entry-level price of $26,330.
The truck got off to a slow start. It took a while for production to get up to speed3, and when it did, customers appeared to be skeptical. In the first six months of the year, Ford's pickup sales dipped by 2 percent. At the same time, Chevrolet moved 15 percent more Silverados. By July, Ford dealers were offering discounts of more than $10,000 on the F-150. The balance was shifting in the country's most coveted auto market.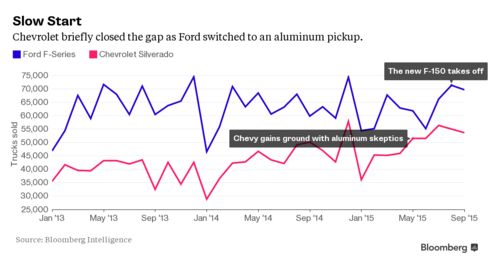 Then Ford hit a higher gear. Its workers finally found some facility with the new aluminum, and customers figured out the truck was still hardy. In September, the number of F-series sold surged by 16 percent, and Ford managed to stick prices on the new trucks $6,100 higher than a year earlier, on average, according to Edmunds.com.
Strange and wonderful things are happening in the auto industry. Engineers are making miracles happen with massive batteries and composite materials and road-scanning sensors. Ford's new aluminum pickup parks neatly in that space. It's plenty tough. The decision to make it? Tougher still.
Before it's here, it's on the Bloomberg Terminal.
LEARN MORE