A 'Goodfella' Stands Trial Decades After Famed Lufthansa Heist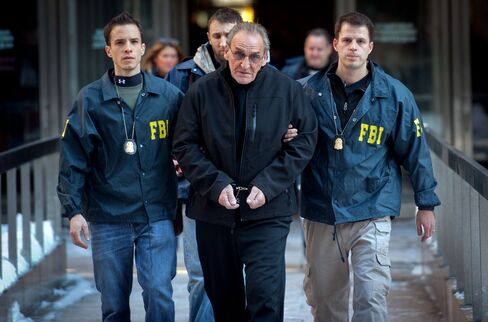 Vincent Asaro case marks throwback to days of chasing Mafia

Feds use wiretaps, informants to jail mobsters, traders
Vinny Asaro, meet Raj Rajaratnam.
This week, purported Bonanno crime family captain Vincent Asaro is in court over his alleged role in the 1978 airline cargo robbery that was depicted in the classic mob movie "Goodfellas." While the case is a throwback to the great gangster trials decades ago involving La Cosa Nostra, the techniques prosecutors used to ensnare mobsters are now at the forefront of the fight against white-collar perpetrators like Rajaratnam, the hedge-fund tycoon jailed for insider trading, as well as cybercriminals and terrorists.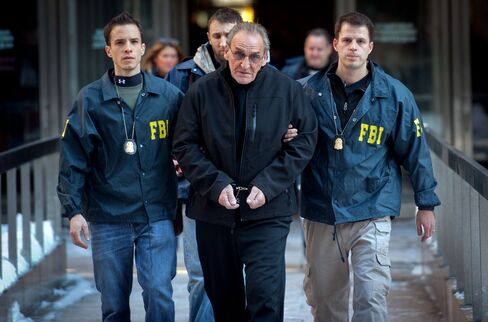 Rajaratnam's conviction in 2011 hinged on evidence gathered from phone taps, the first time the U.S. made extensive use of secretly-recorded conversations in an insider-trading investigation. Since then, prosecutors have built cases against accused Wall Street and corporate criminals using wiretaps, secret recordings and informants.
"Clearly, the template for white-collar investigations was the mob cases," said Steve Zissou, a former New York prosecutor and a defense lawyer who represented an accused conspirator of Asaro. The probe "starts with surveillance, they start ordering phone records, connect the dots and then they get a break."
On Monday, federal prosecutors in Brooklyn began presenting their case that Asaro, 80, participated in racketeering, extortion, theft and loan-sharking schemes dating back decades. Among them was the pre-dawn Lufthansa heist at John F. Kennedy International Airport in which as much as $6 million in cash, gold and jewels were supposedly taken.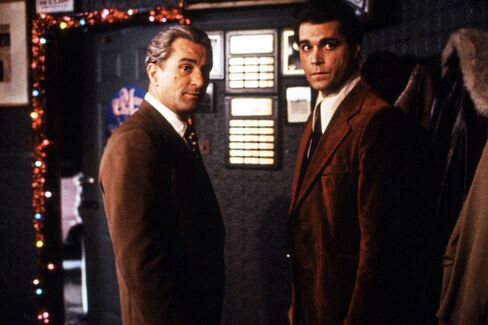 Asaro was present at planning meetings for the crime, prosecutors said, though "Goodfellas" director Martin Scorsese didn't include him in the 1990 movie.
Lufthansa Spoils
More than 30 years later, in 2011, Asaro was allegedly still bitter about associate James ''Jimmy the Gent'' Burke, who died in prison in 1996 and was played in the movie by Robert De Niro. He is alleged in court papers to have complained on a secret recording that Burke didn't give him his full share of the Lufthansa spoils.
''We never got our right money, we were supposed to get, we got f---- all around. Got f---- all around. That f------ Jimmy [Burke] kept everything,'' Asaro said, according to court documents.
Unrelated to the Lufthansa heist, Asaro is also charged with helping Burke murder a suspected rat in the 1960s by strangling him with a dog chain. Prosecutors said they buried the body in the basement of a vacant building in Queens until law enforcement started looking into the death in the 1980s. Vincent then directed his son to dig up the body and move it to another location, according to prosecutors. The Federal Bureau of Investigation found it buried in another Queens basement in 2013.
A gangster "through and though," Asaro has a tattoo on his forearm reading "death before dishonor," Assistant U.S. Attorney Lindsay Gerdes said in court Monday.
For Asaro, "the Mafia was literally the family business," she said, telling jurors that his father and son were also mob associates.
Cooperating Witnesses
The U.S. suspected at least 10 members of the crew who carried out the Lufthansa heist were murdered so they wouldn't talk, according to former federal prosecutor Ed McDonald, who led the investigation and played himself in "Goodfellas". The break in the case came only recently, when the FBI recruited new witnesses, including a cousin of Asaro who prosecutors said had been in on the crime.
Authorities used information from at least four cooperating witnesses, DNA evidence and recordings to make five arrests of alleged Bonanno crime family members last year, including Asaro, as part of a broader organized-crime sweep. The other four men have pleaded guilty as part of agreements with the government.
Witnesses in court are likely to include several former mobsters who have agreed to cooperate with the government. Defense lawyer Diane Ferrone told jurors in her opening Monday they are "accomplished criminals" who are being offered "huge incentives to come in here and tell stories about Mr. Asaro."
"They are going to do whatever they need to do to satisfy the government," she said.
Law enforcement methods like wiretaps and using cooperating witnesses wearing body wires came into their own during the heyday of mob prosecutions in the 1980s to 1990s, said Marshall Miller, a former high-ranking official in the Justice Department's criminal division.
"Tactics and capabilities that the government developed in attacking the mob are now used in cases that range from terrorism to international and local corruption, cybercrime, and all forms of white-collar crime," said Miller, who also served as chief of the criminal division for the U.S. attorney in Brooklyn.
International Threats
The shift underscores the Justice Department's changing priorities. When now-U.S. Attorney General Loretta Lynch was U.S. Attorney in Brooklyn, she reorganized the office's criminal division to put more resources into combating international threats including terrorism and cybercrime.
Some prosecutors who had previously gone after Gambino and Genovese crime family associates joined the newly reconfigured international squad. Investigators who specialized in mob cases were merged with a group focused on gangs.
The mob, too, has changed over the years, branching out into other lines of business including sex trafficking, online gambling and more sophisticated crimes such as stock manipulation.
"It's not as if violent crime has gone away, or that traditional criminal organizations have gone away, but the mix has changed some, and the reconfiguring of the organized-crime section reflects that," said Michael Yaeger, a former cybercrime prosecutor in the Brooklyn U.S. Attorney's office.
In a sign that U.S. mob-busting techniques are going global, the sweeping bribery case brought in May against FIFA and sports marketing officials alleges patterns of racketeering activity not unlike those described in Mafia indictments. Some say they are not surprised -- prosecutors leading it are accomplished alums of the organized-crime unit.
Grisly mob stuff aside, Zissou says prosecutors were right to turn their attention to white-collar crime.
"Somebody becomes a billionaire from insider trading -- that's more than what the Mafia earns in a decade," he said.
Before it's here, it's on the Bloomberg Terminal.
LEARN MORE