Rajan Unclogs India Monetary Plumbing as Banks Finally Cut Rates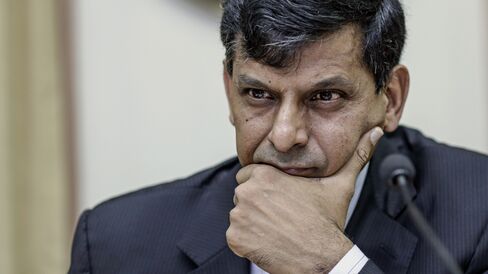 Banks have passed on 70bps of RBI's 125bps easing this year

Lenders to shift to market-linked rate-setting from April 1
Central bank Governor Raghuram Rajan's plan to empower the markets is steadily eroding the ability of Indian lenders to avoid passing on policy rate cuts.
Commercial banks have transmitted about 70 of 125 basis points of reductions this year, more than half of which came in the past few weeks after Rajan slashed the benchmark repurchase rate more than economists expected. His move to allow foreign investors to buy more Indian bonds pushed yields to the lowest since July 2013 before a shift next year that'll force banks to align their lending costs more closely to market rates.
"Before the September policy meeting, transmission wasn't happening," said Anubhuti Sahay, a Mumbai-based economist at Standard Chartered Plc. RBI's actions "are likely to further improve monetary transmission," she said.
Prime Minister Narendra Modi's administration is betting on cheaper loans to spur investment by boosting credit growth from near a 20-year-low. Rajan is now starting to fix the plumbing in India's monetary system after spending the first half of his three-year term stabilizing the rupee and pushing down what was Asia's fastest inflation.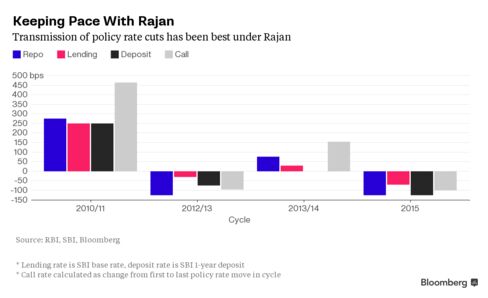 Rajan's plan has three major steps: He's begun to push down market rates by keeping policy accommodative and ushering in new investors; come April 1, all banks will have to move to a new method of setting their lending costs; and eventually he aims to shift to a completely market-determined model.
"We will have to move towards a benchmark which is set by the market rather than by the banks themselves," he told reporters last month. "But, we are looking at some of the bank concerns and we will think about how to respond to those concerns in a way that moves the system forward."
'Very Impressive'
Overseas funds can own as much as 5 percent of India's total outstanding debt by March 2018 -- from about 3.8 percent now -- in a move that will help attract 1.2 trillion rupees ($18.4 billion) in inflows, the RBI said Sept. 29. The resulting rally pushed the yield on benchmark 10-year notes to 7.51 percent on Oct. 5, the lowest since July 2013. It was at 7.57 percent as of 10:03 a.m. in Mumbai on Monday.
"The transmission in bond yields has been very impressive post the opening of debt limits," said Ajay Manglunia, the Mumbai-based head of fixed income at Edelweiss Financial Services Ltd. "What's happening is the RBI is putting in place a plan which will further improve monetary policy transmission."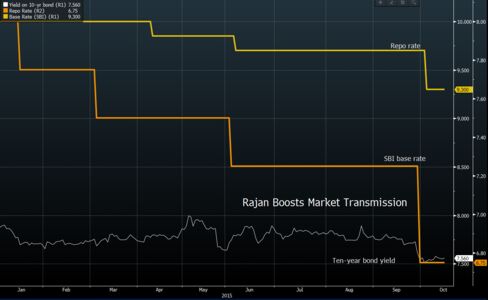 A reduction in market rates sets the stage for Rajan's biggest regulatory move yet: a move to more market-linked rates.
From April 1, Rajan has proposed that all banks calculate so-called base rates using the marginal cost of funds, which takes into account market changes. Banks currently use average costing, citing compliance difficulties and increasing bad loans that lock up funds.
"The impact of all the measures the RBI is taking will be that the rates will adjust quickly, and if the rates adjust quickly, decisions will be faster," said Soumya Kanti Ghosh, chief economic adviser at State Bank of India, the nation's largest lender. "As a result, capital will flow faster to sectors which are more rewarding and there will be optimum allocation of resources."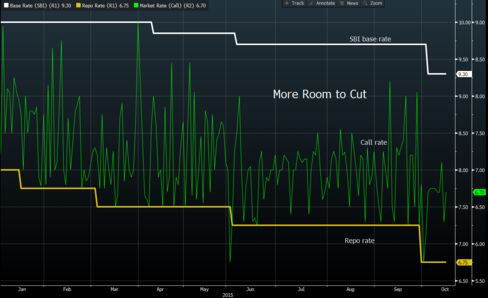 Before it's here, it's on the Bloomberg Terminal.
LEARN MORE