2010 ballot papers more than 2 feet long bore over 300 names

President and VP have been from different parties since 1992
Political dynasties, an alien-backed contender and long ballot papers will be features of the Philippine elections.
By the time deadline for candidates to declare was reached on Friday, there were more than 100 contenders for the top job. Here is a look at the main ones and some quirky facts about how the country will choose its next president in elections in May.
The principal candidates are former Interior Secretary Mar Roxas, who once worked as an investment banker and represents President Benigno Aquino's ruling Liberal Party; Vice President Jejomar Binay, a one-time human rights lawyer and ex-mayor of the country's most-important business district, Makati City; and first-term Senator Grace Poe. She is the daughter of one of the Philippines most revered film stars and served in the Senate as part of Aquino's coalition. Now she is running as an independent and is leading in the most recent opinion polls.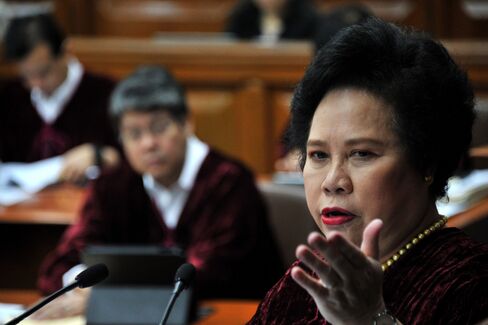 One later entry to the race on Friday was Senator Miriam Defensor Santiago, a 70-year-old former judge who has said she eats death threats for breakfast. Santiago declared she has beaten stage IV lung cancer and is ready to make her third bid for the presidency. Santiago made a name for herself as a young trial judge during the dictatorship of Ferdinand Marcos when she allowed student activists protesting against the late dictator to post bail. In a sign of the shifting sands of Philippine politics she said she would offer Marcos's son, Senator Ferdinand "Bongbong" Marcos, the spot as her running mate.
Why Elections Matter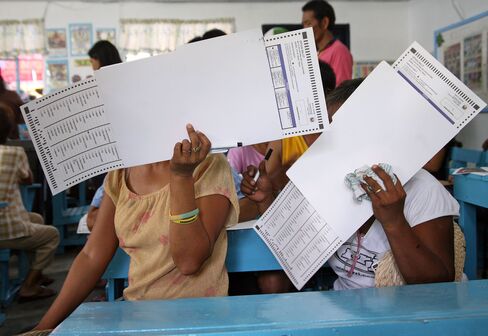 The new president will seek to expand on Aquino's success in curbing corruption, boosting growth and trimming the budget deficit. Once Asia's "sick man," the Philippines earned World Bank commendation as the continent's "rising tiger" in 2013. The nation of 108 million has posted 6.6 percent average annual growth since 2012, its best pace since the 1970s. Aquino has shrunk the deficit to the equivalent of 0.6 percent of GDP. In March 2013, Fitch Ratings elevated Philippine debt to investment grade for the first time ever.
The Philippines has some of the world's longest ballot papers
A new president and vice president are chosen every six years while 18,000 local officials across the country are elected every three years. In 2010, the ballot for each district was two-feet long to accommodate more than 300 names for national and local posts.
This year, there are 130 presidential aspirants, 19 for vice president and 172 for 12 Senate seats in the May 2016 elections. These numbers aren't unusual for the Philippines. In 2010, 99 people filed their candidacies for president and nine were allowed to contest the race by the country's election commission. Of the candidates who filed to run this year, several said divine powers drove them into politics while a man named Allan Carreon claimed to have backing from an alien.
Filipino political dynasties leave the U.S. in the dust
As many as 70 percent of Philippine legislators have links to politically-connected families compared with about 6 percent in the U.S. and 10 percent in Argentina, according to a 2012 study by authors including Ronald Mendoza, an economics professor at the Asian Institute of Management.
Senator Paolo Benigno "Bam" Aquino is a cousin of current President Aquino. Roxas, who is seeking the top job, is grandson of former President Manuel Roxas.
Vice President Binay heads a dynasty that has controlled Makati, the Philippines' main business district, for almost three decades. His daughter, Abigail, is currently in congress and is running to become mayor of Makati. The post was held by her brother Jejomar "Junjun" Binay, who was dismissed earlier this month and barred from holding public office by the country's ombudsman. His lawyer said he will appeal the decision.
Imelda Marcos, widow of deposed dictator Ferdinand Marcos, is a congresswoman, her daughter Imee is a governor and both are seeking re-election. Marcos's son "Bongbong" will likely run for VP with Santiago, with an eye on the top post in 2022.
Film stars, sports stars, stars everywhere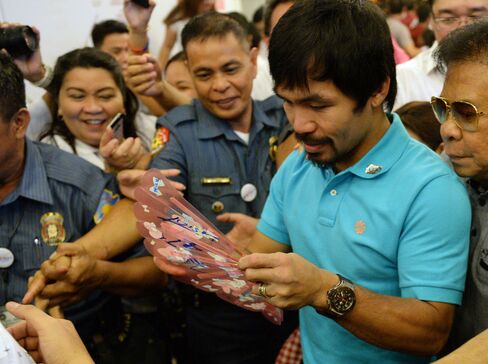 Dozens of celebrities, including boxer Manny Pacquiao, bring limelight to the campaign trail and are following in the foot steps of film star Joseph Estrada, who landed the nation's starring role in 1998.
His buddy Fernando Poe Jr., who was also an actor, made a bid for the presidency in 2004 and lost to Arroyo. He died a few months later. Now his adopted daughter, Grace is front-runner for presidency, according to polls, while several TV and movie personalities are making a run for the Senate.
The president and vice-president make an odd couple
Since the 1992 elections, the president and vice president have come from different parties as candidates run independently for the posts and not necessarily on the same ticket or party list. Aquino and Binay also came from different parties, their long friendship buckling under the weight of politics. Binay accused the government of Aquino, who's backing Roxas, of political persecution and incompetence. Allies of the president investigated Binay and his son over claims of corruption -- allegations they denied.
Winning the youth vote is crucial
The presidential candidate who taps the youth vote will have a strong chance of winning, according to Commission on Elections Chairman Andres Bautista. More than 50 million people are qualified to vote and about 40 percent are aged 18 to 34. Social media, which is dominated by young people, will be a game-changer for the 2016 elections, Bautista said.
Before it's here, it's on the Bloomberg Terminal.
LEARN MORE