After 30% Hike, Venezuela's Minimum Wage Is Just $13 a Month
Minimum wage hike is fourth in 2015 as consumer prices soar

President Maduro says inflation in country around 80 percent
Venezuelan President Nicolas Maduro announced last night the fourth minimum wage hike this year as the South American country battles the highest inflation rate in the world. At the black market exchange rate, it's still only about $13 a month.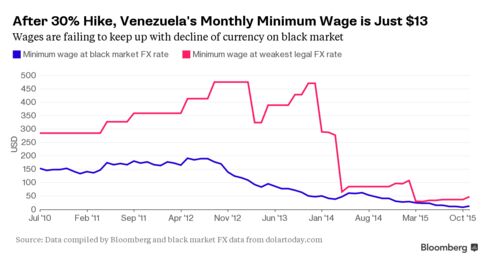 "The minimum wage was already increased 52 percent so far this year, but to protect salaries for the last quarter of the year, I've decided to decree another 30 percent increase," Maduro said on state television, adding the total increase for the year is now around 137 percent. "In times of economic warfare, special measures are needed to protect workers and the middle class."
With the increase that starts Nov. 1, a Venezuelan minimum wage worker will earn 9,649 bolivars a month. That's about $13.33 a month at the current black market exchange rate of 723.78 bolivars per dollar, or $48.28 a month at the weakest legal exchange rate of 199.86 bolivars per dollar. An additional hike in credits for food purchases will bring total minimum wage compensation to 16,399 bolivars bolivars a month, Maduro said.
Venezuela's currency has lost 87 percent of its value on the black market in the past year, according to data compiled by dolartoday.com, a website that tracks trading in street markets where Venezuelans go to skirt limits on foreign-exchange purchases. The economy shrank 10 percent this year, the biggest contraction worldwide, while inflation is 159 percent, the International Monetary Fund said this month.
Hyperinflation Risk
"It's induced, speculative, criminal inflation," Maduro said. "If we protect jobs and salaries, we're going to defeat these criminal prices that the bourgeoisie puts on products in the street."
The South American country hasn't released official inflation data since last year, although Maduro said last night inflation would end the year around 80 percent -- well below estimates from some analysts that are nearing 200 percent.
Polls increasingly show Maduro's party may lose congress to the opposition for the first time in 16 years in national assembly elections set for Dec. 6 as inflation and record shortages of food and medicine undercut into their support.
"Inflationary pressures still suggest risk of hyperinflation early next year," Siobhan Morden, head of Latin America strategy at Jefferies LLC, said Friday in a note to clients, adding that it now took more than 10 minimum monthly salaries to purchase a basket of basic consumer goods. "The social pressure for wage indexation will catalyst more aggressive minimum wage hikes that feeds back into higher inflation."
Before it's here, it's on the Bloomberg Terminal.
LEARN MORE