Salmond Leads Scottish Nationalists' Opposition to Bombing Syria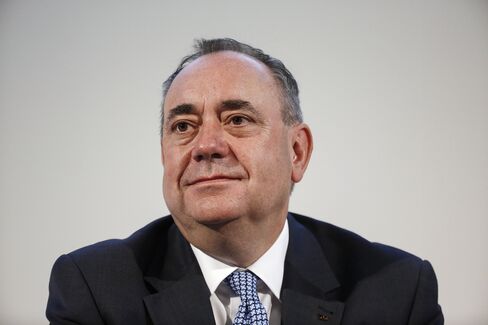 SNP conference votes to oppose U.K. involvement in airstrikes

British action would be `militarily irrelevant' and harmful
The Scottish National Party voted to oppose U.K. airstrikes on Syria after former leader Alex Salmond called on it to be "the voice of sanity, clarity and humanity."
Britain should press for the United Nations to take the lead in efforts to aid people suffering at the hands of Syrian President Bashar al-Assad and Islamic State extremists, Salmond said. U.K. involvement in airstrikes would be "militarily irrelevant" and "cause further human suffering," the motion approved by the party conference said.
"There should be no more futile interventions by the United Kingdom," Salmond, who led the SNP for 20 years, told delegates at its annual conference in Aberdeen on Friday. "No more Afghanistans with no exit strategy, no more Libyas, where we spent 13 times as much bombing as we did reconstructing that country, and no more illegal wars as in Iraq."
It was the only appearance on the conference main stage for Salmond, who is the party's House of Commons foreign-affairs spokesman. Salmond, who received a standing ovation before and after his speech, has kept a low profile at the gathering, allowing First Minister Nicola Sturgeon, whose style is less confrontational, to dominate preparations for elections to the Scottish Parliament next May.
SNP lawmakers will question Defence Secretary Michael Fallon in the House of Commons on Monday over the possibility of Britain, which is already bombing Islamic State targets in Iraq, joining airstrikes on Syria, the party's defense spokesman, Brendan O'Hara, told delegates.
Before it's here, it's on the Bloomberg Terminal.
LEARN MORE