Putin Allies Said to Be Behind Scrutinized Deutsche Bank Trades
Rotenbergs said among beneficiaries of $6 billion in trades

U.S. asking if money left Russia under lax banking controls
Several close associates of Russian President Vladimir Putin may have benefited from Deutsche Bank AG trades that are now coming under the glare of U.S. prosecutors, according to people familiar with the matter.
The U.S. Department of Justice is investigating whether Germany's biggest bank properly vetted as much as $6 billion in transactions that may have masked the flow of money out of Russia, people familiar with the matter have said.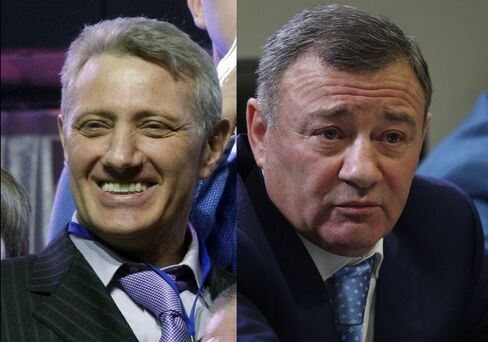 The bank, which is carrying out its own review of the transactions, is looking into accounts connected to roughly a dozen entities for which it conducted so-called mirror trades between Moscow and London, said people with knowledge of the matter. In several cases, they said, assets in these accounts were said to belong to Putin associates, including a relative of the president and two of his longtime friends, Arkady and Boris Rotenberg, who grew rich from contracts with state-run firms and who are now under U.S. sanctions.
There's no indication that the Rotenbergs or other individuals allegedly linked to the accounts are under investigation for the trades. The transactions -- in which a client can use money in one market to buy securities, while cashing out of similar securities in another market -- can be done legally. What U.S. prosecutors want to know is whether the bank violated U.S. banking laws, including whether it failed to comply with anti-money-laundering reporting practices.
Deutsche Bank declined to provide specifics of its review. It said it's keeping regulators in the U.S. and Europe informed of its findings. A representative for the Rotenbergs denied any involvement in such transactions. A Kremlin spokesman declined to comment on what he characterized as unsubstantiated allegations.
Lengthening Shadow
The developing investigation casts a longer shadow over Deutsche Bank and its Moscow office: In recent months, amid a broader slowdown in business in Russia, the bank has cut staff and closed its securities unit there. The Frankfurt-based bank is already grappling with at least three other criminal probes in the U.S. and turnover in its executive suite. It expects to post billions of dollars in charges in part for mounting legal costs.
Any suspicion that prominent presidential allies sought to get cash out of the country would also clash with Putin's frequent calls for Russians to invest at home. In late 2011, he began urging his country's business elite to repatriate billions of dollars held offshore. The trades under review span 2011 to early 2015, people familiar with the matter have said.
Putin is aware of the Deutsche Bank investigation and allegations about the Rotenbergs' involvement, according to a senior Russian official. Top officials are concerned, this person said, that the matter could spur a controversy like one surrounding Russians' accounts at Bank of New York Co. more than a decade and a half ago. That bank later admitted that it failed to report billions of dollars that arrived in its accounts from Russia, skirting the country's taxes and duties.
Kremlin spokesman Dmitry Peskov declined to comment on issues surrounding any Deutsche Bank trades or possible links to allies or relatives of the president. "No one has seen any serious information on this that can be attributed to any serious source," he said in a text message.
The relative of Putin wasn't identified, but was described by the people with knowledge of this situation as outside his immediate family.
Birthday Hockey
The Rotenberg brothers are among Russia's richest businessmen, longtime emblems of the power and wealth of Putin's closest allies. They have been the targets of a U.S. travel ban and asset freeze since last year. Arkady, the president's longtime judo partner, and Boris both played alongside the president in a star-studded hockey match on his birthday earlier this month.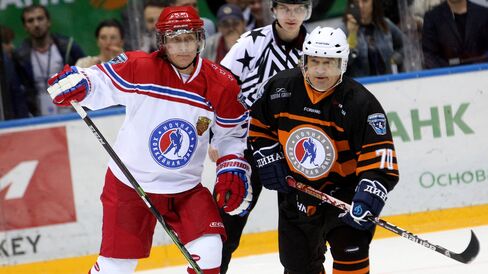 In 2011, business associates of Arkady Rotenberg approached people at the Moscow office of Zurich-based UBS to do mirror trades for at least one of the brothers, a person familiar with the situation said. The bank turned down the business, this person said. UBS Group AG declined to comment.
Andrey Baturin, a spokesman for Arkady and Boris Rotenberg, denied the men had anything to do with mirror trades or moving capital out of Russia through Deutsche Bank. He denied any approach had been made to UBS on their behalf.
Deutsche Bank, in a statement, said it is "investigating the circumstances around equity trades entered into by certain clients with Deutsche Bank in Moscow and London that offset one another." It said it has informed regulators and law-enforcement authorities in jurisdictions including Germany, Russia, the U.K. and U.S. about its review.
Mirror Trades
Such trades are at the heart of the Russia issue. In a mirror trade, a client could buy securities in rubles through Deutsche Bank in Russia and then sell identical ones for foreign currency through the bank's London office. Banks widely conduct these transactions legally, industry officials say, including on behalf of investors such as mutual funds that have limits on where they can hold securities.
Mirror trades could also be used in lieu of converting rubles to foreign currency and wiring the money abroad, potentially facilitating capital flight and circumventing money-laundering controls.
It's unclear whether any such trades violated Russian central bank rules governing currency transactions. The central bank, in an e-mail, declined to comment on a functioning bank.
In addition to the U.S. Justice Department, Britain's Financial Conduct Authority and New York state's Department of Financial Services are looking into the trades, people familiar with the matter have said. The Justice Department, DFS and FCA declined to comment.
Worth Billions
The Rotenbergs amassed their fortune during Putin's 15-year rule in part through contracts with gas giant Gazprom PJSC and other state-owned firms. By 2014, they were worth more than $3 billion each, according to Bloomberg data.
In March 2014, the U.S. imposed sanctions on the brothers and others close to Putin after Russia annexed the Ukrainian region of Crimea. Some of the brothers' companies are among those subject to U.S. and European Union asset freezes aimed at hobbling Russia's support for separatists in Ukraine. The EU also imposed sanctions on Arkady Rotenberg last year.
Since then, the Rotenbergs' companies have received hundreds of billions of rubles in government contracts, including one to build a bridge linking mainland Russia to Crimea.
There's no indication that Deutsche Bank handled assets for the Rotenbergs or other individuals after they became subject to U.S. sanctions, according to one person familiar with the inquiry.
In October 2014, Russia's central bank approached the German lender, requesting the firm examine the activities of certain clients. Deutsche Bank's internal probe is being conducted by its central investigative unit in Europe, said two people familiar with the matter. The internal review was first reported in June.
Deutsche Bank, in its statement, said it has taken disciplinary actions against some individuals in the matter and would "continue to do so with respect to others as warranted." It said wrongful dismissal suits filed by some individuals who said they were fired amid the bank's in-house investigation are without merit.
Multiple Probes
The Justice Department's investigation, which became public in August, is one of several active U.S. criminal probes against Deutsche Bank. It has disclosed an inquiry into whether it colluded to rig benchmark foreign-exchange rates, an investigation into potential manipulation of precious-metals prices and a look into possible violations of U.S. sanctions laws. U.S. prosecutors are also investigating its dealings in mortgage- and asset-backed securities.
The bank resolved another U.S. probe in April when a U.K. unit entered a guilty plea for its role in manipulating interest-rate benchmarks; it was fined $2.5 billion by U.S. and U.K. regulators. In June, the bank's co-chief executive officers, Anshu Jain and Juergen Fitschen, announced they would step down.
Deutsche Bank said last month it will shut much of its Russian banking and securities businesses "in order to reduce complexity, costs, risks, and capital consumption." The bank, in its statement, didn't mention any reviews or probes of the mirror trades. As part of the closure, the bank is planning to cut about 200 jobs, according to people with knowledge of the matter.
Before it's here, it's on the Bloomberg Terminal.
LEARN MORE