Lira, Ruble Traders Get Reminder of How Fast Sentiment Can Sour
Currencies drop after Turkey shoots down drone on Syria border

Rabobank expects further ruble declines in coming weeks
In the space of a few minutes, investors in the Turkish lira and Russian ruble got a reminder about how quickly bullish sentiment can sour.
As Turkey's military said it shot down an unidentified aircraft on the Syrian border on Friday, the lira slid to a session low of 2.9106 per dollar, down 1.1 percent. Traders worried it may have been a Russian jet helped send the ruble down as much as 1.2 percent. The currencies have been among the 10 best performers in emerging markets this month, recovering from losses of more than 10 percent in the third quarter.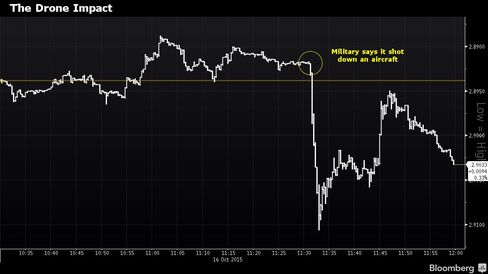 While the selloff eased once Turkey said the army shot down an unmanned drone with no immediately apparent affiliation to Russia, the initial response highlighted how fragile the October rally may be. Russian markets have largely ignored President Vladimir Putin's decision to join the war last month to support the regime of President Bashar al-Assad. Investors in Turkey, which wants to see the Syrian leader overthrown, are grappling with a deteriorating security situation and Nov. 1 elections.
"The tense situation in the region leaves the Turkish lira and the Russian ruble, due to Russia's military action in Syria, the most sensitive emerging-market currencies to any fresh developments on the geopolitical front," said Piotr Matys, a strategist at Rabobank in London, who expects the ruble to face selling pressure in coming weeks.
Declining Volatility
Investors have piled back into Turkish and Russian assets this month amid speculation the Federal Reserve will hold off raising interest rates until next year. That helped push one-week implied volatility on the ruble to a more than two-month low this week, while price swings in the lira slid 2.1 percentage points in October through Thursday.
Lira volatility climbed as much as 56 basis points on Friday as the nation's interim Foreign Minister Feridun Sinirlioglu warned that Russian air operations in Syria may lead to accidents. The nationality of the drone, which flew three kilometers (1.9 miles) inside Turkey's border, can't be determined yet, Sinirlioglu told reporters in Ankara.
Investors in Russia have downplayed the nation's involvement in Syria since air strikes started on Sept. 30, looking instead to this month's recovery in oil, the nation's chief export earner, and the Fed rate outlook.
'Fragile' Rally
The ruble touched a session low of 62.128 per dollar on Friday after the Turkish army's first statement, which didn't initially specify the type of aircraft that was shot down. It traded 0.2 percent weaker at 61.498 per dollar by 6:40 p.m. in Moscow.
"The fact that investors sold the ruble so quickly on the news of Turkey shooting down a plane shows how fragile and speculative the rally is," said Oleg Popov, a money manager at Moscow-based money manager April Capital, which bought a unit of Allianz SE last year. "The situation could change in a matter of seconds."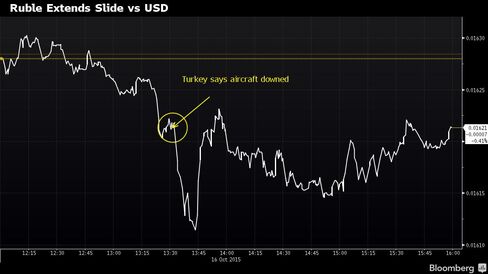 The lira also faces risks as Turks prepare to go to the polls next month after June elections yielded inconclusive results and subsequent efforts to form a coalition government failed. While it's up 4.2 percent this month, the currency has depreciated almost 20 percent in 2015, second only to Brazil's real in 24 emerging markets.
"The constant flow of negative news from Turkey reaffirms that the country is trapped in a phase of deep uncertainty," Wolfango Piccoli, managing director of Teneo Intelligence in London, said by e-mail. "Russia's involvement in Syria injects an additional element of volatility to what is already a very fragile regional backdrop."
Before it's here, it's on the Bloomberg Terminal.
LEARN MORE