Wall Street Is Mixed on Netflix Results
One of the darlings of the market in 2015 just missed two key metrics in its latest earnings report. Shares of the online video service Netflix are tumbling at the open after the company missed analyst estimates on subscriber growth and programming costs in the third quarter.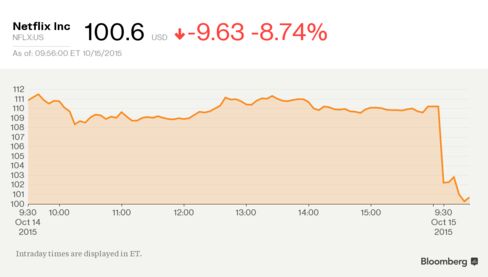 Wall Street analysts are now sending out updated research with mixed opinions on what the future holds for the firm. While Baird raised its price target, Credit Suisse lowered its, for instance.
Here's a round up of what they're saying.
Baird's William Power and Steven Beckert (Outperform, Price target raised to $128 from $120)
Long-term thesis remains intact. We continued to believe that meaningful growth opportunities remain in both the U.S. and international markets, with new original content continuing to expand the competitive moat and growing scale driving profitability in 2017+.
Credit Suisse's Stephen Ju (Neutral, Price target lowered to $124 from $130)
Citing modestly higher churn due to industry transition to chip-based credit/debit cards as well as continued currency headwinds, Netflix reported weaker–than-expected 3Q15 for both domestic and international streaming revenue, which also filtered thru to 4Q15 guidance. We note that these exogenous headwinds do not in any way alter Netflix's consumer value proposition and hence should not alter its adoption path. We therefore modeled a modest headwind to near-term net adds but baked in a recovery for 2H16. We remain on the sidelines for now on valuation and maintain our Neutral rating; our target adjusts lower as we contemplate a higher level of spend on Technology given the anticipated product launch in additional Int'l markets.
Morgan Stanley's Benjamin Swinburne and Thomas Yeh (Overweight, Price target $135)
After three straight quarterly sub beats, we were due for an admittedly mixed quarter, with 3Q international ahead and domestic light. However, heading into the seasonally strong 4Q/1Q U.S. period and another batch of international launches, we would be buying any pullback and reiterate our OW.
Pacific Crest's Andy Hargreaves and Evan Wingren (Overweight, Price target $140)
While U.S. subscribers decelerated, strong demand from international markets suggests the model is continuing to work well. Further expansion in Q4 and 2016 should accelerate global subscriber growth and add to scale advantages. Buy NFLX.
Goldman Sachs' Heath Terry and team (Buy, Price target $140)
We continue to believe Netflix can create significant shareholder value by replicating its model globally, driving scale benefits, and expanding margins. NFLX trades at 67X 2016E EV/EBITDA with 68% three year EBITDA growth compared to the sector at 15X on 25% growth with potential for significant revenue growth acceleration as new markets mature. We remain Buy rated.
Stifel's Scott Devitt, John Egbert, and Alex Chavdaroff (Buy, Price target $143)
Beast of All Nations; Buy More Shares, $143 PT. Netflix reported an in-line quarter, negatively impacted by both seasonality and accounts involuntarily being suspended as issuers changed some users' credit card numbers in the transition to new EMV chip cards. We expect this issue to be transitory in nature similar to prior involuntary churn issues associated with credit card breaches at major retailers. International continued to be a source of strength in the quarter and with upcoming launches in Italy, Spain, and Portugal next week alongside the debut of Netflix's first original films, we believe the stock is setup well for 4Q and 2016.
Cantor Fitzgerald's Youssef Squali, Kip Paulson, Naved Khan (Buy, Price target $125)
While the quarter was mixed, we view the results as solid nonetheless, and believe that the underlying strength of the model remains intact, with Netflix on track to close the year with over 74M subscribers worldwide, by our estimate. Slight increase in U.S. churn is likely temporary while strength in international streaming appears sustainable considering the offering's attractive value proposition, low penetration and aggressive rollout in 100+ countries in the next 12-15 months. We believe that NFLX continues to have ample price leverage as it further builds its library with differentiated and proprietary content, given its lower price point (vs. competitors) and the ongoing shift to OTT.
Raymond James' Justin Patterson, Aaron Kessler, and Yena Jeon (Outperform, Price target lowered to $130 from $140)
Netflix's quarter was noisy (e.g. U.S. churn, high mix of free subs abroad), but the long-term drivers remain in-tact – 1) U.S. contribution margin is expanding, 2) international sub growth is strong, 3) original content interest is high, and 4) Netflix has pricing power. Reiterate Outperform; lower target price to $130 (prev. $140).
Piper Jaffray's Michael Olson and Yung Kim (Neutral, Price target lowered to $109 from $96)
We maintain our Neutral rating, with a positive long-term bias, based on our analysis that suggests EPS growth from '17-'20 will average >150%. NFLX, however, has been a volatile name in recent years and while we expect the general trend to be "up and to the right," we also expect periodic pullbacks and would look to take advantage of more attractive entry points.
Cowen and Company's John Blackledge, Thomas Champion, and Nick Yako (Outperform, Price target $154)
NFLX reported solid 3Q results, US subs were light, as a chip-based credit card transition caused higher involuntary churn, accounting for much of the miss; Int'l subs were 340K higher than expected. For 4Q15, the credit card transition impacts US subs, while Int'l will benefit from new market entry. We tweaked est's slightly, long-term est. intact, no change to thesis. Maintain Outperform rating.
Before it's here, it's on the Bloomberg Terminal.
LEARN MORE