Uralchem Sees `No Sense' in Merging With Largest Potash Producer
Uralkali is a miner, while `we are more chemists,' CEO Says

Comments follow report in Russian media of plan to tie up
Uralchem JSC sees "no sense" in suggestions reported in Russian media of a merger with Uralkali PJSC, the biggest potash producer, a company it co-owns with billionaire Mikhail Prokhorov's Onexim Holdings Ltd.
"By and large, there is no sense in a merger with Uralkali," Chief Executive Officer Dmitry Konyaev said in an interview in Moscow Tuesday. "It's a miner, while we are more chemists. They mine ore, our business is in gas processing. There is no significant synergy and logic in such a merger."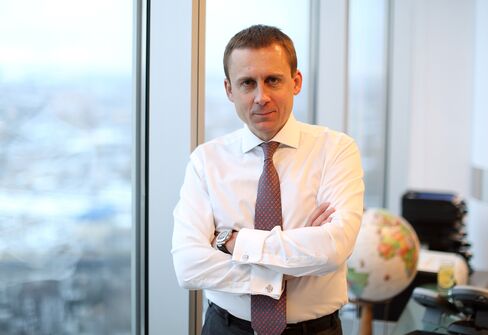 Uralkali opened a trading house in Riga, the capital of Latvia, where Uralchem has a similar operation, while the companies also use the same type of rail cars to ship fertilizers so some cooperation is possible in this area, Konyaev said.
Russia's Vedomosti newspaper reported plans to merge Uralkali with the nation's second-largest nitrogen fertilizer maker in June, citing people familiar with matter that it didn't identify. Uralkali announced a surprise $1.5 billion share buyback in April after its Solikamsk-2 mine began to flood in November, posing a risk to 18 percent of its capacity. That spurred speculation the owners may take it private and merge it with Uralchem.
Repurchased Stake
Uralkali also repurchased a 12.5 percent stake held by Chengdong Investment Corp., a unit of China Investment Corp., as part of a further buyback of more than $2 billion last month. The buyback may lead Uralkali to delist its shares in London and Moscow if publicly available stock shrinks beyond a certain level, the company has said.
Uralchem, which is controlled by billionaire Dmitry Mazepin, is also playing down news reports that it has been in talks with lenders to finance a buyout of Onexim's 20 percent stake in Uralkali. "We haven't talked to banks on funding to raise the Uralkali stake," Konyaev said. "Currently, we do not have any talks to buyout other shareholders."
Uralchem has about $4 billion of debt outstanding after borrowing from VTB in 2013 to buy its Uralkali stake. The fertilizer producer had earlier breached some covenants, the rules set on the lending by VTB, after the value of the Uralkali stake fell because of the Solikamsk-2 flooding and as currency volatility hurt net asset valuations, Konyaev said.
VTB agreed not to accelerate debt repayments, while Solikamsk-2 has also stabilized, he said. "Management was able to prevent apocalyptic and catastrophic developments at the mine," Konyaev said. Uralchem can service the debt with its own cash flow, while it doesn't seek to refinance the loan, most of which needs to be repaid by 2020, he said.
By then commodities prices should begin to recover, Konyaev said. "We hope that after another two to three uneasy years there will be an upswing in the market," he said.
Before it's here, it's on the Bloomberg Terminal.
LEARN MORE