Treasuries Decline, Pushing 10-Year Note Yield Back Above 2%
Fading expectations for 2015 Fed rate boost temper losses

Strategist cites disconnect between Fed speakers and market
Treasuries fell, pushing up 10-year yields for the first time in a week, after U.S. government figures showed jobless claims unexpectedly dropped to a four-decade low, while consumer prices excluding food and fuel rose more than forecast.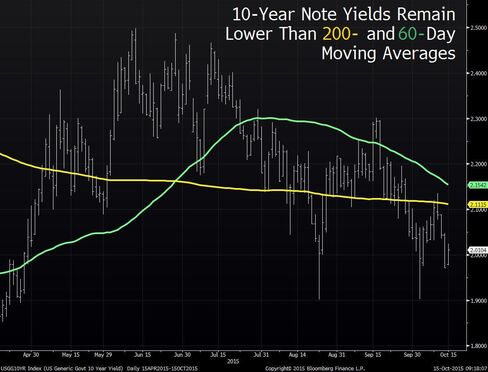 Declines in Treasuries were limited as expectations recede for a Federal Reserve interest-rate increase in 2015. Traders see less than a one-in-three chance the central bank will lift its benchmark from near zero by December, even though Fed Chair Janet Yellen has said she expects a move will be warranted.
"Until the Fed gives us some other form of guidance or frame to look at the market other than data dependence, then we're going to be playing this game with every data point," said Neil Bouhan, an interest-rate strategist at BMO Capital Markets in Chicago.
Treasury 10-year note yields climbed five basis points, or 0.05 percentage point, to 2.02 percent as of 5 p.m. New York time Thursday, according to Bloomberg Bond Trader data. The yield closed below 2 percent Wednesday for the first time since Oct. 2. The price on the 2 percent security due in August 2025 fell about 3/8, or $3.75 per $1,000 face amount, to 99 27/32.
Initial unemployment claims dropped by 7,000 to 255,000 in the week ended Oct. 10, Labor Department data showed. The median forecast of economists surveyed by Bloomberg called for 270,000 applications. Separate data showed that the so-called core price measure, which strips out often-volatile food and fuel, climbed 0.2 percent, the most in three months.
Dependence Challenge
Fed officials have stressed that the timing of their decision to raise the benchmark interest rate will depend on the strength of the economy in the face of slowing growth overseas.
Fed Bank of New York President William C. Dudley, speaking at an event in Washington on Thursday, said the central bank should still raise interest rates this year as long as the economy stays on track. He also cautioned that recent data signal growth may be slowing. Fed Governor Daniel Tarullo, who votes on rate decisions, said Tuesday that he doesn't currently favor an increase in 2015.
Until Thursday, Treasuries were benefiting from an onslaughtof weaker-than-forecast global economic figures. U.S. retail sales fell short of analysts expectations and a Labor Department report showed the economy added 142,000 jobs in September, trailing the forecast. A report this week showed that China's imports sank 17.7 percent in yuan terms last month, reflecting weaker commodity prices and tepid domestic demand.
The probability of an increase by the Fed's December policy meeting has dropped to 30 percent, from 70 percent at the start of August, according to futures data compiled by Bloomberg. The likelihood doesn't exceed 50 percent until March. The calculations are based on the assumption the effective fed funds rate will average 0.375 percent after liftoff.
"There's a major disconnect between what the leadership of the Fed has been saying and what the market has been pricing in, and that's the problem with data dependent." said Guy Haselmann, head of capital-market strategy at Bank of Nova Scotia in New York. "You get weak data and the market prices out the Fed, you get stronger data and the market prices the Fed back in."
Before it's here, it's on the Bloomberg Terminal.
LEARN MORE