TeliaSonera Falls After Muddy Waters Questions Transparency
TeliaSonera writedowns may reach $2.5b, Muddy Waters says

Company as open and transparent as possible: spokesman
TeliaSonera AB shares fell the most in more than three years after Muddy Waters LLC, the research firm founded by short seller Carson Block, published a report questioning the extent of the Swedish phone company's transparency about its Eurasian businesses.
The stock fell to a six-year low of 39.89 kronor and traded 4 percent lower at 41.63 kronor as of 4 p.m. in Stockholm, wiping $900 million from its value. Muddy Waters said the company risks hefty fines related to questionable payments in Eurasia, jeopardizing its ability to pay dividends. Necessary writedowns could reach 20 billion kronor ($2.5 billion), Block told Tom Keene on Bloomberg TV on Thursday.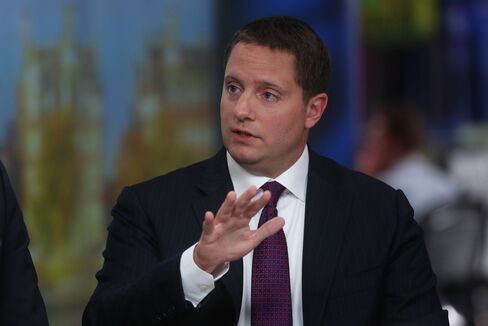 Sweden's former phone monopoly, with a market value of almost $22 billion and whose largest shareholder is the government, said it couldn't identify with the criticism from Block. TeliaSonera is as "open and transparent" as it is possible to be with respect to listing requirements and the investigations, the company said in a statement.
The carrier is embroiled in legal probes in Sweden, the Netherlands and with the U.S. Department of Justice over graft accusations about how it bought phone licenses in Uzbekistan in 2007. TeliaSonera said last month it plans to exit operations in Nepal, Kazakhstan, Uzbekistan, Azerbaijan, Georgia, Moldova and Tajikistan -- businesses with a book value of about 20 billion kronor and making up almost a third of earnings -- to focus on Europe and its home Nordic region. Chief Executive Officer Johan Dennelind said the plan would take time, but there are potential buyers.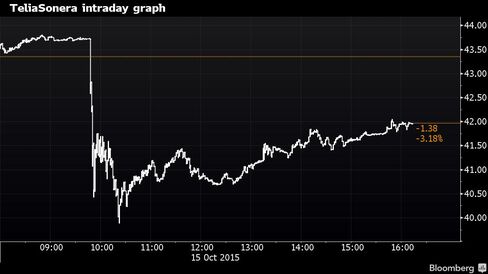 Block has previously targeted European companies with his bearish bets. He said he was short Blinkx Plc last year when a Harvard Business School professor's negative blog post sent shares of the London Internet video and advertising firm tumbling.
Muddy Waters scored its biggest victory in 2011 with the Canadian-listed Chinese tree planter Sino-Forest Corp. The company, which was valued at C$6.2 billion ($4.8 billion) at its peak, filed for bankruptcy less than a year after Muddy Waters said it lied about its timber assets. More recently, shares of commodity trader Noble Group Ltd. fell in April after Block followed Iceberg Research in questioning the Singapore-listed company's cash flow and management.
Activist Shorts
Block's track record isn't perfect. Of 16 Muddy Waters public short-selling targets, 10 companies have since either fallen or are no longer trading, while six have seen shares rebound since the position was announced, according to Activist Shorts, a website the compiles data on short sellers.
"We have a list of payments that were made in numerous countries that in many ways make no commercial sense," Block said of Stockholm-based TeliaSonera. "The payments total about $2 billion. We think there is a good chance these are corrupt payments."
Muddy Waters is short TeliaSonera shares because it believes information is being withheld from investors, which "will significantly impact the company's shares and credit profile," the shortseller said in a report on its website.
Muddy Waters called on TeliaSonera's board to release a 2013 internal investigation by legal firm Norton Rose Fulbright so investors can decide if the probe on the Eurasian operations was intense enough. The review showed some transactions were not in line with sound business practices and lead to four employees, including Chief Financial Officer Per-Arne Blomquist, leaving the company.
Muddy Waters also called on TeliaSonera to quickly make any needed writedowns on assets and restate results to reflect the changes.
CDS Jump
The cost of insuring TeliaSonera's debt against losses using five-year credit-default swaps jumped 37 basis points to 88.2 basis points, the highest intraday level since April 2012. The company's 506 million euros of 3.5 percent bonds due 2033 dropped 6.8 cents on the euro to 108.9 cents, according to data compiled by Bloomberg.
Sweden's government, with a stake of about 37 percent in TeliaSonera, has noted that Muddy Waters has taken a position in the shares, speculating that the stock was overvalued. The government will analyze that information, Ann Wolgers, a spokeswoman for Enterprise Minister Mikael Damberg, said in an e-mailed response to questions.
Dennelind's predecessor Lars Nyberg resigned on Feb. 1, 2013 after a Swedish law firm hired to look into corruption accusations concluded TeliaSonera should have been more careful when it bought an Uzbeki phone license in 2007.
TeliaSonera said it hasn't received any claims from U.S. authorities to date and that it's only if and when a claim materializes that the company can make financial provisions.
Before it's here, it's on the Bloomberg Terminal.
LEARN MORE