Renzi Gives Italians Lower Taxes, Higher Cash Use to Back Growth
2016 budget includes elimination of levy on first homes

Threshold for cash payments raised to 3,000 euros in reversal
Prime Minister Matteo Renzi presented a 2016 budget aimed at supporting Italy's domestic demand and its recovery from a record-long recession through the elimination of a tax on primary residences, new investment incentives, and a higher threshold for the use of cash.
"Most of these measures are structural," Renzi told reporters in Rome on Thursday, after the cabinet approved the plan. "Italy is growing again even if the world isn't doing great."
In a budget measure set to support consumption in a country where use of credit and debit cards remains contained, Renzi plans to raise the threshold on cash payments to 3,000 euros ($3,400). The current threshold of 1,000 euros was set at the end of 2011 by then-Premier Mario Monti in an effort to limit tax avoidance.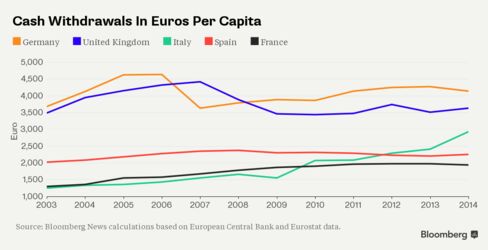 The budget includes tax breaks to companies in depressed southern regions and incentives to start-ups. The plan also avoids an automatic increase in the value-added tax included in previous budgets. The top VAT rate in Italy is currently 22 percent.
The new measures will be only partially funded by spending cuts as Renzi confirmed the intention of scaling back next year's deficit-reduction goal, using the flexibility allowed by EU rules with regard to reforms and investments.
The government may also invoke the costs of dealing with the migration crisis to obtain a broader margin of maneuver. That would bring the deficit to as much as 2.4 percent of gross domestic product, still down from 2.6 percent projected for this year.
Renzi has pledged 35 billion euros in tax cuts in 2016-18, focusing on property taxes the first year, followed by corporate levies the year after and then personal income tax. General elections are scheduled by early 2018. Renzi said that the corporate tax-rate cut could be brought forward to 2016 if the EU agrees on use of flexibility related to costs sustained by Italy for migrant and refugee influx.
"Italy's growth needs to be supported and the only way to do it, in our view, is to give a fiscal shock. We feel eliminating the tax on first homes in a country where everyone does nothing but talk about taxes" was an important step in helping confidence and trust, Renzi said.
In last month's update to the draft budget law, the government said it plans to cut public spending to 43.2 percent of gross domestic product in 2019, down from 46.6 percent this year.
Renzi and his Finance Minister Pier Carlo Padoan also said they target a 1.6 percent rise of GDP in 2016. The government expects Italy's debt of about 2.2 trillion euros to fall starting next year.
Before it's here, it's on the Bloomberg Terminal.
LEARN MORE