Kiss Guinness Goodbye, Diageo: Brooke Sutherland
Diageo's recent selling spree should include Guinness.
As the world's biggest brewers team up, the $70 billion maker of Johnnie Walker whiskey and Captain Morgan's rum has been busy slimming down. In just the past three months alone, it has divested about $1 billion worth of joint venture stakes in regional brewers and struck a $600 million deal for the bulk of its U.S. and U.K. wine business.
All things not liquor are heading out the door. There's one big non-spirits business still hanging around, though: Guinness. The brand is something of a prize for Diageo because it offers a gateway into Africa. Believe it or not, Nigerians actually drink more of the stout than the Irish. Because what sounds better on a 90-degree day than a Guinness?
The idea is that Diageo can use Guinness as leverage to convince local African bars and stores to start selling some Smirnoff vodka as well, thereby strengthening its foothold in one of the few parts of the world where the drinking population is growing.
Under the circumstances, though, it would be wise to quickly build the infrastructure it needs and find a path to exit Guinness and focus solely on spirits.
For one, a top justification for AB InBev's takeover of SABMiller is the opportunity to exploit the latter's presence in Africa. If and when the two close their merger, attacking Guinness' market share in the country will likely be a top priority. Does Diageo really want to fight that fight over a business that makes up less than 20 percent of its revenue?
Diageo might have a chance to sell at or near the top of the market. AB InBev just showed what rich multiples beer companies are willing to pay to gain entry to Africa. It's offering a more than 40 percent premium to SABMiller's average share price in the 20 days before news of a deal surfaced. Diageo's beer assets could fetch a pretty penny, too.
Heineken is one potential buyer as the third-largest brewer prepares to compete with a combined AB InBev and SABMiller. The company already has a sizable presence in Nigeria, and there aren't any formal antitrust regulations in the country to stop it from bulking up even more there. Even MegaBrew could come calling for Guinness once the merger is complete.
There's also something to be said for a tighter focus. Companies like Reynolds American and Estee Lauder -- which primarily operate in one industry -- have outperformed the broader consumer goods sector over the past five years, according to data compiled by Bloomberg.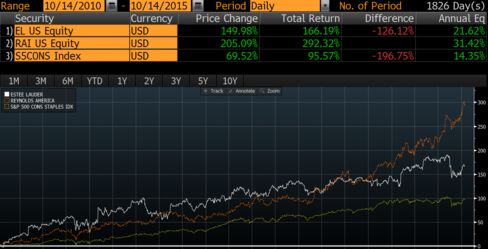 Diageo CEO Ivan Menezes seems to know that streamlining is good for his company. "Wine is no longer core to Diageo, and this sale gives us greater focus," he said in a statement after announcing the sale of wine assets to Treasury Wine Estates this week.
If narrowing the purview of Diageo is the goal, holding onto Guinness makes less sense.
(This column does not necessarily reflect the opinion of Bloomberg LP and its owners.)
Before it's here, it's on the Bloomberg Terminal.
LEARN MORE