Ex-Ivy League Star Turned Japan Aficionado Builds Tokyo Business
Evolution Financial is building its warrants business in Japan

Company hired two people from Deutsche Bank earlier this year
Michael Lerch played Ivy League football at Princeton University so the former athlete-turned-investor knows a thing or two about tough competition. Now, he's applying that knowledge in a very different environment -- Japan.
Lerch's Evolution Financial Group is expanding in Tokyo, and seeking to make a name for itself in warrants and equity financing. While Japanese issuers of warrants -- securities that offer investors the right to acquire their shares at a pre-determined price -- are typically small-cap companies, the attraction for investment banks and funds lies in the potential capital gain that can be made if a stock rises above the agreed exercise level.
To that end, Evolution earlier this year hired Yoshihiro Imamura and Kohsuke Kawai from Deutsche Bank AG, where they helped make the German lender one of the biggest providers of warrant financing to local firms. Funds overseen by Lerch agreed to purchase share rights in Acrodea Inc., a maker of sports games for mobile devices, in July and in stem cell drugmaker ReproCell Inc. in August.
"There's considerable downside to trying and failing in Japan," Lerch, 44, said from his office in Tokyo, where a guitar produced for charity by artist Damien Hirst and Flea of rock band Red Hot Chili Peppers fame greets visitors. "There are a lot of success stories with mid-cap companies here."
No. 5 Underwriter
Evolution is making headway, currently ranked fifth in terms of warrant underwriting deals in Japan behind global investment banks including Bank of America Corp. and Deutsche Bank, according to Evolution's own data. The group has either bought shares, warrants or convertible bonds from at least six Japanese companies in the past 12 months, data compiled by Bloomberg show.
A buoyant stock market is also helping the environment for warrants, allowing issuers to raise capital without a large dilution impact upon existing shareholders. The Nikkei 225 Stock Average touched 20,952.71 on June 24, the highest since December 1996. While it has fallen about 13 percent since amid a selloff in global shares and concern about China's slowing economy, a median forecast of strategists has the benchmark at 20,000 by the end of the year and 21,250 by June.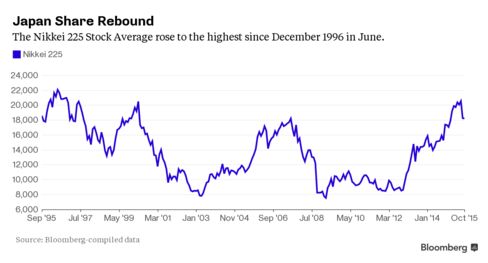 The method of fundraising isn't without its critics. According to Tsutomu Yamada, a market analyst at Kabu.com Securities Co., with warrants "there's a possibility a particular group of investors gets to shape the share price to suit them." "A lot of regular investors don't like them," he said.
The market for warrant contracts in Japan exceeded more than 100 billion yen ($840 million) last year, according to Evolution, after expanding fivefold in 2013 following Prime Minister Shinzo Abe's return to power in December 2012.
Lucrative Returns
Although there's a chance warrants may never be used should a company's share price fall below an agreed limit, the potential upside can be lucrative for investors. Deutsche Bank for example came to acquire 750,000 shares in KLab Inc., a mobile content supplier, for 750 yen apiece in January last year after exercising outstanding warrants. That price represented a 13 percent discount to KLab's close on the day and within eight months, its stock was at 2,273 yen.
Deutsche Bank arranged warrant deals in Japan for CrowdWorks Inc. in June and for Cave Interactive Co. in July after the departures of Imamura and Kawai, according to filings by the companies.
Lerch, who spends four or five months of the year in Tokyo and the rest on the West Coast of the U.S., describes Evolution as a "very passive investor."
Japanese Football
"In Japan in particular, labels create a big impact," he said, adding that Evolution is in no way an activist investor. Lerch said he prefers the nation's consensual decision-making style, recalling how the Japanese coach on his local football team used to ask all the players if they agreed with the game plan in the locker room before they went out onto the field. That's something that doesn't happen in the U.S, he said.
Lerch graduated from Princeton in 1993 and until 1998, shared a single-game receiving record in football, with 370 yards. He was a two-time First Team All Ivy League selection and after coming to Japan, played with a club team then sponsored by Iwatani Corp. for two seasons.
Straddling both cultures has also allowed Lerch to inject some of the dynamism and opportunism of U.S. business life into the company's Japanese operations. On the flip side, Lerch says recruits in Japan spend the first month getting trained on local business manners.
Prior to founding Evolution Capital in 2002, Lerch worked at what was then Merrill Lynch & Co. and Lehman Brothers Holdings Inc. He came to Tokyo in January 1994.
Lerch started out in investment banking with Kidder Peabody in Japan and playing American football there was "an after work thing," he said. Lerch worked as a market maker and trader of equity products, spending the majority of his banking career managing risk and structuring products for clients, he said.
Many Rejections
"I graduated in the recession after the Gulf War and it was a tough job market," Lerch said. "I got rejected from a hundred companies and I finally got two offers, one in New York and one in Japan. I was told that Japan was the land of opportunity and if you worked hard and delivered for your boss, you could advance much faster."
Lerch had visited the country once before, in college, and "loved the people, the food, and the innovation, which seemed to be way ahead of the U.S." "There was nothing not to like about Japan, and the idea of moving there was exciting," he said.
Evolution now comprises more than 20 companies across seven countries, employs some 325 people and in Japan, provides brokerage, commodity trading, and asset management services. Lerch said the recent drop in stock prices will have little impact on its business.
"The big picture for Japan is still intact and the correlation to the U.S., while materially important, has little influence on how we make business decisions," he said. "Of course global downturns will mean less economic prosperity in Japan, but that is what it is.
"There's never a moment when I'm in Japan I don't think about the privilege that Japan has offered me and many gaijin," Lerch said, referring to the Japanese word for foreigners. "You get the best of both worlds, and that's not lost on me."
Before it's here, it's on the Bloomberg Terminal.
LEARN MORE