Bank of England Rate Boost Pushed Into Distant Future by Traders
Short-sterling yields to December 2017 at or near record lows

Central bank unlikely to challenge market pricing, SocGen says
The Bank of England's departure from emergency levels of stimulus is looking ever more distant to futures traders as they cut bets on the pace of interest-rate increases to record lows.
Implied yields on short-sterling contracts out to December 2017 are at or near their lowest levels ever, data compiled by Bloomberg show. These futures contracts suggest where U.K. interbank borrowing costs -- which are directly influenced by the central bank's official rate -- might be. The prospect of the first rate increase since 2007 is seen to be diminishing as the global economy slows and U.K. inflation turns negative.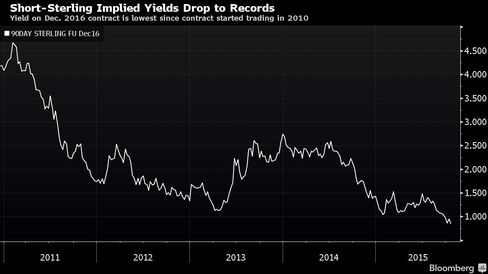 BOE Governor Mark Carney's repeated suggestion that the timing of a move will become clearer at the turn of the year has led some strategists to conclude that officials favor a rate increase sooner than suggested by markets.
"It's proved to be the market that's right, not them," said Jason Simpson, a London-based fixed-income strategist at Societe Generale SA.
Policy 'Uncertainty'
The central bank "will possibly make the odd comment suggesting the market pricing is too flat but I'm doubtful they will challenge it in any meaningful way," Simpson said. "Looking at inflation, it's difficult to see that being driven higher any time soon. There are so many patches of uncertainty out there."
The implied yield on three-month short-sterling interest-rate futures contracts expiring in December 2016 was little changed at 0.86 percent as of 4:05 p.m. London time after declining to 0.85 percent earlier Thursday, the lowest based on closing prices since the contract started trading in 2010.
The yield on contracts expiring in December 2017 touched 1.23 percent, the lowest since February 2012, when it dropped to a record 1.12 percent.
Using short-sterling implied yields and adjusting them using the relevant Libor/OIS spread calculation, BOE liftoff is priced near the March 2017 contracts, data compiled by Bloomberg show.
Further gains in the price of these contracts, and of short-dated government bonds, will be limited unless traders start to position for the central bank to cut interest rates, which is seen as very unlikely, SocGen's Simpson said.
Two-year gilt yields increased one basis point, or 0.01 percentage point, to 0.52 percent, having fallen from a high for this year of 0.73 percent, reached in August.
"We're still in a world where growth is strong enough that people are talking about a BOE rate hike," Simpson said. "I don't think the market is minded to start pricing in rate cuts, so the front end is fairly locked."
Before it's here, it's on the Bloomberg Terminal.
LEARN MORE