Toyota Targets 90% Emissions Reduction by 2050 on Fuel Cells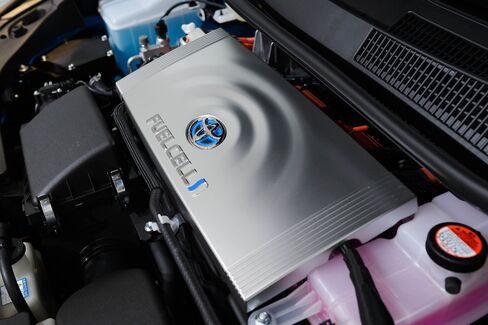 Aims for 30,000 annual hydrogen-powered vehicle sales by 2020

Goals could put further distance between Toyota and VW, GM
Toyota Motor Corp. said it's targeting a 90 percent reduction in emissions from its new vehicles by 2050 as it seeks to build on the success of its hybrid autos.
The maker of the hydrogen-powered Mirai sedan said Wednesday it aims to deliver more than 30,000 fuel-cell vehicles annually by around 2020. The Prius seller also set a goal to reach more than 15 million cumulative deliveries of hybrids in the same span.
"The beautiful, diverse earth is being lost at a speed where the pace of past innovations is not keeping up," Chairman Takeshi Uchiyamada, known as the father of the Prius, said at a forum in Tokyo. "In order to be there for the global environment, we believe it is important to take up new challenges with a vision for 20 and 30 years ahead."
Toyota outlined its environmental ambitions as the auto industry braces for broader fallout from an emissions scandal embroiling Volkswagen AG, which passed the Japanese automaker for the lead in global vehicle sales during the first half of the year. The chairman of Japan's auto manufacturers association said this month that Volkswagen's rigging of diesel engines with software has damaged trust in the industry.
With more than 8 million units sold in less than two decades, Toyota is by far the industry's top seller of hybrid vehicles, led by its Prius model. About 14 percent of the cars and trucks it sold worldwide last year were hybrid or plug-in autos.
Prius Redesign
By the end of this year, Toyota will begin Japan sales of the Prius hybrid after its first redesign in almost seven years. The company also is due to begin deliveries in California this month of the Mirai fuel cell sedan, which uses hydrogen to power an on-board battery and emits only water.
Prius engineers said Tuesday they set out to match the performance of diesel engines, a choice of powertrain favored by Volkswagen until its recent scandal. The German automaker is now pivoting away from the technology and toward plug-in hybrids and electric vehicles.
Volkswagen plans to develop standardized components for electric vehicles, including redesigning its flagship Phaeton sedan as an all-electric model, the automaker said Tuesday. Before its diesel emissions cheating scheme was revealed, Volkswagen had said it planned to roll out 20 electric and plug-in hybrid cars by 2020. As of August, Toyota sold 30 hybrid passenger car models and one plug-in hybrid.
Toyota also is further along in its electrification strategy than General Motors Co., the world's third-biggest auto manufacturer. The maker of the Volt plug-in hybrid has targeted putting 500,000 vehicles on the road in the U.S. that are at least partially electric by 2017, from 180,834 last year.
By contrast, U.S. deliveries of Prius hybrids passed the 500,000 mark in 2007, according to researcher Autodata Corp.
Before it's here, it's on the Bloomberg Terminal.
LEARN MORE