Sentiment improves after shares lose $110 billion of value

Credit Suisse sees government stimulus as an `upside option'
Stock analysts are turning bullish on Macau casinos at a record pace, betting that the worst is over for investors as share prices rebound from the cheapest levels in three years.
Sands China Ltd., Galaxy Entertainment Group Ltd. and three of their smaller Hong Kong-listed peers attracted at least eight rating upgrades this month as analysts pointed to a recovery in receipts from small-time gamblers, a bottom in industry earnings and better-than-estimated revenue during the Golden Week holiday. There's also growing speculation that China will take steps to boost Macau's economy, an "upside option" that Credit Suisse Group AG says is undervalued by the market.
A turnaround can't come soon enough for shareholders who watched $110 billion of market value disappear amid the gambling hub's worst-ever downturn. If the analysts are right, Macau casino stocks have another 8.2 percent upside after rallying 37 percent so far this month.
"There's been a sudden re-assessment of the sector," said Mari Oshidari, a Hong Kong-based strategist at Okasan Securities Group Inc. "Shares are probably headed for a short-term rebound, so it's a good environment for analysts to slap on buy ratings."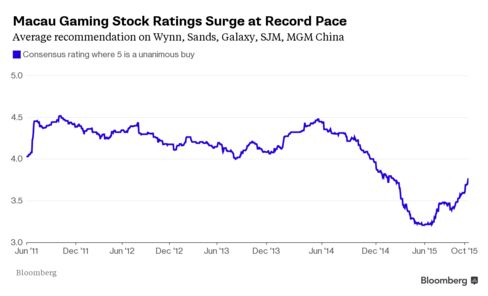 While there's no historical precedent for such a surge in analyst optimism toward Macau casino shares, periods of improved sentiment in the Hong Kong stock market have been good times to invest. One-month returns following the five biggest share-price target upgrades in Hang Seng Index companies have averaged 1.4 percent since Bloomberg began compiling the data in 2004, versus a 0.6 percent gain for all months during the period.
The BI Macau China Gaming Market Competitive Peer Group Index surged 6.8 percent at the close in Hong Kong, its steepest gain since July 2. Galaxy reported its third-quarter profit today, showing an increase of 13 percent from the previous three months. Its shares jumped 11 percent, while Sands China rose 10 percent.
The average consensus rating on the five casino stocks -- including Wynn Macau Ltd., SJM Holdings Ltd. and MGM China Holdings Ltd. -- has climbed to 3.77 on a scale where 5 signals unanimous buy ratings. That's up from 3.2 just five months ago, the biggest increase since MGM China became the last to list shares in 2011.
While the city's gaming revenue has fallen for 16 straight months through September amid a Chinese anti-graft campaign that scared away high-rollers, receipts from mass-market gamblers recovered about 2 percent in the third quarter versus the previous three-month period, according to Credit Suisse. That's bullish for the industry because small-time punters are the "key pillar" of profitability, JPMorgan Chase & Co. analyst DS Kim wrote in an Oct. 6 report. Earnings before interest, taxes, depreciation and amortization probably bottomed out in the third quarter, Kim said.
Golden Week
Sales during the Golden Week holidays -- one of the busiest times of the year for Chinese tourism -- have added to the bullish sentiment. Macau's estimated average daily revenue was 827 million patacas ($104 million) during the first 11 days of October, higher than Credit Suisse's forecast of 750 million to 800 million patacas, analysts led by Kenneth Fong wrote in a note Monday.
China will introduce more policies this year to support the city's economy, Teledifusao de Macau reported on Oct. 2, citing Li Gang, director of the Chinese government's local liaison office.
State support isn't enough to counter the impact of China's slowing economy and the risk that a weaker yuan deters Chinese tourists, according to Shengyong Goh, an analyst at BNP Paribas SA who has the equivalent of a sell rating on most of the industry. China will probably say on Monday that economic growth slowed to 6.8 percent in the third quarter, down from 7 percent in the previous period, according to the median economist estimate in a Bloomberg survey.
Low Valuations
While JPMorgan's Kim acknowledges that headwinds facing Macau haven't disappeared, he says valuations are cheap enough to make the stocks attractive. The BI Macau China Gaming index has a projected enterprise value of 11 times EBITDA, down from an average multiple of 12 since 2011.
"We are turning bullish on Macau gaming, finally," Kim wrote in an Oct. 6 report. "We do believe these stocks have reached an inflection point and that it is time to start building positions for the quarters ahead."
Before it's here, it's on the Bloomberg Terminal.
LEARN MORE