The Bitter Season
A guide to bracing, herbaceous, old-man amaro—and the cocktails to use it in this fall.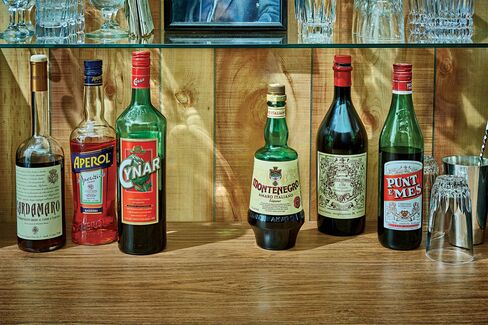 Amaro simply means "bitter" in Italian. Where drinking is concerned, it refers to any herb-infused liqueur. This can include apéritivo (dry; before dinner), digestivo (sweet; after dinner), fernet (extra bitter), vermouth (made with wine), and dozens of others.
Cardamaro Amaro, $19
Cardamaro, like all six of these bottles, is from Italy, but some amari hail from other European countries.
A great "gateway" amaro for those just getting used to botanical flavors. Light and nutty, it's a little like dry sherry but with herbs.
Drink it on its own, chilled, over ice, says Khaled Dajani, who stocks more than 80 amari at Bar 821 in San Francisco.
Aperol, $24
Instantly recognizable for its neon orange appearance (from a natural coloring), this fruity, floral spirit is a sweeter, milder cousin of Campari.
Drink it with tonic water, which subs for the traditional prosecco in a less boozy version of the Aperol spritz, says Naren Young at New York's Caffé Dante. Garnish with a lemon wedge.
Cynar, $24
Show your cred and pronounce it correctly: CHEE-nahr.
This classic artichoke-based amaro is stiff and earthy—not for the timid. Mix it with smooth brown spirits to make the flavor more approachable.
Drink it in a variation on a boulevardier, says Graham Heubach, general manager of the Sportsman's Club in Chicago. Mix ¾ oz. Cynar with ¾ oz. amontillado sherry, 1 ½ oz. bonded bourbon, and a spoonful of honey syrup. Serve with a twist of orange peel.
Amaro Montenegro, $27
Different from rakia, a liquor from Montenegro that sometimes goes by the same name.
This digestivo is on the sweet side and has burnt-orange notes. It's richer than Cardamaro but still pretty mild, with a similarly versatile flavor profile.
Drink it in what David Little, a proprietor of Seattle's aperitivo-focused Barnacle bar, calls a Montenegro spritz: equal parts Amaro Montenegro, prosecco, and club soda, served in a Champagne flute.
Carpano Antica, $32
This classic, mahogany-hued sweet vermouth—not to be confused with the white, dry vermouth that goes into a martini—has rich, autumnal flavors of vanilla, raisin, and baking spices.
Drink it in an Americano, says Adam Mardigras of San Francisco's new Bar Mia. It's equal parts Carpano Antica and Campari, topped off with soda and an orange wedge.
Punt e Mes, $20
Somewhat syrupy, it adds nice body to a cocktail.
A sweet vermouth with a dash of quinine to make it bitter. It's a contradiction you can contemplate while you sip it.
Drink it at Herb & Bitter Public House in Seattle, where bar manager Marco Haines mixes 1 oz. Punt e Mes with 2½ oz. rich, sweet bourbon and an additional dash of bitters to make an ideal Manhattan.
Before it's here, it's on the Bloomberg Terminal.
LEARN MORE