Netflix Blames Chip-Based Credit Cards for U.S. Growth Shortfall
U.S. subscriber growth lower than estimated last quarter

Some subscribers were dropped by `involuntary churn'
Netflix Inc., the top-performing stock in the Standard & Poor's 500 index this year, fell as much as 7.4 percent after saying the introduction of new chip-based credit cards cut off some customers, leading to lower-than-estimated U.S. subscriber growth last quarter.
Profit also fell short in the third quarter as the online video service sped up the recognition of some programming costs. Netflix signed 880,000 new domestic subscribers in the period, according to a statement posted on its website Wednesday. That missed the 1.25 million average of eight analysts' estimates compiled by Bloomberg.
Netflix disappointed on two key metrics, subscriber growth and programming expenses, that investors have used to value the company during its rapid global expansion. Founder and Chief Executive Officer Reed Hastings has been operating Netflix at break even while he races to sign new customers. The accounting change increases programming costs on some of the company's $10.4 billion in long-term TV and film commitments.
"This is a subscriber-driven story so any slowdown, for whatever reason, is a cause for concern for Netflix investors," Paul Sweeney, an analyst with Bloomberg Intelligence, said in an e-mail.
Shares of Netflix fell 6.7 percent to $102.83 at 9:37 a.m. in New York, after declining as low as $102.11 for the biggest drop in 1 1/2 month. The stock, which split 7-for-1 in July, has more than doubled this year.
The introduction of the new credit and debit cards, designed to help prevent fraud, was one of several factors weighing on signups during the quarter, Hastings and Chief Financial Officer David Wells said on a video conference call.
That change interrupted the payment system used by Los Gatos, California-based Netflix and its customers, leading to what Hastings in his letter called an "inability to collect" from customers who hadn't updated their account information. The result was more-than-expected turnover among subscribers, or "involuntary churn."
"There was a relative surge we didn't anticipate correctly around this conversion to more secure chip-based credit cards," Hastings said in an interview. "It's a minor tactical issue. We'll be through it in a couple months. Next year everyone will have chip-based cards."
Despite the subscriber setback, the company said it expects to finish 2015 with net additions of about 6 million in the U.S., the fourth straight year of such gains.
"If the sub miss was due to the chip issue, then it's not such a big deal," Sweeney said.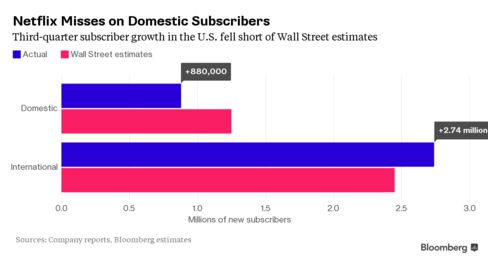 The change in accounting affects TV shows and films that Netflix licenses from others and reduced domestic streaming profit by $13 million in the quarter, the company said. Netflix will recognize those costs more quickly, to align its expenses with how people watch its shows -- a lot when they're released and less as they age. The company uses the same convention as it expenses original programming, according to the letter.
Netflix is likely to raise additional capital next year to fund its programming investments, Hastings and Wells said in their letter. Last week, the company raised prices for new customers in the U.S, Canada and parts of Latin America, following a similar increase in Europe earlier this year, to help pay for rising content costs.
Net income for the third quarter fell to $29.4 million, or 7 cents a share, from $59.3 million, or 14 cents, a year earlier. Analysts were forecasting an average of 8 cents. Sales rose 23 percent to $1.74 billion, missing projections of $1.75 billion.
Netflix finished the quarter with 69.2 million total streaming subscribers, including 43.2 million in the U.S. and 26 million internationally. The company's mail-order DVD business closed the period with 5.06 million customers, down from 6 million a year earlier.
This quarter, Netflix expects to add 1.65 million domestic streaming subscribers and 3.5 million internationally, according to the statement. Analysts were forecasting 1.81 million in the U.S. and 3.34 million elsewhere, based on estimates compiled by Bloomberg. The company projects profit of 2 cents a share, compared with the 4 cents seen by analysts.
The company introduced its streaming service to Japan on Sept. 2, and will expand to Italy, Spain and Portugal next week. Netflix plans to complete its global expansion by the end of next year -- with China still a big question mark.
Before it's here, it's on the Bloomberg Terminal.
LEARN MORE