Brazil's Next Big Crisis Is Scaring Bankers and Wiping Out Jobs
In Brazil's version of Detroit, unemployment is now soaring

A steel worker finds himself deep in debt and out of work
In the smog-filled, run-down industrial hubs that ring the southern end of Sao Paulo, Brazil's next big crisis is taking root.
The labor market, long the country's lone economic bright spot as growth stagnated, is suddenly deteriorating rapidly, driving unemployment all the way up to 7.6 percent from a record-low 4.3 percent at the end of 2014. Nowhere are the layoffs that are fueling that surge more acute than here, in this gritty complex of steel, auto and auto-parts factories built decades ago by the likes of Ford Motor Co. and Volkswagen AG. Sao Paulo is now losing about 20,000 jobs each and every month, the state's industrial federation estimates.
Talk privately with Brazil's most senior bankers and nearly all of them will point to unemployment as a crucial concern. For starters, it's underpinning the national dissatisfaction that is fanning calls for the impeachment of President Dilma Rousseff and creating policy paralysis in the capital city of Brasilia. More importantly, in a country that has based its growth model in recent years on a credit-fueled boom in consumer spending, it threatens to both deepen the recession -- already the worst since 1990 -- and leave millions of Brazilians scrambling to repay their loans.
This is the situation that Rossini Santos finds himself in.
A 43-year-old steel worker, Santos had loaded up on debt to finance his new middle-class lifestyle. First, it was an $80,000 mortgage back in 2009 to buy a little, one-story home near the factory he worked at. Then, in early 2014, it was a $17,000 loan to purchase a Chevrolet Prizm. Months later, though, trouble began to brew when his employer, a maker of castings for auto parts, filed for bankruptcy. The company kept operating but was limping along, and in August, Santos was fired with dozens of other workers. He's now collecting 1,380 reais ($360) in unemployment insurance a month, just one-third of his steel worker's salary.
"And now I have a mortgage and a car loan," he said. "And with no wage, I have to tighten my belt."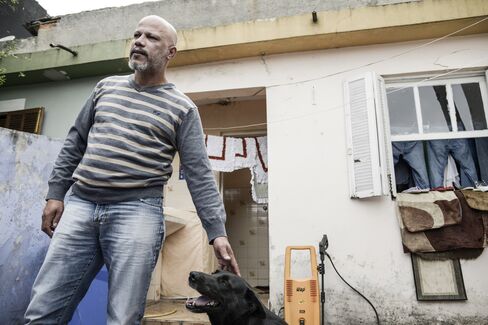 One year after a massive corruption scandal broke out at the state-run oil company and four months after Brazil officially entered recession, the financial indicators are grim across the board. The real has fallen more than any other major currency in the world this year; annual inflation has soared to almost 10 percent; the budget deficit has swelled to the widest in at least two decades; and the government's credit rating was cut to junk by Standard & Poor's. Last week, analysts at Itau Unibanco Holding predicted the economy will shrink 3 percent this year and unemployment will top 10 percent by 2016.
It all marks quite a fall from grace for a BRIC nation that emerged from the 2008 financial crisis so strongly that pundits were touting it as a key engine for global growth alongside China. (In late 2009, The Economist splashed on its cover an image of Rio's famed Christ the Redeemer statue taking off like a rocket.) But commodities back then, unlike now, were still in hot demand, bringing in a flood of cash to a country that's a dominant global exporter of everything from soybeans to iron ore. The current corruption scandal -- which has hobbled Rousseff's deficit-cutting initiatives and hamstrung companies ensnared in the probe -- as well as the effects of years of the government's interventionist measures have only deepened the slump.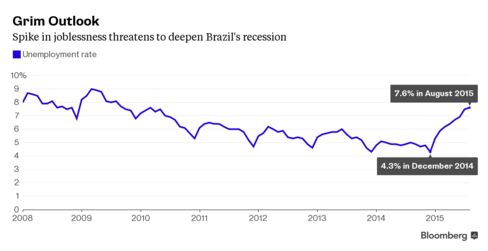 That the jobless rate, often a lagging indicator in any economy, has been the last data point to buckle in the recession isn't unusual, of course. But what's eye-catching here is how, after confounding local economists by remaining so stubbornly low amid three years of sluggish growth, the rate suddenly spiked higher in just a matter of months.
In a week-long series of informal conversations with Sao Paulo bankers, unemployment came up time and again as they laid out the reasons that the recession and financial crisis could intensify. They're worried that the increase in the jobless rate has just begun; that it's eroding consumer demand, leaving once-crowded shopping malls empty; and that, ultimately, it could drive up loan defaults.
Over the past decade, Latin America's largest economy underwent a spectacular credit boom that helped pull some 40 million Brazilians into the middle class. Total loans in the banking sector climbed five-fold over that time to 3.1 trillion reais. Family household indebtedness, as a percent of annual income, jumped to 46 percent from 20 percent. Borrowing costs are rising now -- the benchmark rate's up to 14.25 percent -- as policy makers try to curb inflation, and loan delinquencies are starting to inch up too. In August, they accounted for 3.1 percent of all loans, the most in two years.
"Everyone believes this crisis isn't over," said Marcilio Moreira, an ex-finance minister who formed part of the government team in the early 1990s that struggled to tame hyperinflation. Brace for things to get worse, he said, "in terms of production, inflation and unemployment."
That's bad news for Santos, the laid-off steel worker.
Jobs are already plenty hard to find in his home town of Santo Andre. This is the heart of the auto industry complex, the region that people in Sao Paulo call the ABC. It's Brazil's version of Detroit. Names like General Motors Co. and Daimler AG can be found on factories alongside Volkswagen and Ford. Back in the 1970s, it was here that a young labor leader named Luiz Inacio Lula da Silva -- Rousseff's predecessor and mentor -- rose to national prominence.
Lula is still revered in these parts. A picture of him posing with local leaders hangs from the wall of the union office that represents Santos. The photo was taken back in 2010, the final year of his presidency. The boom was still on then: the economy grew 7.6 percent that year; car sales rose 30 percent. This year, sales are down 23 percent. And in August, Sao Paulo state lost another 26,000 jobs, bringing the total drop over the past 12 months to 216,000.
All of this is making Santos uneasy. Those unemployment insurance checks he collects run out around the end of the year. His loan payments keep coming due, every month, until 2039.
For more, read this QuickTake: QuickTake Brazil's Highs and Lows
Before it's here, it's on the Bloomberg Terminal.
LEARN MORE