World's Best Rally Says Ukraine Bondholders to Agree to Deal
Bonds return 47% in 2015, more than any other sovereign

Meetings to complete voting to begin at 10 a.m. in London
To get a sense of how investors will vote Wednesday on the $18 billion debt deal Ukraine needs to turn around its economy, just look at the returns on the country's bonds.
As the chart below shows, the war-stricken nation's dollar bonds handed investors 47 percent this year, outstripping any other sovereign securities, after a Franklin Templeton-led creditor group reached more generous terms in negotiations to restructure the securities than most investors had anticipated.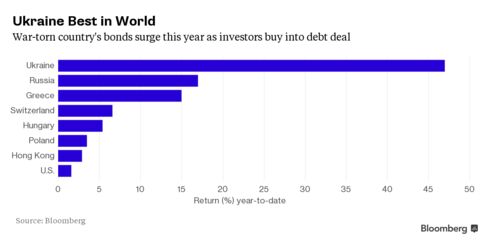 To Ukraine's Finance Minister and chief negotiator Natalie Jaresko, the agreement was a "win-win" as it averted a debt default and advanced relations with the country's pool of foreign investors, opening a chance to return to international capital markets as soon as 2017. Only one bondholder won't be racing to sign: Russia, which has already said it won't take part in the process.
"Investors have all the incentives to vote in favor of this debt deal," said Viktor Szabo, who helps oversee $12 billion of developing-nation debt as a money manager at Aberdeen Asset Management Plc in London. The deal will probably pass in the first round of voting for the 13 bonds Russia doesn't own, Szabo said Monday.
Getting bondholder approval will end Ukraine's seven-month battle to cut its debt burden, meeting terms of a $17.5 billion International Monetary Fund bailout needed to revive an economy battered by war with pro-Russian rebels. The deal, reached between Ukraine and the Templeton-led creditor committee in August, cuts the total principal the government has to pay by 20 percent and freezes bond repayments for four years.
'Staggering Terms'
Bonds rallied after the agreement was announced as the writedown was lower than the 40 percent Jaresko had demanded and the deal offered higher average interest payments. Coupons will continue even during the four-year freeze on principal and investors will receive warrants tied to economic growth, allowing them to recoup some of the losses from the writedown.
"Even though you have a 20 percent haircut on the debt, you get a higher coupon for an extra four years," Grant Webster, a money manager who helps oversee $2 billion in emerging-market debt at Investec Asset Management Ltd. in London, said on Monday. "That means in dollar terms the Ukrainians aren't paying creditors much less than they were. In fact they're probably paying them more once the potential warrant payout is included, which is staggering."
Investors holding at least 25 percent of bonds that matured in September said last week they will approve the deal. The Templeton-led creditor committee, which has signed off on the plan, holds about $9 billion of the bonds. Yerlan Syzdykov, the head of emerging-market debt at Pioneer Investment Management Ltd., said in August he will back the accord.
Russia, which bought a $3 billion bond maturing Dec. 20 from the government of former Ukrainian President Viktor Yanukovych shortly before his ouster in early 2014, maintains that the debt is an official loan and shouldn't be included in the restructuring. Russian President Vladimir Putin called on Tuesday for the IMF to help Ukraine pay back the debt, while Finance Minister Anton Siluanov said he is preparing a plan for a possible default by Ukraine.
No Favors
Ukraine has "multiple options" for dealing with holdouts, Jaresko said in an interview on Oct. 5. The bond-exchange terms make clear that holdouts will not be given more favorable terms and any investor who doesn't accept the deal may face a moratorium, she said.
Meetings to complete voting on each bond were scheduled to be held at 10-minute intervals beginning 10 a.m. at the London offices of law firm White & Case LLP. The results had not been published on the Ukrainian Finance Ministry's website by 3:30 p.m. in London. For the debt deal to pass on each bond, 75 percent of the investors need to be in favor in a vote that includes at least two-thirds of the creditors. If a quorum isn't reached, a second meeting can be called after two weeks.
"I would be surprised if the deal doesn't go through," Rohit Gadkar, who manages emerging-market assets at Trea Capital Partners SV in Barcelona, including some Ukrainian bonds. "It's quite a bondholder-friendly restructuring. I don't think there will be any issue in terms of getting the votes."
Before it's here, it's on the Bloomberg Terminal.
LEARN MORE