Iranian Commanders Killed in Syria as Assad, Allies Attack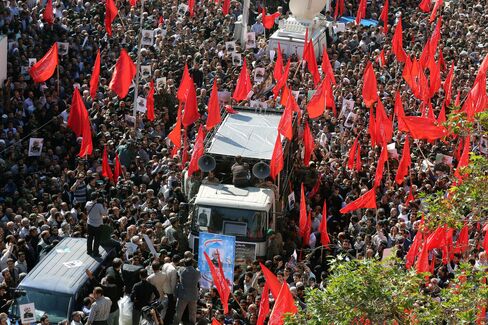 Iran's Revolutionary Guards back new offensive by Syrian chief

Russia provides air support as 4 1/2-year war enters new phase
Two more Iranian commanders were reported to have been killed in Syria, where Iran and now Russia are supporting a renewed offensive against rebels by President Bashar al-Assad's army.
The latest Iranian casualties were both commanders of brigades of the Revolutionary Guards, according to Tasnim news agency, which is close to the force. It didn't say where they died. On Friday, Brigadier General Hassan Hamedani, the head of the Guards' elite Quds Force in Syria, was said to have been killed on the outskirts of the northern city of Aleppo in clashes with Islamic State militants.
Iran has been Assad's main external supporter in the Syrian civil war, in which more than 250,000 people have died and millions more have been driven from their homes. Since the end of September it's been joined by Russia, which started bombing opposition groups, including Islamic State. That's been the catalyst for a renewed offensive by Assad's army and its Iranian allies on the ground, with battles raging around the key cities of Aleppo and Hama.
The Syrian army is preparing for a new attack in the Aleppo area, and thousands of Iranian troops have arrived to take part in that and other offensives, Reuters reported on Tuesday, citing unidentified officials.
The Revolutionary Guards created a militia to prop up a Syrian army running short on manpower after 4 1/2 years of fighting. Iran has also sent weapons and supplies, and deployed its ally Hezbollah, the Lebanese militia, to help Assad regain ground.
'Casualties Will Rise'
The U.S. and its allies, who say they oppose both Assad and the jihadist opposition and support more moderate rebels, have warned that the intervention in support of the Syrian leader will only escalate the conflict.
"If Iran and Russia simply want to double-down militarily on the regime and not pursue some sort of political transition, then inevitably their costs and casualties will rise over time," said Philip Gordon, a former White House coordinator for U.S. policy in the Middle East, in an interview on Oct. 11. "They have every interest and incentive of working with us and others on a political transition. If they don't then they're going to pay a price."
Hamedani was the most senior of about 10 Guards commanders who have been killed in the war against Islamic State. He helped establish the Revolutionary Guards in Iran, commanded units in the 1980s Iran-Iraq war, and organized Shiite militias in Iraq after the 2003 U.S. invasion. Hamedani also organized forces to crack down on dissidents and protesters after Iran's disputed 2009 presidential election, according to Kaleme newspaper.
In a public message of condolence, President Hassan Rouhani praised Hamedani as a "martyr" and said his death was a "big loss." A Twitter account associated with Iran's Supreme Leader Ayatollah Ali Khamenei said Hamedani devoted the final years of his life to the fight against Islamic State, and "fulfilled his martyrdom wish on the same front."
Before it's here, it's on the Bloomberg Terminal.
LEARN MORE