Guinea Probes Shooting That's Raised Concerns of Vote Unrest
Electoral commission targeted day after presidential vote

Two opposition candidates have withdrawn from ballot counting
Guinea is investigating a shooting that targeted its electoral commission on Monday, raising concern about unrest after two opposition presidential candidates dropped out of the vote counting process.
The shots were fired in the direction of the hall where officials were tallying votes, the Ministry of Home Affairs said in an e-mailed statement on Tuesday. Guinea is the world's largest exporter of bauxite.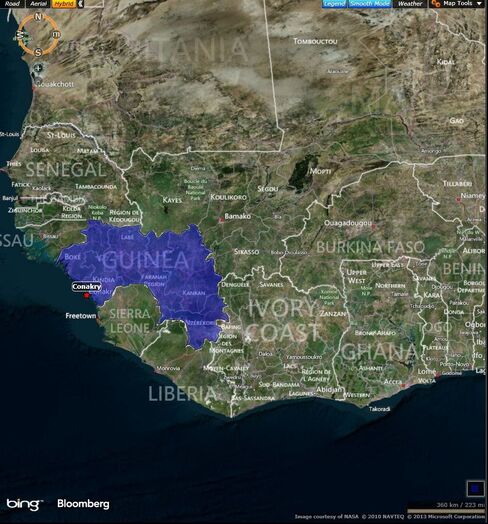 "Those who act against peace will find themselves subjected to the law in all its rigor," the ministry said. Violence will not be tolerated, it said.
Two opposition parties have withdrawn their teams from the counting process, citing high levels of fraud. All seven opposition candidates have denounced the elections and said they won't recognize the results of Sunday's elections. President Alpha Conde is running for a second term in the West African nation.
International election monitors from the African Union, United Nations and the Economic Community of West African States released a statement on Tuesday appealing for calm and restraint, while urging that disputes be resolved through discussion or the courts. The AU has said Guinea's election was transparent despite some logistical constraints, such as a lack of voting materials or the late opening at some polling stations.
Before it's here, it's on the Bloomberg Terminal.
LEARN MORE