Goldman Sachs says only its China property picks worked out

Chinese developer dollar notes have returned 10.8% this year
Goldman Sachs Group Inc. made nine bold Asian junk bond picks in May. The only one that came good was at the heart of the region's market storm -- China's property developers.
Investors who bought the bank's five Chinese real estate picks would have earned an average 5.5 percent from May 19 through Oct. 12, a surprise considering 2015 kicked off with a landmark default by Shenzhen-based developer Kaisa Group Holdings Ltd. Goldman Sachs' recommendation to buy non-investment grade debt of companies in India to Indonesia resulted in losses ranging from 10 to 37 percent. China property is the only speculative-grade sector in Asia that Deutsche Bank AG is telling clients to explore.
Real estate in China has emerged a winner as policy makers cut minimum down payment requirements for first-time home buyers to shore up one of the biggest growth drivers in the world's second-biggest economy. Premier Li Keqiang has made it easier for developers to raise funds onshore just as five interest rate cuts since November start to spur gains in new home sales.
"We're positive on the real estate sector in China," said Ken Hu, the chief investment officer for Asia Pacific fixed income in Hong Kong at Invesco Ltd.. which manages some $756 billion globally. "We're underweight commodity producers and exporters, as well as credits from countries running current account deficits, to manage the risks involved in high-yield bonds."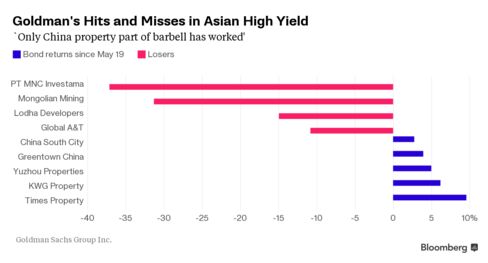 Property bonds have advanced 10.8 percent this year, a Bank of America Merrill Lynch index shows, despite the yuan's record devaluation in August and last quarter's stock market carnage. Their rally outpaced gains of 3.6 percent in the broader Asian junk bond market. The region's speculative-grade media companies fell 39.6 percent over the period while consumer company notes lost 22.2 percent.
The extra spread over Treasuries investors demand to own Chinese dollar junk bonds has narrowed to 765 basis points from a peak this year of 1,133 basis points, or 11.33 percentage points, in January when Kaisa roiled debt markets.
Analysts at Goldman Sachs said in an Oct. 1 report that "searching for alpha in the higher yielding names has not performed," outside of the Chinese property sector. Goldman's barbell strategy had involved buying investment-grade notes at one end and looking for "alpha opportunities" within junk-scored credits that offer yields of between 8 and 12 percent at the other.
Different Methodology
"The dispersion in high-yield performance increased in the second half, with markets concerned over slower China growth," analysts led by Hong Kong-based Kenneth Ho wrote. "We still see value, but it requires a different methodology."
Vicki Kwong, a Hong Kong-based spokeswoman for Goldman Sachs, said she couldn't immediately comment further on the Oct. 1 report.
That different methodology means adopting a sectoral approach, the New York-based bank said. It now recommends avoiding companies in the oil and gas, metals and mining and industrial sectors and favoring those in food, agriculture and retail, technology, media and telecommunications, utilities and property.
"Only the China property part of the barbell has worked," Ho said. Chinese property "has provided a steady source of carry in the past few months, and we expect this to continue."
Failures Rare
The 11.45 percent 2020 notes of Times Property Holdings Ltd., one of its picks, have gained 9.6 percent from May 19 through Oct. 12 while the 2019 8.975 percent debentures of KWG Property Holding Ltd. advanced 6.2 percent. Goldman Sachs removed Mongolian Mining Corp.'s 2017 securities from its buy list on Oct. 1, and they've slumped 31.9 percent. Notes from Indonesian media group PT MNC Investama and Indian home builder Lodha Developers were retained despite losses of 37.1 percent and 14.9 percent respectively.
China's real estate market, which accounts for about one third of the economy, has had a few scares this year. Fixed asset investment from the sector rose 4.7 percent last quarter, the slowest since at least 2004. After Kaisa defaulted on its debt in April, corruption probes deepened and developers had a harder time selling U.S. currency notes. Glorious Property Holdings Ltd. has missed some loan repayments, and has a $300 million bond that comes due on Oct. 25.
Even so, corporate failures in the world's second-biggest economy are still rare. Premier Li said in March the government will prevent any systematic fallout while tolerating individual cases of financial risk. After Shanghai Chaori Solar Energy Science & Technology Co. failed to make a full coupon payment in 2014, investors didn't lose a cent thanks to funds from a state-backed asset manager that stepped in several months later.
"China property has been rock solid and we don't see many reasons for that to change with companies going onshore for bond issuance and industry trends improving," said Harsh Agarwal, head of Asian credit research in Singapore at Deutsche Bank. "Outside China property, our buy list is quite limited."
-- With assistance from Tanya Angerer in Singapore at +65-6212-1880 or
tangerer@bloomberg.net
Before it's here, it's on the Bloomberg Terminal.
LEARN MORE