Chinese Liquor Favored by Putin Set to Debut in Vodka's Backyard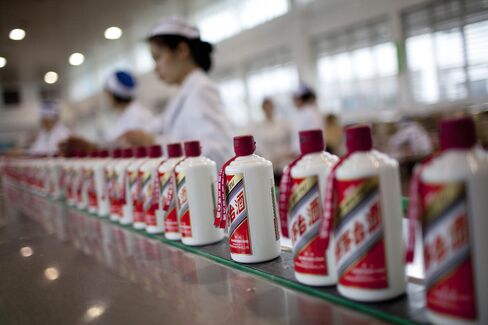 Moutai to be sold in Russia at about the same price as China

Russian leaders Putin, Yeltsin have enjoyed "diplomatic drink"
A fiery Chinese liquor sampled by Boris Yeltsin and Vladimir Putin on visits to the Asian nation is about to make its debut in Russia, entering a country known as the homeland of vodka at a time of recession.
Moutai, produced by Guizhou-based Kweichow Moutai Co., will be sold in Russia at its Chinese price of about 900 yuan ($142) a bottle, a company representative said on the sidelines of a Moscow presentation late Monday. As a premium product, it should be able to resist the country's slowing economy, according to Vadim Drobiz, head of Russian market researcher Ciffra.
"Moutai is a premium drink for wealthy people -- for such a niche product, the timing of entering the market doesn't make much difference," Drobiz said. Russia has 92,000 dollar millionaires, according to Credit Suisse's wealth report.
Kweichow Moutai is seeking to expand abroad amid Chinese President Xi Jinping's crackdown on corruption and extravagance curbed demand for luxury goods at home. Russia has a similar drinking culture to China with an emphasis on fiery drinks, Kweichow Moutai President Yuan Renguo said at the Moscow presentation.
Moutai, a high-proof fermented spirit made from sorghum and other grains, has been a diplomatic drink in China since Mao Zedong times. Russian leaders Yeltsin and Putin have tried and enjoyed it, Renguo said. The company didn't give a precise date for its introduction to Russia.
Sales of vodka and liquor in Russia fell 6.4 percent from a year earlier in January through August, according to the state statistics service. Real incomes declined because of a weakening ruble and the worst recession in six years.
Before it's here, it's on the Bloomberg Terminal.
LEARN MORE