BOE's Vlieghe Debuts With Dovish Views on Inflation, Rates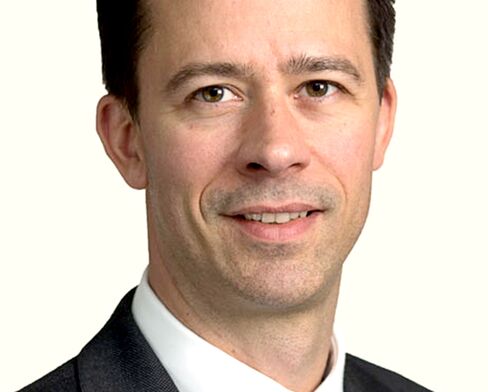 New policy maker sees downside risks from global environment

Says next move in BOE rate more likely to be up than down
Gertjan Vlieghe, the Bank of England's newest interest-rate setter, said inflation is too low and the U.K. has a limited ability to withstand global turmoil.
While he told lawmakers in London on Tuesday the next move in the central bank's key rate will probably be an increase rather than a cut, Vlieghe emphasized that the U.K. neutral rate was likely to increase slowly, suggesting policy will remain loose for some time. In his first public comments since joining the Monetary Policy Committee last month, Vlieghe said high levels of debt make households more sensitive to any increase in the BOE's benchmark rate than in the past.
"The U.K. has performed relatively strongly in the past two years in an environment of rather disappointing global growth," Vlieghe said. "One major risk is that global growth continues to disappoint, and that this would pull U.K. growth down, both via investment and exports."
Vlieghe, who voted with the majority on the MPC this month to keep the benchmark at a record low, echoed the BOE's central view that rates can stay low for now. Policy makers said last week that price growth will probably stay below 1 percent until spring 2016.
'No Hurry'
"Certainly he's not in a hurry to raise rates," said Philip Shaw, an economist at Investec. "He's less hawkish than some of the other members on the committee. How he votes really depends on how key elements of the data and the markets pan out."
Vlieghe told lawmakers that U.K. growth is solid but "not fantastic" and sterling's strength is a drag.
"We are operating in a generally weak global environment, so the exchange rate is a headwind," he said, "If there was a strong exchange rate in a very strong global economy that would not be as bad as a strong exchange rate in a quite weak global economy."
Differences among the MPC over the balance of risks to inflation in the medium term are at the center of the debate over when rates need to increase. The annual rate is currently below the BOE's 2 percent target, and data on Tuesday showed consumer prices fell an annual 0.1 percent in September, only the second decline since 1960.
Inflation Differences
Ian McCafferty, who was alone in voting for tighter policy at the October meeting, also testified to lawmakers Tuesday. He reiterated his views that prices are set to rise and emerging-market risks aren't yet critical to the U.K. outlook.
"I don't think that we're going to see a very sharp, quick pickup in CPI," McCafferty said. "But the impact on the most recent CPI figures, I still think, are largely due to those transitory impacts of oil and commodity prices."
Vlieghe took a different view, saying risks to inflation are to the downside and many of the indicators, including the core rate, "are all a little bit below where you'd want them to be."
"I'm not confident enough right now that they will rise in order to vote for an immediate rate hike," he said.
Both men said that, theoretically, the BOE hasn't run out of tools to combat a negative shock. Vlieghe said a rate cut remains a possibility, if more stimulus is needed.
Hedge Fund
The hearing started with questions on the commotion surrounding Vlieghe's appointment. He joined from Brevan Howard Asset Management, and his plan to retain a passive interest in the firm raised queries on a potential conflict of interest. Vlieghe addressed this by severing his ties with Brevan, and the BOE pledged to review its code of conduct.
Vlieghe told lawmakers that once he'd received the offer for the position he'd asked about the stake, and was told by the BOE and Treasury it was OK to keep it.
"It looks as if the bank may have misjudged the appearance of a conflict of interest," said Andrew Tyrie, chair of the Treasury committee. "They could have protected you from all this hassle."
Before it's here, it's on the Bloomberg Terminal.
LEARN MORE