Barclays's CEO Choice Means Pause to Shrinking Investment Bank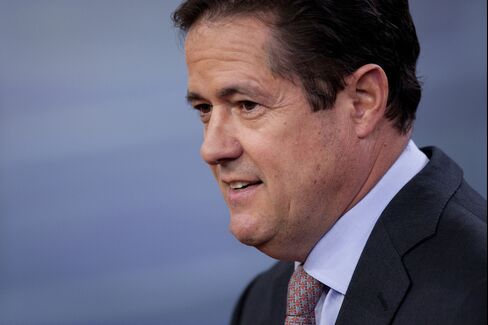 Staley, JPMorgan veteran, said to be leading candidate for CEO

Securities unit remains biggest and worst-performing division
In turning to Jes Staley to run the company, Barclays Plc is signaling that shrinking its investment bank has gone far enough.
Staley, 58, an American with more than three decades' experience at JPMorgan Chase & Co., has emerged as Chairman John McFarlane's top candidate to lead Barclays, a person with direct knowledge of the matter said Monday. Staley was passed over in the 2012 search for a new chief executive officer in favor of Antony Jenkins, a Barclays veteran with no investment-banking background. Jenkins slashed 7,000 jobs in the division and removed billions of pounds in assets before getting fired by McFarlane in July.
Under Jenkins, Barclays had focused on reversing an expansion of the investment bank, whose misconduct had triggered millions in fines. While the securities unit makes the most revenue out of four divisions, it also absorbs more capital and is the least profitable. McFarlane and Staley may seek to be more selective in the businesses they pursue as European competitors such as Deutsche Bank AG and Credit Suisse Group AG retreat.
Choosing Staley "would suggest Barclays' intention to retain its core investment banking franchise," Martin Leitgeb, an analyst at Goldman Sachs Group Inc., said in a report to clients. "His appointment would imply further scaling back the investment bank is unlikely, although we still expect some further refinements" and cost cuts, said Leitgeb, who has a buy recommendation on the stock.
The shares slipped 0.6 percent to 249.80 pence at 9 a.m. in London. The Bloomberg Europe Banks and Financial Services Index slipped 0.3 percent.

Barclays said in a statement on Tuesday, which noted "speculation" about Staley, that "the process of appointing a new group chief executive officer has not yet concluded" and that it "will provide a further update once that is complete."
Since ousting Jenkins, McFarlane has pledged to focus on the U.K. and U.S., characterizing Barclays as a "trans-Atlantic bank," and boost the debt and equity capital markets units and advisory arm, people familiar with the matter have said. Even as areas like bond trading continued to be squeezed by capital rules and other regulations, classic investment banking -- the business of underwriting and merger advice -- is showing signs of strength.
Rivals Retrench
As Deutsche Bank and Credit Suisse retrench under new CEOs John Cryan and Tidjane Thiam respectively, Staley could take the initiative and attempt to gain market share, according to William Bushby, a credit analyst at Mitsubishi UFJ Financial Group Inc.
Barclays could "step into the potential void left," he said. "We see it as likely that Barclays may focus more energy into improving its investment bank, as opposed to cutting it. Opportunities for a large European investment bank are potentially massive, but as history has taught us, so are the pitfalls."
Anheuser-Busch InBev NV proposed Tuesday to buy SABMiller Plc for $106 billion in the biggest takeover deal this year, one day after Dell Inc. agreed to pay $67 billion for EMC Corp. Both deals will rely on bank loans that are likely to be refinanced with large bond sales. Japan Post Holdings Co., Poste Italiane SpA and Ferrari are all raising money in initial public offerings this week.
Staley, a Boston native, is a career U.S. investment banker and has been compared to the lender's last American CEO, Robert Diamond, who resigned just three years ago amid public and government pressure after regulatory fines.
JPMorgan Departure
Unlike Diamond, Staley wasn't a trader. He started his career in Latin America and then moved to New York to run a broad range of businesses at JPMorgan, including its asset management unit and private bank, before being promoted to run the investment bank in 2009. Although touted as a potential successor to CEO Jamie Dimon, he was stripped of his power in 2012 after the bank lost billions in the "London Whale" scandal, and quit a few months later to join hedge-fund firm BlueMountain Capital Management.
Staley would take over a U.S. investment bank built on businesses that Diamond bought from Lehman Brothers Holdings Inc. during the financial crisis. He would inherit a strategy from Jenkins that involved cutting 7,000 jobs at the investment bank by 2016, about 34 percent of its employees, and a commitment to reduce the division's share of risk weighted assets at Barclays to about a third from a half.
Jenkins had clashed over strategy with investment-banking chief Tom King. After his ouster, McFarlane said the bank was moving too slowly to tackle a "cumbersome and bureaucratic" ethos.
In 2014 the securities division reported a return on equity, a measure of profitability, of 2.7 percent, down from 8.2 percent the previous year and short of the bank's 12 percent group target. While profitability improved in the first two quarters, the unit is still the bank's least profitable part.
Stock Skepticism
Barclays's shares extended declines this week, paring annual gains to 2.7 percent. That muted welcome contrasts with the McFarlane's appointment, in July, which sent the stock higher. Standard Chartered Plc shares jumped earlier this year when the British bank hired Bill Winters, another American and also a long-time JPMorgan executive.
Not all shareholders may be on board if hiring Staley means an intention to double down on investment banking, according to Chintan Joshi, an analyst at Nomura Holdings.
Regulator Clashes
Staley may signal "a greater commitment to the investment bank, which is also where Barclays's problems lie," said Joshi, who rates Barclays a buy. "He needs to clearly indicate that the core investment bank will not form a bigger proportion of the group risk-weighted assets then under the current strategy, as investors are unlikely to take a growing investment bank positively."
Barclays will want to avoid a repeat of Diamond's clashes with U.K. regulators after the bank was fined 290 million pounds ($442 million) for rigging Libor. One of Staley's priorities will be to continue to patch up the bank's reputation with regulators around the world, according to Chirantan Barua, an analyst at Sanford C. Bernstein Ltd. in London.
"Appointing an American investment banker is actually the right thing for the job, given the U.S. is where the investment bank makes all its money and has been under-performing," Barua said.
U.S. Competition
McFarlane said in July European investment banks can no longer complete with their U.S. rivals, which are "the only ones that can claim to be global and successful," because of greater competition and more stringent regulations across the region.
"If you did want to create an investment banking champion for Europe, you would have to combine the investment banking arms of the main players, but you would have to swallow really hard and you would need political support," McFarlane told the Financial Times on Oct. 11. However, he added that "we don't think there is any reality in it, which is why we are not pushing aggressively."
"I don't think Staley as CEO signals they are going to double down or expand the investment bank, and the words 'European investment-banking champion' give me a tremendous amount of indigestion" after the financial crisis, said Joseph Dickerson, an analyst at Jefferies International Ltd., who has a buy rating on the stock. "The capital position of the European banks is still a lot lower than that of U.S. banks, so it's hard to see how they'll expand."
Before it's here, it's on the Bloomberg Terminal.
LEARN MORE