Bankers in Gray Flannel Hoodies: Michael P. Regan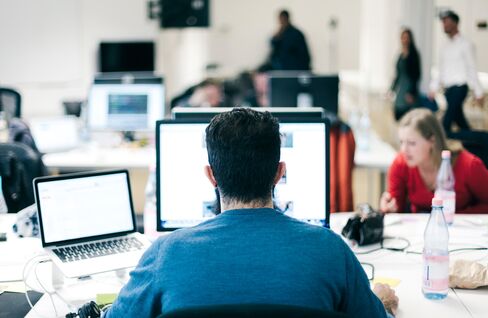 It's gotten to the point where you can almost picture Savile Row tailors taking the measurements of Lloyd Blankfein and Jamie Dimon for bespoke hoodies and messenger bags.
OK, maybe not. But Goldman Sachs plans to deliver its earnings to the world on Twitter this week, for Pete's sake! And JPMorgan is releasing its results AFTER the bell Tuesday, as if it's just another dot-com startup doing the conference call around a ping-pong table.
Granted, JPMorgan has a good reason to release its earnings during West Coast prime time that has nothing to do with tech envy. Still, there are enough developments popping up in the news to make distinguishing Wall Street from Silicon Valley harder by the day, and not just because they're both bro cultures with an inherent love of math and a reputation for forgetting where the women are when promotion time comes around.
Bankers simply have no choice but to dive headfirst into code. McKinsey & Co. estimated in a report last month that 20 percent to 60 percent of bank profits are at risk of being stolen by fintech startups or lost to margin compression in retail businesses such as consumer finance, mortgages, small-business lending, retail payments and wealth management.
Remember Goldman Sachs and its seemingly endless legal battle to put a former programmer in jail for taking what was at least partially open-source trading code with him when he left? The same firm is now reportedly releasing its famous SecDb risk-management program to the masses.
And banks are stumbling over each other to figure out how they can use the open-source blockchain technology developed for bitcoin. You may recall bitcoin as the playground of Anthony Murgio, who ran a cash-for-bitcoin exchange that allegedly catered to money-laundering criminals and who is linked to one of the largest bank hacks in history.
While this all may be an inevitable evolution of modern banks (when was the last time you spoke with a human teller anyway?), it does open up financial firms to a whole new world of risk that even Goldman's SecDB probably can't model.
Standard & Poor's said last month that Internet security is an emerging and growing threat and banks with weak cyber security could see their credit ratings downgraded even if they haven't been attacked. Imagine that: hypothetical hackers may be worse for banks than mortgage securities!
So banks are going to extremes to protect their business. JPMorgan has brought in the troops, literally. The bank has hired ex-military including a former U.S. Army Chief of Staff to advise on cyber security and other issues and built a hacker-defense operation near the National Security Agency. Bank of America's CEO Brian Moynihan has said his cyber security team has more or less a blank check.
Hmm, a blank check? And here we thought those were only available in Silicon Valley.
Anyway, listen up for the sound of ping-pong balls during JPMorgan's conference call today. And don't forget to retweet that Goldman earnings report.
(This column does no necessarily reflect the opinion of Bloomberg LP and its owners.)
Before it's here, it's on the Bloomberg Terminal.
LEARN MORE