Asia Currencies Fall as China Imports Spur Return of Growth Woes
Rupiah and ringgit lead losses as commodities extend decline

Low conviction to stick with long EM positions: strategist
Asian currencies halted a seven-day run of gains as a sharper-than-predicted drop in Chinese imports added to signs the world's second-largest economy is slowing.
Shipments of goods into China fell for an 11th straight month, declining 20.4 percent, more than the 16 percent estimate in a Bloomberg survey. The figures paint a gloomy picture for exports from South Korea and Taiwan, which count China as their biggest overseas market. Indonesia's rupiah led losses as an index of commodities dropped overnight, damping the outlook for the producer of palm oil and coal. The Malaysian ringgit slumped after a plunge in oil on Monday.
"Overnight we've seen the crude oil prices turning back," said Sim Moh Siong, a currency strategist at Bank of Singapore Ltd. "Investors are waiting on the sidelines to see what's transpiring in the fundamental picture, but the fundamental picture hasn't changed all that much in terms of slowing emerging-market growth."
The Bloomberg-JPMorgan Asia Dollar Index fell 0.4 percent, after rising 1.7 percent in the previous seven days. The rupiah weakened 1.6 percent, the most since December, and the ringgit depreciated 1 percent. The commodities gauge rose 0.1 percent after a 1.1 percent loss on Monday and Brent crude dropped 5.3 percent overnight in New York.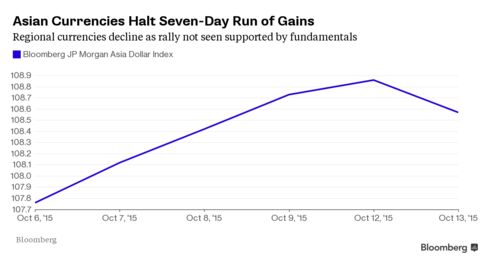 Rally Reverses
While Chinese imports dropped, exports fell a less-than-forecast 3.7 percent in September from a year earlier but have still contracted in the last three months, underscoring concern expressed by the U.S. central bank for not raising interest rates last month. The Bloomberg Asia dollar index rallied by the most since 2011 in the five days through Oct. 9 after American employment numbers prompted futures traders to cut bets for monetary tightening by the Federal Reserve this year to less than 50 percent. It has two more meetings in 2015, in October and December.
Australia & New Zealand Banking Group Ltd. warned of a false rally in Asian currencies on Oct. 9, while Pacific Investment Management Co. said this week it's standing by its pessimistic outlook on emerging-market currencies.
Elsewhere in the region on Tuesday, the Philippine peso dropped 0.8 percent and the Thai baht fell 0.4 percent. South Korea's won was down 0.5 percent and the Indian rupee was 0.5 percent lower. Vietnam's dong lost 0.1 percent, while Taiwan's dollar weakened 0.6 percent.
"Some was short covering, some was a jump onto the bandwagon," said Sim at Bank of Singapore, referring to last week's rally. "But I don't think there was a high conviction to stick with long emerging-market currency positions."
Before it's here, it's on the Bloomberg Terminal.
LEARN MORE