World's Biggest Leveraged ETF Drops, and Investors Just Buy More
Fund's average daily turnover is triple that of Toyota

Japanese individual investors have long history as contrarians
Money is being shredded at an unprecedented rate in a souped-up exchange-traded fund tied to Japan's most famous stock index.
Since mid-August, investors have poured a record $4.5 billion into the Next Funds Nikkei 225 Leveraged Index ETF, a security designed to rise or fall twice as fast as its namesake equity gauge. That's too bad, considering that twice the Nikkei 225 Stock Average's loss over that period comes out to about 21 percent.
So fast have the country's individual investors been plowing money into the fund that even as a fifth was lopped off its price, its market value more than doubled. It's the largest security of its kind in the world, and is now big enough to affect the whole stock market as overseers rush to buy and sell securities to meet its price target, according to BNP Paribas Investment Partners Ltd.
"They are taking up a larger proportion of the market," said Tony Glover, head of the investment management department at BNP Paribas Investment Partners Japan in Tokyo. "Volatile markets are not great news with increasingly wider intraday swings. The funds are a big factor causing this."
The ETF has become more popular with traders than even Toyota Motor Corp., Japan's biggest company. Average turnover for the ETF was about 250 billion yen ($2.1 billion) a day over the past two months, triple that of Toyota.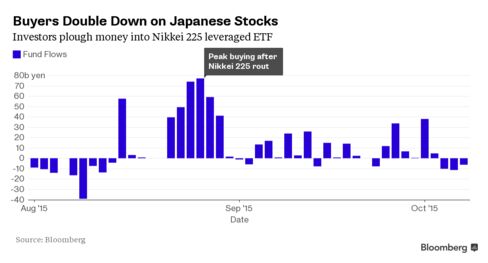 Investors put a net 544 billion yen into the leveraged ETF in the past two months, with inflows peaking on Aug. 26, the day after the Nikkei 225 capped a six-day decline of 14 percent. During the first seven months of the year, when Japanese shares tracked steadily higher amid optimism about companies' profit outlook and governance improvements, the fund attracted 61 billion yen, data compiled by Bloomberg show.
Local Individuals
The cash is mainly coming from domestic individuals, brokerages say. While the popularity of the leveraged ETF is new, the propensity of those investors to buy as the market falls and vice versa has been a feature of Japan's equity market for years. In 2013, when the Nikkei 225 soared 57 percent for its biggest gain since 1972, Japanese individual investors sold 8.75 trillion yen of the country's shares. They bought in the week through Oct. 10, 2008, as stocks plunged 24 percent.
That behavior reduces the leveraged ETF's market impact, says Tomohisa Hanabata, a senior manager at Nomura Asset Management Co., the operator of the fund. It uses Nikkei 225 futures to deliver twice the underlying measure's daily move, with the bulk of its trading happening near the close. Like all leveraged funds, the mechanics of earning that return mean it needs to buy when the market is rising, and sell when it falls.
Contrarian Investors
"Looking at past orders, we tend to see contrarian investing," said Hanabata. "When the index rises, we see orders for redemptions come in. We can't say that just because the index rises, we have to buy more and more."
Nomura is conscious that it's running the biggest leveraged ETF in the world, and is trying to do it carefully, he said. Japan's listed funds made it through the August selloff without seeing anything like the wild session on Aug. 24 that roiled hundreds of U.S.-listed ETFs, leaving prices out of sync with the value of their underlying assets as trading halts froze more than 500 securities in the world's biggest stock market.
Matsui Securities Co.'s senior analyst Tomoichiro Kubota warns that market moves on down days may become bigger as retail traders buying the ETF on margin -- essentially, adding leverage on top of leverage -- are forced out of their positions through margin calls. Some 18.9 million shares in the Next Funds ETF were bought on borrowed money as of Oct. 2, or 32 percent of its total outstanding shares, according to the latest available bourse data.
ETF Gains
Last week, that was a good call. The ETF jumped 8.2 percent to cap its steepest weekly gain since July, joining a global rebound in equities. Amid confusion over China's economic data and the timing of U.S. rate increases, retail investors are giving up on predicting the market's long-term direction and just trying to make a quick buck using the leveraged fund, said Ayako Sera, market strategist at Sumitomo Mitsui Trust Bank Ltd. in Tokyo.
"When you can't see very far ahead, it's easier to get short-term returns with this," Sera said.
The Nikkei 225 dropped 1.1 percent at the close on Tuesday, while the ETF sank 1.8 percent. The equity index's 50-day volatility held near its highest level since August 2013.
Makoto Shiota, the head of ETF marketing at Nomura Securities Co. in Tokyo, is optimistic. The popularity of the ETF shows that Japan's individual investors are confident the market has bottomed, he says. The Nikkei 225 closed at 18,438.67 last week, 12 percent below this year's peak.
"The timing they were waiting for is here," said Shiota. "They're saying it's not hard for the Nikkei 225 to reach 20,000 again."
For more, read this QuickTake: Exchange-Traded Funds
Before it's here, it's on the Bloomberg Terminal.
LEARN MORE