It's Showtime in Dublin Again as Noonan Prepares Giveaway Budget
Government prepares biggest giveaway budget since Celtic Tiger

Election must be held by April, with government sensing win
About 2.15 p.m. in Dublin on Tuesday, Irish Finance Minister Michael Noonan will fire the starting gun in the nation's election campaign as he unveils the biggest budget giveaway since the Celtic Tiger era ended.
Facing a national vote within six months, Noonan has signaled he'll cut income taxes and raise spending, reversing a little of the austerity that helped Ireland win back the trust of bond investors and regain economic sovereignty after an international bailout.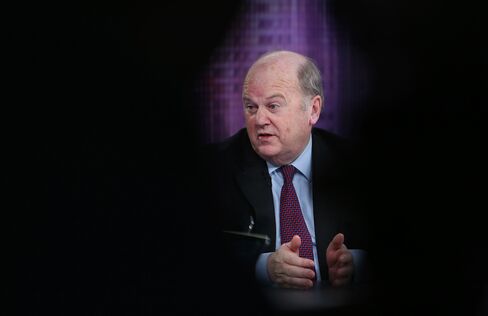 "The argument that there's no need for an expansionary budget, with the economy growing at about 6 percent, is very persuasive," said Philip O'Sullivan, an economist with Investec Plc in Dublin. "However, in every democracy, realpolitik tends to trump fiscal sense when a government lagging in the polls prepares a pre-election budget."
Premier Enda Kenny's government has won kudos from German Chancellor Angela Merkel to President Barack Obama for leading the nation out of its worst recession on record, bringing the public finances under control and falling bond yields. With voters largely unimpressed, his coalition is set to further stoke the fastest-growing economy in the euro region even as Kenny promises prudence.
"Some people will look shudder thinking 'Oh god, here we go back to the political burlesque of 'Showtime'. The bravado of "If I have it, I'll spend it," Kenny told an audience of executives last month in Dublin. "Except that's not going to happen."
The spread between Ireland's 10-year benchmark government bond and German securities of a similar maturity has dropped to 58 basis points from 298 basis points just over two and a half years ago. Yields on 10-year Irish government bonds have plunged to 1.16 percent from 14.2 percent in July 2011.
For Kenny, the news in the polls is a little less happy, as he faces an election that must be held by April. Support for Fine Gael, the party he leads, is running at 28 percent, according to a Red C Research & Marketing Ltd. poll last month. His coalition partners in the Labour Party scored 10 percent. While government ratings are improving, support is still down from a combined vote of 55 percent in the 2011 election.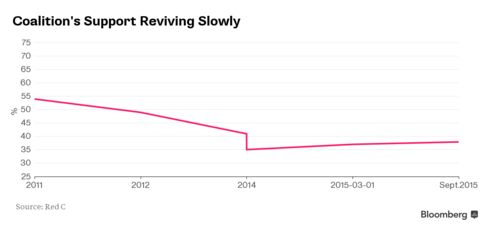 Re-election is still within Kenny's grasp, though, an outcome which would make him the first Fine Gael leader in history to win two straight terms.
"If Fine Gael could get back up to the early 30's and Labour could sneak back to to 12 percent, then they could run a government with the support of a few friendly independents," said Richard Colwell, Dublin-based chief executive at polling company Red C.
The budget offers a path to boosting support, even with the central bank, the government's own fiscal council and the European Commission warning Noonan to tread carefully.
In all, Ireland has endured about 30 billion euros ($34 billion) of austerity measures since 2007, and Noonan has indicated that he has about 1.5 billion euros for tax cuts and spending increases in 2016. The government also said late Friday that it'll lift spending in the last quarter of 2015, allowing Noonan sidestep new rules which limit the scale of increases next year.
Ireland's maneuvering to "bring forward as much spending into the year end is an inauspicious start " to the new European rules, said Conall Mac Coille, chief economist at Davy, Ireland's largest securities firm. "The government has decided to loosen policy by twice the amount we had expected."
Noonan began to ease off on austerity this year, with about 1 billion euros of tax cuts and spending increases. Consumer confidence soared to its highest level in almost a decade in January, as the measures came into force, according to an index compiled by KBC Groep NV and the Economic & Social Research Institute.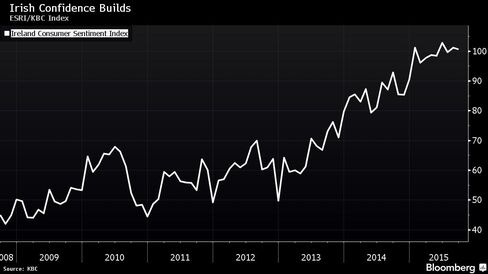 "All the key questions -- how secure people feel, how they feel the economy is going -- are going in the right direction for the government," said Colwell.
Before it's here, it's on the Bloomberg Terminal.
LEARN MORE