Glencore Shares Halted Pending Detail on Asset Sales Plan
Company flags update on some assets in Australia, Chile

Assets in the two nations include copper to coal mines
Glencore Plc, which has flagged divestments as part of a plan to cut debt by about $10 billion after commodity prices plunged, halted trading in Hong Kong Monday pending an announcement on proposed asset sales in Australia and Chile.
The Swiss trader and miner said last month it's planning to raise about $2 billion from the sale of stakes in its agricultural assets and precious metals streaming transactions. While the company didn't identify specific assets in the statement requesting the trading halt, it produces gold and silver in Australia and South America.
The potential sales are part of the debt-cutting program that Glencore Chief Executive Officer Ivan Glasenberg announced in early September. The plan includes selling $2.5 billion of new stock, asset sales, spending cuts and suspending the dividend. Taken together, the measures aim to reduce debt from $30 billion nearer to $20 billion.
The company is seeking to raise more than $1 billion by selling future production of gold and silver, two people familiar with the situation said Oct. 1. The company produced 35 million ounces of silver last year and 955,000 ounces of gold from mines in South America, Australia and Kazakhstan.
"It's typically something that a small company does, or a company that's under pressure," Gavin Wendt, managing director at Mine Life Pty in Sydney said by phone, referring to metal streaming deals. "It's not something that a confident company does, or a company that is assured of its financial certainty."
Silver Wheaton Corp. is pursuing about $5 billion in streaming deals amid the commodities price rout and is interested in bidding on streams that Glencore may want to sell, Chief Executive Officer Randy Smallwood said in an interview last month.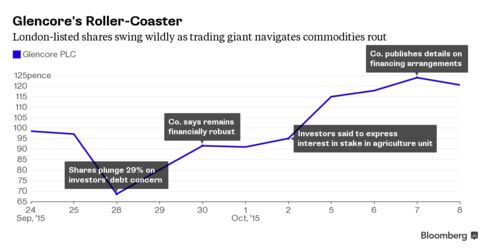 Swing Wildly
The uncertainty that's roiled metal markets has seen Glencore's shares in London swing wildly in the past few weeks. Its stock plunged 29 percent on Sept. 28 to a record low on concern weak prices threatened its ability to repay debt. In the two weeks since, the shares have soared.
In recent weeks, producers including Barrick Gold Corp. and Teck Resources Ltd. have agreed to so-called streaming deals, which provides financing in exchange for a portion of discounted metal from a mine. Teck's deal involved sales of silver from the Antamina mine in Peru, in which it holds a stake along with Glencore, BHP Billiton Ltd. and Mitsubishi Corp.
Glencore could raise $1 billion to $1.5 billion by selling 10 percent of its gold output through streaming deals, according to Macquarie Group Ltd.
Investors including Qatar Holding LLC, the direct investment arm of the Gulf state's sovereign wealth fund, have also expressed an interest in buying a minority stake in Glencore's agriculture business, according to three people familiar with the conversations. Citigroup Inc., one of the banks hired to run the sale alongside Credit Suisse Group AG, said earlier this month that the whole business could be worth as much as $10.5 billion.
The company has also announced cuts to copper and zinc output in an effort to support metal markets.
Peter Grauer, the chairman of Bloomberg LP, the parent of Bloomberg News, is a senior independent non-executive director at Glencore.
Before it's here, it's on the Bloomberg Terminal.
LEARN MORE