What's megabrew's place in a microbrew world?
If Anheuser-Busch InBev seals a deal with SABMiller, the breadth of the new company's brews will be impressive. Budweiser, Peroni, Pilsner Urquell, and Stella Artois will all flow from the same corporate tap. (Grolsch and Goose Island, too.) Together, the companies—No. 1 and No. 2, respectively—control roughly one-third of the global beer market by volume, according to Euromonitor International.
In some of the most attractive markets, however, people still prefer the local brew. In Vietnam, where the beer market is growing faster than anywhere else, one in three bottles is a "Saigon," from Saigon Beer Alcohol Beverage Corp. In India, Kingfisher is the king of beers, with close to 50 percent of the market. The Spanish like their Mahou, which has its headquarters in Madrid.
Almost 40 percent of the global beer market is served by companies that sell fewer than 5 billion liters a year, according to Euromonitor data, while InBev and SABMiller account for 60 billion liters.
This is one of the reasons InBev is so keen on a deal. Together, the two brewers will be more of a force in pitching their brands to dirt-road bartenders and bodega owners far from Brussels. Where InBev has a toehold, it can help boost SABMiller brews, and vice versa. SABMiller would be particularly useful in Africa and South America.
InBev says it has a plan to make the tie-up pass muster with antitrust regulators. In truth, it shouldn't be that difficult. For two massive consumer-facing companies, they have remarkably little overlap. InBev is huge in Brazil, while SABMiller dominates South Africa. Canada is Budweiser country, while Colombia is all about Aguila, a Miller brew1.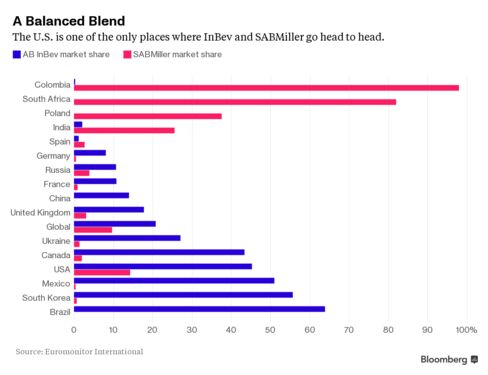 InBev has until Wednesday to close a deal with SABMiller. If it can't make its case by then, it will have to stew for at least six months, according to U.K. rules on corporate acquisitions. That would be as good a time as any for its M&A team to try a Saigon.
Before it's here, it's on the Bloomberg Terminal.
LEARN MORE