Bond Market Casualties Leading Biggest S&P 500 Revival Since '11
Gains in energy, commodities, transports are most in 4 years

Transportation stocks echoing a long run of good Octobers
Two things are true about the companies that just lifted U.S. stocks to the biggest rally in four years: their fortunes are most tied to the economy, and they're the least loved by credit investors. Both are reasons for optimism.
Energy, materials and transportation shares surged an average of 12 percent in the last two weeks, beating the Standard & Poor's 500 Index by 4.8 percentage points month-to-date, the most since October 2011. The jump, which included gains in companies from Chesapeake Energy Corp. to Freeport-McMoRan Inc., followed nine months when these groups lagged behind the benchmark gauge by 14 percentage points.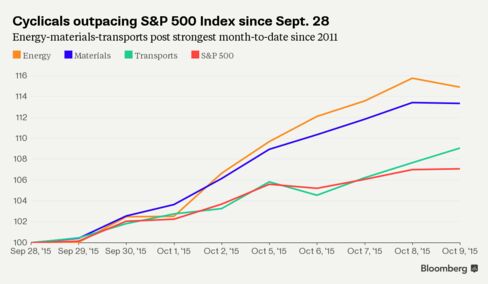 The change is a sign to some investors that stock buyers are getting over their paranoia about the Federal Reserve and looking for bargains instead of simply buying the dip. It's an about-face from last month, when technology and health-care companies led a rebound from August's losses that fell apart after 15 days.
"I respect this rally much more than the one that took place in early September," said Michael Shaoul, chief executive officer of Marketfield Asset Management LLC in New York. Because of strength in credit-sensitive stocks, "this particular rally has a better chance of ending this specific period of volatility," he said.
Volatility that pushed measures of stress to the highest levels since the financial crisis happened as the U.S. economy proves resilient in the face of a global slowdown. While economists surveyed by Bloomberg this month forecast gross domestic product will expand 2.6 percent in 2016, down from 2.7 percent in a poll in August, that's still better than the 2.1 percent for the Group of 8 nations as a whole.
The S&P 500 has gained 4.9 percent since the start of October, including a 3.3 percent advance last week that was the largest of 2015. Over the span energy stocks have advanced 12 percent, materials stocks almost 11 percent and transportation shares 7.1 percent, in each case exceeding the S&P 500's 6.8 percent rally from Aug. 25 to Sept. 16.
The benchmark gauge was little changed at 9:49 a.m. in New York, with transportation shares gaining less than 0.1 percent and energy and materials providers sliding more than 0.6 percent.
History shows the stock market tends to pick up when these three industries are leading. The trio has produced similar gains 15 times since 1989, with the S&P 500 rising 12 months later in all but three instances. On average, the benchmark gauge climbed 14 percent the following year, compared with its normal rate of increase of 8.8 percent, data compiled by Bloomberg show.
"The leadership of energy, materials, transportation and small-caps suggests to me this isn't just a flash in the pan," said Brian Jacobsen, who helps oversee $250 billion as chief portfolio strategist at Wells Fargo Advantage Funds in Menomonee Falls, Wisconsin. "While there still are some significant downside risks, we could see a decent rebound from here."
While cyclical shares may be leading the rally, it's not because of investors expressing confidence in the economy, according to Jeffrey Saut, chief investment strategist at Raymond James Financial Inc., which oversees $600 billion. The bounce has been driven by bears buying back short positions and investors seeking bargains, he said.
The number of shares sold short increased to 5.7 percent of all stock outstanding among energy companies last month, the highest level since at least the 2008 financial crisis, exchange data compiled by Bloomberg show. At Friday's close, the S&P 500 Materials Index and the Dow Jones Transportation Average each traded at about 16 times profit, or a nearly 9 percent discount to the S&P 500.
"All that was is a compression bounce from a deeply oversold condition,'' said Saut from St. Petersburg, Florida. "I don't think it's sustainable in the near to intermediary term because earnings that are coming out of the energy space are going to be god awful.''
Anxiety in the corporate bond market is highest among resource producers. The extra yield that investors demand over Treasuries for holding investment-grade bonds of energy and commodities companies reached at least 2.47 percentage points, compared with an average 1.64 for all comparable debt.
Both sectors saw stocks rally as tensions eased in their bonds. Spreads on oil and raw-materials stocks have tightened by at least 16 basis points since the start of October.
In the transportation sector, concern never got as high. While the credit spread is near a three-year high, the pace of widening is only about half that for energy over the past three months, bond data compiled by Bank of America Merrill Lynch show.
The bull case for this group includes a pattern of seasonal strength before the third-quarter earnings and holiday seasons.
"This is a group that turned down first, and if it can turn back up that may signal the broader market can follow," said Matt Maley, an equity strategist at Miller Tabak & Co LLC in New York. "It's definitely time to reconsider."
The Dow Jones Transportation Average, which tracks 20 companies including FedEx Corp. and Union Pacific Corp., has led the S&P 500 Index in 10 of the past 12 Octobers by an average of 2.5 percent. Railroad operators have beaten the benchmark gauge by an average of 4.1 percent in 11 of the past 12 Octobers.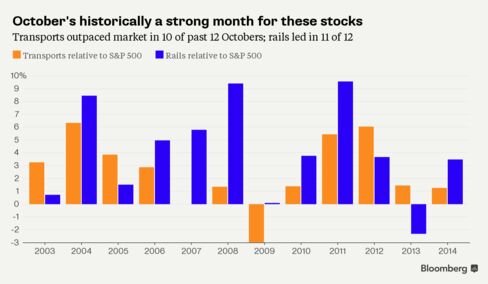 Union Pacific, the largest U.S. freight railroad, has outpaced the S&P 500 by about 10 percentage points since Sept. 24. "That's very bullish," Maley said, particularly after the stock tumbled almost 35 percent between mid-February and late August. "People are buying on weakness and certainly Union Pacific fits that criteria."
"We've seen a little bit of a resurgence in the value sectors of the market," said John Carey, a fund manager at Pioneer Investment Management Inc. in Boston, which oversees $244.1 billion globally. That shows some investors are looking at some of these stocks, particularly the rails, as a long-term opportunity again, he said. "People are factoring in rather depressed prices of these stocks, while dividends remain attractive and are well supported by earnings."
An exchange-traded fund of transport companies is signaling that investors' expectations of profit growth have them the least worried about related swings in stock prices in five years relative to the broader industrials sector, Bloomberg data show.
These companies could also revise their earnings higher, particularly if energy prices bottom and the European economy stabilizes, said Michael Jamison, managing director at New York-based Lebenthal Asset Management, who helps oversee about $1.3 billion in assets. "The question is: What's your time frame? Do they have the ability to rally between now and year-end? Probably."
Before it's here, it's on the Bloomberg Terminal.
LEARN MORE